September 23, 2018

March 2014 | Vol. XIII - No. 3


New Trends Are the Talk of Toy Fair 2014!
This year, more than 10,000 buyers from 5,000 retail stores walked the floor of the 2014 American International Toy Fair to see 1,153 exhibitors demonstrating more than 150,000 toys.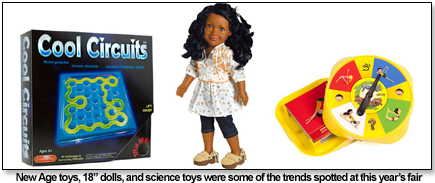 While it's hard to see every toy on display at the show, by tracking the overall trends one can get a better idea of what products will be hot in 2014.

Here are some of the trends noticed in the specialty market:

NEW AGE
Everything old is new again, or so it would seem with toys that take a new age bent popping up at the show. Products like UPSIDE DOWN GAMES' Yoga Spinner and Karma from SET ENTERPRISES take new age concepts and turn them on their head (literally, in the case of Yoga Spinner!) and into fun games for kids.


RISE OF THE DOLLS
Dolls are back in a big way! 18 inch dolls and accessories were seen all over the show floor. From MADAME ALEXANDER'S Favorite Friends to ADORA'S Adora Friends, 18 inch dolls will find no shortage of fun accessories and outfits to stock up on throughout the year, from doll companies and those specializing in accessories, like DREAM BIG WHOLESALE DOLL CLOTHES.

But it's not just traditional dolls that are stealing the spotlight this year. Colorful "Eco-Warrior" dolls from ZEENIE DOLLS and tiny, cute Stork Babies from THE FIAMMETTA TOY COMPANY also made an appearance, along with Nici Wonderland, a new line of cloth dolls from NEAT-OH! that can go in the bath.


LADY BRANIACS
Strong, smart women and their toys were front and center at this year's show. Jennifer Shahade, 2-time United States chess champion was at the YAMIE CHESS booth, where she is a resident classical chess advisor. Dr. Penny Norman of Science Wiz/Norman & Globus was at the show to share her company's wide range of educational science kits, and the creators of the much-buzzed about engineering toy company GoldieBlox were in attendance as well. Famous singer Alicia Keyes was at the show, not only as part of the ribbon-cutting ceremony, but to promote the the new interactive children's app she co-created, The Journals of Mama Mae & LeeLee.


Meanwhile, the Toy Industry Association released their list of trends in a press release:

"LARGER THAN LIFE
Large-sized toys are becoming increasingly common in just about every category, from plush and play sets to RCs and building toys. As a counter-balance to the micro-sized trend seen in years past, these toys engage kids in imaginative role-play activities and make impressive gifts for special occasions. They don't all come with hefty price tags, either – the value-conscious shopper will find many "BIG" toys at affordable prices.
Includes: dollhouses; inflatable toys; cars, trucks and trains; plush; and baby doll carriages, cribs and other role-play accessories.

RC RAMPAGE
Playtime will shift into high gear thanks to an influx of innovative remote-controlled vehicles for various ages and at varying price points. Older kids with a 'need for speed' will have plenty of options to choose from, including helicopter RCs and vehicles that launch projectiles. Animal-themed and licensed RCs based on popular entertainment properties will engage younger children and promote active and imaginative play.
Includes: traditional RCs with added features, such as the ability to fly higher, drive faster or launch projectiles.

FULL "STEAM" AHEAD!
Educational toys, games and crafts that teach kids STEAM subjects (Science, Technology, Engineering, Arts and Math) are heating up in the toy aisle and getting kids of all ages, interests and abilities excited about learning. Toymakers are increasingly incorporating storytelling and other artistic components into science, engineering and building toys to get more kids than ever on board with STEAM.
Includes: hands-on science kits and innovative tech toys that inspire kids to think outside the box; and arts and crafts that introduce kids to STEAM concepts and skills at an early age.

FRIGHTFULLY FUN: ZOMBIES, MONSTERS AND MORE!
Vampires were hot … but now zombies and monsters are all the rage, thanks to a rise in popularity of zombie-themed movies, TV shows and video games. Ghoulish action figures and dolls with relatable characters and back-stories are less frightening for younger kids, while older boys and girls will get a kick out of 'gross out' toys. These toys not only have the ability to transport children to mysterious worlds – they also teach them that it's OK to be different and stand out from the crowd.
Includes: classic toys with a zombie twist; gothic-style fashion dolls and accessories; detailed figures for older collectors; and trivia games for fans of popular movies and TV shows, like The Walking Dead.

RETRO / BACK-TO-BASICS
First identified by TIA in 2013, the retro and back-to-basics trend is alive and well this year thanks to a huge abundance of classic toys and games slated to hit store shelves. Today's parents and grandparents fondly remember these playthings from their own childhoods and are excited to share them with the little ones in their lives.
Includes: re-releases and refreshed retro toys; low-tech / back-to-basics toys that reflect the enduring popularity of classic play patterns over time; and old-school family games that foster intergenerational play.

CUSTOM BUILT
2014 will take building to a whole new level. In addition to building and construction toys, this trend extends across several toy categories – from arts and crafts to action figures – and encompasses playthings that allow kids to create, customize and personalize to reflect their unique tastes, styles and imaginations.
Includes two sub-trends: "Mash-up" toys, which incorporate many uses or ways to play in a single toy or game, giving kids the freedom to choose how they'd like to play; and "Fashion Forward" toys, which include DIY sets that allow kids to create their own accessories, fashion dolls that can be styled in a personalized way and realistically-designed dollhouses and building / play sets."


Want to learn more about the toys showcased at the 2014 American International Toy Fair?

Then check out our Retailer Reporter Coverage of the show or our Toy Fair Videos




Copyright © 2018 TDmonthly®, a division of TOYDIRECTORY.com®, Inc.