Products from b EQUAL
THIS BANNER IS AN AD:
---


View: By latest product added | By earliest product added



Below are some of the products b EQUAL has shared with ToyDirectory and TDmonthly



---
Shrek Swamp Party DVD Game
TDmonthly rating:

(
Read Review
)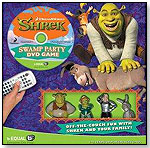 Shrek and Fiona are throwing a swamp party … and everyone's invited. With this DVD game for one to two teams or players, families will be off the couch and competing in side-splitting party games to earn the coveted title of "Life of the Swamp Party." Players must get ready to draw, laugh and play their way to becoming the life of the party. The game includes a DVD game disc, four collectible figurines, an activity mat, a donkey bean bag, Shrek ears and toss rings.
ToyDirectory Product ID#: 13269
(added 6/6/2007)
Age Range: 6 and up
Launch Date: January 2005
Kids can join Santa Claus and his friends in a joyful holiday trivia adventure. Quizzes begin at Elf Level (ages 6 to 9), and go all the way up to Wizard Level (ages 14 to 106). Families will have fun together, learning about Christmas customs from all around the world, and more. The DVD even includes a bonus Madagascar minigame. Launch date: 2005.
ToyDirectory Product ID#: 8226
(added 6/13/2006)
Families can play and learn together as they attempt to answer trivia questions about such things as what's the largest number of people ever squished into a single phone booth? There are three difficulty levels to choose from so the entire family can be challenged. There are five different types of wacky questions and fun arcade games, too.
ToyDirectory Product ID#: 8043
(added 5/26/2006)
Now parents can prepare their kids or state standardized tests while they play a series of fun DVD games They'll learn over 30 skills, including synonyms, antonyms, fractions, computation, grammar & usage and how to utilize reference materials. Polly Sparks, test-taking genius, gives test-taking tips and matches wits with all challengers. The game's instructions are also included in Spanish.
ToyDirectory Product ID#: 8042
(added 5/26/2006)
Pack your bags for a family road trip across the fifty United States with Discovery Channel's American Road Trip. From a giant ball of twine in Cawker City, Kansas to a slice of apple pie in New York City, players will encounter 300 challenges and answer questions on all that is Americana. Includes vivid footage from The Discovery Channel library.
ToyDirectory Product ID#: 7854
(added 5/11/2006)
One of several games produced in conjunction with the A&E network (in this case, The History Channel), this boardless TV-DVD game hosted by Christian music artist Jeremy Camp takes players through both the Old and New Testaments of the Bible with the help of visual clips. b EQUAL's games are especially attractive to families because of 'a dynamically leveled playing field,'" according to Josh Anderson, Director of Product Development. The game adjusts to the knowledge of each player; if one player consistently answers incorrectly that player will be asked easier questions.
ToyDirectory Product ID#: 5774
(added 12/7/2005)
This is a trivia game about animals hosted by the characters of the Disney movie, "Madagascar." This boardless game has the ability to adjust to players' different abilities by asking certain players easier or more difficult questions.
ToyDirectory Product ID#: 5773
(added 12/7/2005)
Show Me the Wild! tests players' knowledge of all those crazy creatures on earth which inhabit the animal kingdom. The game uses "dynamic leveling," so questions are constantly adjusted to a level congruent with each participant's knowledge. Hosted by John O'Hurley of Seinfeld fame, the game offers over 1,600 questions and more than 200 video clips and photographs.
ToyDirectory Product ID#: 3203
(added 3/11/2005)