Products from NITE IZE INC.
THIS BANNER IS AN AD:
---


View: By latest product added | By earliest product added



Below are some of the products NITE IZE INC. has shared with ToyDirectory and TDmonthly



---
Meet Curvyman, Senior Headset Cord Supervisor, Frustration Preventer Extraordinaire, and Your Future Best Friend. Made of durable, lightweight plastic, his unique physique was made for keeping unruly ear buds and headsets in order - literally! Pop one end of your cord through a hole at his base, wrap it up around his middle, clip the other end through the second slit at his top, and voila! Your cord stays tangle-free and organized when not in use. Or, just wrap the slack around his middle and keep your cord close-fitting and tidy while you're running, working, traveling, or otherwise on the go. Curvyman also comes with a size #0 plastic S-Biner attachment so you can clip him to your keys, backpack, purse or zipper pull and take him with you everywhere. (Which you will want to do, we promise!)
ToyDirectory Product ID#: 35729
(added 12/7/2012)
The Nite Ize ClipLit LED is a bright, water-resistant white light encased in a durable plastic housing and molded to a rugged plastic carabiner clip. Easy to activate - a quick twist turns it on and off - it's just as easy to clip onto and off of almost anything with a loop. Attach it to your key ring, belt loop, zipper pull, backpack or purse, and you'll have efficient, bright illumination wherever you are, whenever you want. The ClipLit is perfect for everything from reading fine print to finding a keyhole. And, when it's attached to your clothing, it's a fun and stylish way to let people know where YOU are when it's dark, increasing your visibility and safety.
ToyDirectory Product ID#: 35728
(added 12/7/2012)
Gear Tie Reusable Rubber Twist Ties have a tough rubber shell that provides excellent grip, a strong wire inside that holds its shape, and a range of bright colors to catch your eye! Gear Ties are available in six sizes (3", 6", 12", 18", 24" or 32") to organize nearly anything from a small cord or cable to large sporting goods equipment. Look for Gear Tie Technology on many additional innovative Nite Ize products. Twist it, Tie it, Reuse it - Gear Ties!
ToyDirectory Product ID#: 35715
(added 12/6/2012)
The BugLit "body" is actually our powerful INOVA Microlight - a tough micro flashlight encased in a durable polycarbonate plastic housing, with four functions (high power, low power, strobe, and signal). This bright white LED has an effective range of up to 50 feet, and one-mile visibility. Next, the securely attached "legs" are two flexible, fully moldable 6" Nite Ize Gear Ties, which can be bent, wrapped, or twisted in many configurations, to sit, stand, store, or shine the flashlight. Wrap the legs around the body for compact storage and transport. And, finally, its lightweight plastic S-Biner clip allows you to attach, hang, or store the BugLit for convenient access on zippers or keys.


ToyDirectory Product ID#: 34118
(added 4/24/2012)
The ball lights up on demand and uses a design that allows batteries to be replaced. It is perfect for throwing, juggling, catching, rolling and bouncing.
ToyDirectory Product ID#: 18184
(added 3/28/2008)
Flashflight
TDmonthly rating:

(
Read Review
)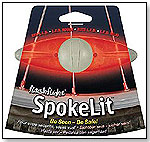 MSRP: $8.99
Age Range: 7 and up
SKU or Item #: SKL-03-10
Launch Date: April 2008
Gender: Boys And Girls
The water-resistant SpokeLit attaches to the spokes of a bike and helps keep the rider safe by glowing or flashing a red or green L.E.D. light. It comes with two long-life replaceable batteries and can be installed in seconds. "Many employees commute to work via bicycle everyday but wanted a more effective way to illuminate their bikes than the current products on the market offered. The SpokeLit was born from this desire," Marketing Assistant Alyssa Corona of Nite Ize explained to TDmonthly Magazine. "The innovative design slides easily onto standard three-cross wheel spokes and stays securely in place while riding." Launch date: April 1, 2008.
ToyDirectory Product ID#: 18133
(added 3/26/2008)
MSRP: $6.99
Age Range: 3 and up
SKU or Item #: HIO-07-02
Launch Date: March 2007
Gender: Boys And Girls
This white L.E.D. disc light securely attaches to flying discs for play in low-light and after-dark situations. It is lightweight and water resistant, and comes with long-life replaceable batteries. It is easy to install and has a push-button on/off switch. "This is the only product on the market that is an actual retrofit kit to transform a standard flying disc into an L.E.D. light-up flying disc. Now, the fun doesn't have to stop just because the sun is going down!" Marketing Manager Brenda Isaac of Nite Ize told TDmonthly. Launch date: March 1, 2007.
ToyDirectory Product ID#: 13125
(added 5/24/2007)
MSRP: $16.09
Age Range: 3 and up
SKU or Item #: FFDD-08-10
Launch Date: May 2007
Gender: Boys And Girls
This L.E.D. flying disc is designed for year-round fun and exercise. It is made of soft-touch plastic to be mouth friendly and bite durable. The water-resistant disc floats and comes with long-life replaceable batteries, as well as a dog-safe battery cover. It also comes in green. Launch date: May 2007.
ToyDirectory Product ID#: 12802
(added 5/15/2007)
The Flashflight Junior is in between the full-sized Flashflight and the Mini. Bright LED illumination makes it a cinch to catch in the dark. Its soft touch is easy on the hands. The long-life battery is replaceable. LED colors include Red, Blue, Green and Disco. The Junior weighs 110 grams.
— "We have [flying disks] that light up," said Harriet Story, owner of Leaping Lizards! in Mineral Point, Wis., when talking to
TD
monthly
about her best-selling flying toys.
— Retailers have also reported good sales for the Flashflight Disc-o-Mini, which changes colors "on the fly."
— "It's just plain fun," Brenda Isaac, marketing manager for Nite Ize, said when asked about why the product was doing so well. "It's a marriage of an old-fashioned toy with new technology." A Flashflight for dogs is coming soon.
ToyDirectory Product ID#: 8425
(added 6/27/2006)
Nite Ize, Inc., designer and manufacturer of Innovative Accessories, introduces the first L.E.D. Upgrade Kit for the AA Mini Maglite flashlight. There are millions of AA Mini Maglite flashlights in use today; however, many of these standby flashlights have laid dormant over the years due to broken incandescent bulbs and quick battery drain. Until now. The two-pin, three-bulb L.E.D. module from Nite Ize easily replaces the standard incandescent bulb in the AA Mini Maglite with a higher performing white, red, green or blue L.E.D. light. In addition to producing a better quality light, the L.E.D. Upgrade extends AA battery life up to 20 hours, which is four times longer than the incandescent bulb. Consumers will appreciate saving money on new batteries as well as not having the hassle of replacing batteries and bulbs so frequently. The L.E.D. Upgrade module is also shockproof. An upgrade is also available for C and D cell Maglites.
ToyDirectory Product ID#: 7522
(added 4/12/2006)

Advertisement: