Products from MADE BY HANDS
THIS BANNER IS AN AD:
---


View: By latest product added | By earliest product added



Below are some of the products MADE BY HANDS has shared with ToyDirectory and TDmonthly



---
Art kits that make it easy to be creative! Your child will love showcasing treasured photos and artwork with everything needed to create one-of-a-kind frames. Contains more than 500 Pop-Outs!™ (fun and easy pop-out shapes), ten frames in three sizes and a glue stick.
ToyDirectory Product ID#: 11947
(added 3/15/2007)
Make-Your-Own Thank-You Notes
TDmonthly rating:

(
Read Review
)
This colorful kit allows kids to create personalized notes and comes with the new KidsTALK book, "Thank You," as well as 15 note cards, 12 card stock Pop-Outs! templates, and more than 600 fun Pop-Outs! in a portable Velcro-closing box.
ToyDirectory Product ID#: 11579
(added 2/23/2007)
Wholesale Price: (Log in to view)
MSRP: $8.95
Age Range: 4 and up
SKU or Item #: MBHK-PC05
Launch Date: October 2007
Gender: Boys And Girls
Each kit contains everything needed to design and create 10 personalized holiday cards, including 12 templates of Pop-Outs! in various colors, shapes and sizes. Templates include die-cut embellishments for holiday and wintertime decorations, along with colored note cards and white envelopes. Make-Your-Own Holiday Cards also includes a kid-friendly portable Velcro-closing box with more than 250 Pop-Outs! for hours of fun. "Just like all our high-quality, award-winning art activity kits, Make-Your-Own Holiday Cards uses our unique Pop-Outs! (an awesome array of whimsical pop-out shapes) to provide hours of open-ended creativity," Co-president Dena Hirschberg of Made by Hands told TDmonthly. Launch date: October 2007.
ToyDirectory Product ID#: 11475
(added 2/19/2007)
Go Figure! Crazzzy Critters
TDmonthly rating: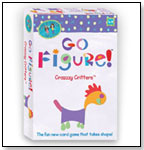 The goal of this tricky card game is for players to put together the set of shape cards in a manner that creates an image their opponents will recognize. The Crazzzy Critters game has players create various animal shapes, and during each round, the first player finished with his or her critter yells, "Go Figure!"
ToyDirectory Product ID#: 9649
(added 10/10/2006)
An art activity set that will release every child's inner, artistic genius. Using Matisse- and Picasso-esque pop-outs, children will be able to create their own artistic masterpieces. Each set comes with three different sized, freestanding easel-back cardboard canvases. Once the masterpieces are completed and set on display, the child's room will become her own personal art museum.
ToyDirectory Product ID#: 6007
(added 12/15/2005)
With this brightly-colored, amusingly-designed arts and crafts kit, children will enjoy making their own original scrapbooks. It comes complete with three accordion-folding cardboard scrapbooks in different sizes with seven colorful templates of over 800 Pop-Outs in a variety of shapes and sizes and one glue stick. Everything fits nicely into a kid-friendly Velcro closing box.
ToyDirectory Product ID#: 4880
(added 9/30/2005)
This kit contains over 500 Pop-Outs, fun and easy pop-out shapes that can be glued on the kit´s 20 cards and envelopes with the included glue stick.
— In a May 2012 survey about best selling toys Kim Emigh, VP of ecommerce at
Growing Tree Toys
in State College, Pa., gushed to
TDmonthly
: "Every time we get this item in, it sells so quickly!"
ToyDirectory Product ID#: 4807
(added 9/26/2005)
This handy kit contains everything needed to create 12 unique puppets. It comes with 11 PuppetStix, 12 stands, over 600 Pop-Outs and a glue stick.
ToyDirectory Product ID#: 4806
(added 9/26/2005)