Products from LITTLE, BROWN AND COMPANY
THIS BANNER IS AN AD:
---


View: By latest product added | By earliest product added



Below are some of the products LITTLE, BROWN AND COMPANY has shared with ToyDirectory and TDmonthly



---
You Have to Stop This (The Secret Series 5) by Pseudonymous Bosch
TDmonthly rating: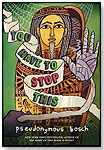 A class trip to a local natural history museum takes a dangerous turn for the characters of this book, the fifth and allegedly final installment of The Secret Series, when a mummy with a missing finger goes missing. Launch date: September 2011.
—
As of 10/19/2011 this book had 5 out of 5 stars from 155 reviews on BarnesandNoble.com.
—
As of 10/19/2011 this book had 5 out of 5 stars from 7 reviews on Amazon.com.
—
As of 10/19/2011 this book had 4.39 out of 5 stars from 106 ratings on GoodReads.com.
ToyDirectory Product ID#: 33054
(added 10/19/2011)
MSRP: $16.99
Age Range: 4 to 8
Gender: Boys
In Dinotrux, writer and illustrator Chris Gall tells the story of ancient times when ferocious half-dinosaur, half-truck creatures known as Dinotrux roamed the earth. Pushing and crushing, mixing and roaring, the Dinotrux are illustrated in monstrous detail through 32 pages.
— Travis Jonker of
100 Scope Notes
found the book irresistible, explaining, "The premise that hybrid dinosaur/trucks used to rule the earth ignites curiosity, while the brief, expressive text all but demands repeat reading."
— Elizabeth Bird from the
School Library Journal
absolutely loved the book. She found it to reflect a cheekiness and creativity that appeals to both kids and parents.
—
Common Sense Media
's Patricia Tauzer said Dinotrux "will thrill any kid who loves trucks and dinosaurs." She described the book as being "jam-packed with action" but cautioned that it is not educational; in fact, the Flintstones-style anachronisms may leave kids confused.
ToyDirectory Product ID#: 27668
(added 3/23/2010)
The Unusual Mind of Vincent Shadow
TDmonthly rating:

(
Read Review
)

Vincent isn't like other kids his age. He isn't good at sports and has an overly creative mind. Vincent's super-secret lab in his attic filled with toy prototypes, and a chance meeting with a strange toy inventor gets him started on the road to becoming a serious toy inventor. Launch date: November 2009.
MSRP: $16.99
Age Range: 4 to 8
Launch Date: October 2008
Gender: Boys And Girls
Caldecott Medalist Ed Young has created another visual masterpiece with "Wabi Sabi," a new picture book by debut author Mark Reibstein. Wabi sabi, a traditional Japanese concept, refers to the beauty found in simple, everyday things. Young's collage illustrations of man-made and natural materials are a masterful blend of color, texture and form that pefectl complements the text. Wabi Sabi, a cat, tries to learn the meaning of her name. As her journey unfolds in a mix of prose and haiku, Wabi Sabi and the readers come closer to understanding the tru meaning of her name. "Wabi Sabi" is a vertical book, bound at the top like a calendar. Hardcover, 40 pages. Launch date: October 2008.
ToyDirectory Product ID#: 21586
(added 12/4/2008)
Written by Stephenie Meyer, this "New York Times" best selling fantasy novel captures the story of star-crossed teenaged lovers Bella and Edward. Bella learns that Edward, along with several other students at her new school, are rescued vampires. True to his vampiric nature, Edward knows he could kill Bella should his passion for her become too great, and therein lies the central tension of the story. Launch date: October 5, 2005.
ToyDirectory Product ID#: 21239
(added 11/7/2008)
Whether he's trolling the high seas for treasure or blasting off for the moon, young reporter-sleuth Tintin and his faithful dog, Snowy, have delighted readers everywhere for generations with their timeless adventures. "Tintin in Tibet" is written by Hergé. When Tintin's friend Chang's plane crashes in the Himalayas, Tintin is determined to save him. Will he get to his friend in time?
— "There seems to be a Tintin revival at the local schools," said Co-owner Jude Larene of Izilla Toys in Seattle of this best seller in his store. "I never seem to have enough."
ToyDirectory Product ID#: 13732
(added 6/26/2007)
MSRP: $14.99
Age Range: 3 and up
SKU or Item #: 031611491X
Launch Date: January 2006
Gender: Boys And Girls
Patrick McDonnell's "Art" introduces children to an imaginative and colorful world of splotches, blotches, squiggles, curlicues, and more. A young artist, Art is a lively guide among simple text, creations that practically dance off the pages, and a surprising and heartwarming ending. The book received the 2007 Oppenheim Toy Portfolio Platinum Award. Launch date: 2006
ToyDirectory Product ID#: 10755
(added 12/19/2006)
In the time when only the Greek gods had fire, Prometheus stole a torch from Mount Olympus. In revenge, Zeus sent Prometheus's brother a beautiful, curious wife, Pandora, and a box, never to be opened. But curious Pandora couldn't resist, and trouble bugs were released: lazy bug, teasy bug, worry bug, and more. Luckily, Pandora managed to keep HOPE inside the box. Bestselling author Jean Marzollo's lively storytelling and lush illustrations provide a wonderful introduction to this classical Greek myth. The book received the 2007 Oppenheim Toy Portfolio Platinum Award.
ToyDirectory Product ID#: 10754
(added 12/19/2006)
This title by Sandra Magsamen is the softest, snuggliest, coziest book imaginable. There are a number of "blanket" panels inside the book for babies to lift up and crinkle with their tiny fingers. Best of all, the book opens into a baby-sized patchwork blanket with touch-and-feel hearts all around. It is a 2007 Oppenheim Toy Portfolio Platinum Award Winner.
ToyDirectory Product ID#: 10751
(added 12/19/2006)
Princess Natasha is a student by day, secret agent by night and always a princess. She's been seen on webisodes for AOL's KOL service for kids and on the Caroon Network. Now she has her own DVD and a series of books, comics and loads of other merchandise. In this story, Natasha's evil uncle Lubek gets his hands on a machine that copies people. Will Natalya be able to defeat an army of Lubek clones? Only the kids who read this book will know. Launch date: 2006.
ToyDirectory Product ID#: 8235
(added 6/13/2006)
Meet Hiccup Horrendous Haddock III, heir of the Viking chiefdom, but a boy with one very big problem: a hero he is not. "How to Train Your Dragon," "translated" by Cressida Cowell, is the riotous story of Hiccup's quest to hunt down the fiercest dragon, bring it into submission, and — hopefully — pass his initiation. Instead, he ends up with the smallest, most ornery dragon — it's even toothless! Thus begins the high jinks of the world's most lovable, unlikely hero and a most reluctant "beast." Packed with energetic drawings and plenty of action, this boisterous tale is just right for fantasy fans or anyone with a spirit of adventure. It's 224 pages, hardcover.
ToyDirectory Product ID#: 6168
(added 12/22/2005)