Products from GALLOPING MINDS
THIS BANNER IS AN AD:
---


View: By latest product added | By earliest product added



Below are some of the products GALLOPING MINDS has shared with ToyDirectory and TDmonthly



---
Potty Training Little Ones is geared towards making potty time fun for children. The book walks through each step of potty training. From the time the child is introduced to the potty to the time he or she is ready to go and make it part of their routine. This fun and colorful book also motivates kids by providing coloring pages for each activity - choosing a potty, going for the first time and washing hands.
Awards: National Parenting Seal of Approval 2012
ToyDirectory Product ID#: 35205
(added 10/4/2012)
This fun-filled bilingual DVD is designed to help toddlers and preschoolers grasp the Spanish Language. Spanish and English words, both written and spoken for each video clip and an accompanying Spanish phrase, allow a preschooler to pick words with ease. The clips and music are designed to keep a child's interest while teaching common Spanish words and phrases. The DVD covers the fundamentals, including colors, numbers and words, using beautiful images and classical music. Launch date: October 2008.
ToyDirectory Product ID#: 25060
(added 8/19/2009)
Galloping Minds Numbers, Shapes and Colors Flash Cards offer a way to teach and reinforce numbers, counting, shapes and color recognition for preschoolers. The flash cards have photographs and illustrations that offer an exciting and interactive way to acquire preschool skills. Each Flash Card is post-card size, has excellent quality photography, and is laminated to prevent damage from little fingers. Launch date: June 2009.
ToyDirectory Product ID#: 25059
(added 8/19/2009)
Alphabet and Phonics Flash Cards
TDmonthly rating:

(
Read Review
)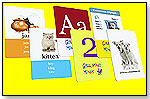 Wholesale Price: (Log in to view)
MSRP: $19.99
Age Range: 1 and up
Launch Date: March 2008
Gender: Boys And Girls
Each postcard-sized flash card features beautiful images and is built to withstand chewing by babies and toddlers. The alphabet flashcards have upper and lowercase letters, with a few words associated with each letter. The phonics flashcards blend consonants and vowels, with approximately three words associated with each blend. The entire set has covers over 200 words. Launch date: March 15, 2008.
ToyDirectory Product ID#: 18008
(added 3/17/2008)
MSRP: $14.99
Age Range: 2 to 7
Launch Date: May 2007
Gender: Boys And Girls
With live action footage and puppetry, this fun and educational DVD emphasizes a child's introduction to a computer. Tubby and his friends discover great things and learn about the different parts of a computer, including the monitor, keyboard, mouse and CD-ROM drive, and how to browse the Internet. The storyline is set amid playful characters and features hip-hopping music interspersed with classical music. "There is no DVD for kids currently that sheds light on this topic. Even grandparents acknowledge they could use the DVD to learn a bit more about computers," Payal Sarin of Galloping Minds told TDmonthly. Launch date: May 2007.
ToyDirectory Product ID#: 11665
(added 2/27/2007)
Baby Learns Numbers and Animals with Mr. Twiddles' is meant for introducing young ones to the world of numbers and counting. Mr. Twiddles is a cute and round man who appears to have misplaced his little lamb Doodle. His adventures to find his lamb Doodle take him far and wide. He visits different countries and meets a number of animals — 1 zebra in Africa, 2 Polar Bears in Alaska and so on all the way up to 10 animals. 10 is the magic number all parents of toddlers and preschoolers want their kids to master. Counting numbers in reverse, addition, subtraction, equality (more or less), patterns are some of the other initial mathematical concepts introduced through pure edutainment.
ToyDirectory Product ID#: 6039
(added 12/15/2005)
MSRP: $14.99
Age Range: 0 to 6
The ´Shapes and Colors´ video uses vivid images of day to day objects and molds them into a plethora of different shapes. Children find the shapes and colors magical. The foot tapping music keeps them happy and elated. Introducing kids to different shapes in 2 and 3 dimension , bringing them together, are part of an enchanting experience.
ToyDirectory Product ID#: 505
(added 9/1/2004)
MSRP: $14.99
Age Range: 0 to 6
The Alphabets video displays more than 120 objects with uppercase and lowercase letters, spellings and vivid animations. Older kids learn the alphabets, words and spellings, while younger ones are exposed to a number of objects. Kids of all ages enjoy the light classical music. Kids love the animations interspersed with shots of live animals and are engrossed in the video throughout!!
ToyDirectory Product ID#: 504
(added 9/1/2004)