Products from MACMILLAN
THIS BANNER IS AN AD:
---


View: By latest product added | By earliest product added



Below are some of the products MACMILLAN has shared with ToyDirectory and TDmonthly



---
This laugh-out-loud funny and devilish send-up of Ludwig Bemelmans's Madeline is for little monsters everywhere. Frankenstein is the scariest of all the monsters in Miss Devel's castle. He can frighten anything-animals, parents, even rocks. Until one night, Miss Devel wakes up and runs downstairs to find that Frankenstein has lost his head.
— As of 12/5/2012 this product had 4.9 out of 5 stars from 8 reviews on Amazon.com
— In a Winter 2012 survey Jessica Wood from
Northshire Bookstore
in Manchester Center, Vt., told
TDmonthly
that this was their bestselling Halloween book.
ToyDirectory Product ID#: 35680
(added 12/5/2012)
Miss Lina's ballerinas have all learned how to dance as a group. But now Miss Lina has a new surprise for them – a boy will be joining their class and performing in their end-of-year show. The girls have grand visions of dancing their first pas de deux with a prince. But when he finds himself surrounded by so much pink and so many girls, he turns quite shy, and dances his way out the door.
ToyDirectory Product ID#: 33215
(added 11/23/2011)
The fog in Foggytown was so thick that people bumped into parking meters . . . and streetlamps . . . and each other. So Joey and Chloe's parents decide it's time to move. But Joey and Chloe love their house. And as it turns out, their house loves them . . . and has a very special and utterly fantastic way of taking matters into its own hands. Comic- and picture-book star Mark Siegel has spun a delightful and compelling fantasy for young picture book readers, illustrated in a unique style that combines elements of traditional picture book, comic, and animation art.
ToyDirectory Product ID#: 33212
(added 11/23/2011)
Dragons exist. They're ferocious. And they're smart: Before they were killed off by slayer-knights, they rendered a select group of eggs dormant, so their offspring would survive. Only a handful of people know about this, let alone believe it – these "Slayers" are descended from the original knights, and are now a diverse group of teens that includes Tori, a smart but spoiled senator's daughter who didn't sign up to save the world. The dragon eggs have fallen into the wrong hands. The Slayers must work together to stop the eggs from hatching. They will fight; they will fall in love. But will they survive? Launch date: September 27, 2011.
— As of 11/23/2011 this book had 4.4 out of 5 stars from 10 reviews on Amazon.com.
ToyDirectory Product ID#: 33211
(added 11/23/2011)
Derek Fallon gets the opportunity of a lifetime—to be a stunt boy in a major movie featuring a pretty teen starlet. After accepting the job he learns that he is the star's stunt double and must wear a wig! His friends are never going to let him live this down. If that weren't his only problem, his parents are threatening to give away his pet monkey, and his best friend just posted an embarrassing video of him on YouTube. Can life get any worse? Still the irrepressible Derek takes it all in stride and even manages to save the day. Launch date: Fall 2011.
ToyDirectory Product ID#: 33210
(added 11/23/2011)
Ever since he was an infant, Pigeon Jones has lived on the back of an artistically gifted white elephant named Birch. Birch is a loving father, but that doesn't stop Pigeon from wondering about the human parents who abandoned him. Birch has dreams, too—of being a well-known artist, and of finding the acrobat he fell in love with while they performed together in a circus years ago. And so, on Pigeon's tenth birthday, their search for fame and lost loves begins. Pigeon and Birch paint their way across the world, dodging an evil circus ringleader, freeing zoo animals, and befriending singing hoboes along the way. But when they reach the end of their journey, Birch must master the most difficult art of all: letting go and allowing his beloved Pigeon to stand on his own two feet. Launch date: Fall 2011.
ToyDirectory Product ID#: 33209
(added 11/23/2011)
Surprise, absurdity, and laugh-out-loud humor are the hallmarks of this New York Times-bestselling author, and in Killer Koalas from Outer Space, Griffiths offers up a collection of ridiculous stories featuring zombie kittens, rocket stealing ants, and of course, killer koalas from outer space. Launch date: Fall 2011.
ToyDirectory Product ID#: 33208
(added 11/23/2011)
When Garnet's mother decides it's time for a change, she drops off her daughter at her aunt June's house in Black Rock, Virginia, while she goes to Florida to find a job. Garnet has never met her Aunt June, so she feels angry and abandoned. But Aunt June thinks Garnet is there for a reason. Each week, Garnet and June visit a different religious service as Aunt June, who has cancer, tries to find God. After a miraculous spiritual healing occurs and an unexpected visitor comes to town, Garnet learns the power of love and forgiveness, and what being a family truly means. Launch date: Fall 2011.
ToyDirectory Product ID#: 33207
(added 11/23/2011)
Striking out into the wasteland with nothing but her baby sister, a handful of supplies, and a rumor to guide her, sixteen-year-old midwife Gaia Stone survives only to be captured by the people of Sylum, a dystopian society where women rule the men who drastically outnumber them, and a kiss is a crime. In order to see her sister again, Gaia must submit to their strict social code, but how can she deny her sense of justice, her curiosity, and everything in her heart that makes her whole? Launch date: November 8, 2011.
— As of 11/11/2011 this book had 4.5 out of 5 stars from 6 reviews on Amazon.com.
— As of 11/11/2011 this book had 4.22 out of 5 stars from 179 ratings on Goodreads.com.
ToyDirectory Product ID#: 33155
(added 11/11/2011)
This new adaptation of Dee Brown's multi-million copy bestseller, Bury My Heart at Wounded Knee, is filled with photographs and maps to bring alive the tragic saga of Native Americans for middle grade readers. Focusing on the Sioux nation as representative of the entire Native American story, this meticulously researched account allows the great chiefs and warriors to speak for themselves about what happened to the Sioux from 1860 to the Massacre of Wounded Knee in 1891. This dramatic story is essential reading for every student of U.S. history. Launch date: October 25, 2011.
ToyDirectory Product ID#: 33154
(added 11/11/2011)
The events of September 11, 2001 changed the world forever. In the fourth installment of the Actual Times series, Don Brown narrates the events of the day in a way that is both accessible and understandable for young readers. Straightforward and honest, this account moves chronologically through the morning, from the plane hijackings to the crashes at the World Trade Center, the Pentagon, and Pennsylvania; from the rescue operations at the WTC site to the collapse of the buildings. Vivid watercolor illustrations capture the emotion and pathos of the tragedy making this an important book about an unforgettable day in American history. Launch date: August 26, 2011.
— As of 09/09/2011 this product had 4.25 out of 5 stars from 16 ratings on GoodReads.com.
— A School Library Journal Starred review.
— "While the book is written for a younger audience, you should still use your judgment on whether it's appropriate for your own kids. The watercolor illustrations do show some of the destruction and explosions, as well as people being pulled out of rubble, but avoids showing graphic scenes of the dead and dying." Jonathan Liu, Geek Dad review
ToyDirectory Product ID#: 32881
(added 9/9/2011)
Dinosaur Park
TDmonthly rating:

(
Read Review
)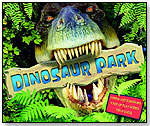 MSRP: $17.99
Age Range: 6 to 10
Launch Date: October 2009
Gender: Boys And Girls
Complete with a field guide, this book features nine press-out dinosaurs and four pop-up play scenes for much more than a regular reading experience. The 42-page book shows off the T. Rex, Triceratops and other dinos. Launch date: October 2009.
ToyDirectory Product ID#: 27633
(added 3/17/2010)
Really, Really Big Questions
TDmonthly rating:


MSRP: $16.99
Age Range: 9 to 12
Launch Date: October 2009
Gender: Boys And Girls
This 64-page, full-color book written by Dr. Stephen Law introduces young readers to questions about life and the universe, leading them to ponder and learn about such things as, "What happened before the Big Bang?" and "What makes stealing wrong?" It's presented in question-and-answer form with quirky quotations. Launch date: October 2009.
TDmonthly Review:
Please click
here
to read
TDmonthly
´s Toy Expert review of this product.
ToyDirectory Product ID#: 27313
(added 2/22/2010)