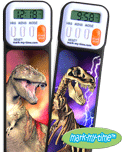 Plush

Most-Viewed and Related Articles:
Plush




Most-Viewed Articles (last 3 months)





1.
Top-10 Most-Wanted Plush and Puppets
When TDmonthly Magazine interviewed retailers about their best-selling plush and puppets in a June 2014 survey, we learned that high-quality brands like Folkmanis, Douglas and Jellycat remain favorites...

7/1/2014








3.
Will American Kids Want Some Tsum-Tsum?
If there's one thing Disney's great at, it's integrating experience (whether digital or physical) with merchandise - and they just might have another hit on their hands...

9/1/2014






4.
STICKMAN STEW® Sticks It to Bullies (But Kindly!)
Bullies, your time has passed! Vampires and other beasts, you may be immortal, but you're irrelevant now. There's a new wave of compassion sweeping the toy industry, and it's being led by a three-dimensional and quite compassionate stick figure...

7/1/2014






---





Most-Viewed Articles (last 12 months)





1.
Top-10 Most-Wanted Plush and Puppets
When TDmonthly Magazine interviewed retailers about their best-selling plush and puppets in a June 2014 survey, we learned that high-quality brands like Folkmanis, Douglas and Jellycat remain favorites...

7/1/2014










---





Additional Articles (from most recent)





1.
Will American Kids Want Some Tsum-Tsum?
If there's one thing Disney's great at, it's integrating experience (whether digital or physical) with merchandise - and they just might have another hit on their hands...

9/1/2014








3.
Top-10 Most-Wanted Plush and Puppets
When TDmonthly Magazine interviewed retailers about their best-selling plush and puppets in a June 2014 survey, we learned that high-quality brands like Folkmanis, Douglas and Jellycat remain favorites...

7/1/2014






4.
STICKMAN STEW® Sticks It to Bullies (But Kindly!)
Bullies, your time has passed! Vampires and other beasts, you may be immortal, but you're irrelevant now. There's a new wave of compassion sweeping the toy industry, and it's being led by a three-dimensional and quite compassionate stick figure...

7/1/2014








6.
Top-10 Most-Wanted Plush and Puppets
When TDmonthly interviewed retailers in June 2013 about their best-selling plush and puppets, one name was mentioned above all the rest: FOLKMANIS...

7/1/2013






7.
Q&A with Gloria Mecca for Heavenly Hug Dolls
It's easy for some people to brush off toys as mere entertainment. But as those of us in the industry know, and as any child (or adult!) with a beloved teddy bear or doll can tell you, for so many people toys are more than just a product to be pushed...

4/1/2013






8.
TDmonthly's Toy Fair Videos: Dolls, Plush, and Figures
TDmonthly Magazine was at Toy Fair, scouting out the newest toys and hottest trends of 2013. Our videographer captured these new toys on tape, so that retailers who couldn't visit their booths can still get a taste of what these new toys have to offer...

3/1/2013








10.
Q&A With Mary Beth Minton, CEO of Zylie the Bear
Mary Beth Minton had one child who loved dolls, and another who preferred to dress up her teddy bears as dolls. After searching for, and not finding, a bear designed to be dressed up and played with as a doll, Mary Beth and her son Matt set out to create their own...

1/1/2013






11.
Q&A With DeNay Thomas-Ramsey, President of Tag Along Teddy
When DeNay Thomas-Ramsey's daughter wanted to carry her plush animals with her everywhere, DeNay was struck with an idea. What if there was a way for kids to bring their plush toys with them, without the toys getting bedraggled and dirty? Tag Along Teddy was born...

10/1/2012






12.
Top-10 Most-Wanted Plush and Puppets
In a late Spring 2012 survey about plush and puppets, retailers told TDmonthly Magazine that their best sellers for the category were rooted in reality. Mini Monarch Butterfly finger puppets from FOLKMANIS look almost like the real thing, and were joined at the top of the list by GUND's Boo...

7/1/2012








14.
Plush & Puppets
Check out these recently added specialty and mass-market plush and puppets...

7/1/2012






15.
Plush Toys
Check out these recently added mass-market and specialty plush toys...

4/1/2012








17.
Plush Toys
See these recently added specialty and mass-market plush toys...

11/1/2011






18.
Holiday Preview: 9 Plush Gifts
Need a meaningful gift to offer your customers or young family members this Holiday season? Look no further!...

9/1/2011












22.
Top-10 Most-Wanted Plush and Puppets
When TDmonthly interviewed 15 retailers about their best-selling Plush and Puppets in late Spring 2011, more than half of respondents said animal puppets from Folkmanis were their best-sellers...

7/1/2011









Featured Products in TDmonthly Magazine:
Plush

DOUGLAS has been a family-owned and operated business for nearly 60 years, now with distribution throughout Canada, Europe, Asia, and Australia.Our classic animals have gestures and expressions that clearly distinguish them as "Douglas." Their faces evoke a sense of connection and endearment. We are known for offering the unusual breeds and hard-to-find species.The heart of our success comes from our in-house USA design team. They create our designs and steward them from conception to final production. In recent years, the power...

More information on DOUGLAS CUDDLE TOYS products.

Have you Seen, Have you Heard? Genetipetz are the new super soft mixed up Stuffed Animals that let every child's imagination run wild. They are genetically and phonetically irresistibly fun! Genetipetz plush toys have been featured on many kids TV networks and are now ready for your retail store! Mention Promo Code "Genetics2014" and receive free shipping and an additional 10% off all new wholesale orders...

More information on GENETIPETZ products.

Stickman Stew and the Gold Heart Crew are STEWards of love and respect.Created by Stickman Stew LLC, the Crew members — STICKMAN STEW®, STICKKID SID™, STICKGAL SAL™ and STICKGIRL SHIRL™ — each have a heart of gold to remind us that we are all bound by a single, common attribute: OUR HEARTS. Bend them, shape them, mold them and love them, as Stickman Stew and the Gold Heart Crew are designed to inspire stewardship of love and respect and to help nurture these attributes in...

More information on STICKMAN STEW LLC products.
Since 02/01/05 people have visited this page.

Advertisement: