Kingdoms and Castles on Computers and Printers
By Timothy Dickey


An enterprising UK company by the name of "make-believer" has merged kids' interest in making things on the computer and building things in real life. Using an expertly developed CD-ROM and a very intuitive format, kids can click and drag pictures together to make a whole kingdom village of their design. But that's only the first stage!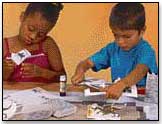 Cut and Paste Time
When the design is complete, another click of the mouse prints out sheets with custom patterns the mini-architects can cut out. Instructions then guide them through the construction of their model kingdom.

The Click & Do software offers five customizable templates--with castles, moats, knights and ladies, and even working machinery like catapults-but the rest of the design aspect is free-style. Some of our staff played around with the "Village Life" CD-ROM and found it lots of fun, and very easy to figure out.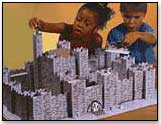 The Finished Product
The make believer kits in this Click&Do series are "Kingdoms & Castles," "Village Life" and "The House that YOU Built." The product comes as a stand-alone CD-Rom, or as a packaged kit containing the CD-ROM, safety scissors, glue, double-sided tape and high quality paper. Recommended for ages 7 and up.




Want to see more New Products? Click Here...