Can I Sell Venus Flytraps in My Store?
By Tim Dickey






When positioned well, Venus flytraps are fast-selling impulse items, especially to curious kids.

Greg Wilson is the manager of The Indoor Garden, a small plant shop located in Eugene, Oregon. His shop carries a variety of carnivorous plants, but Wilson says the Venus flytraps are the hottest seller of the bunch. He retails the smaller 3-inch pots for $5.50, and the larger 4-inch pots for $10.50, because they usually contain about four plants.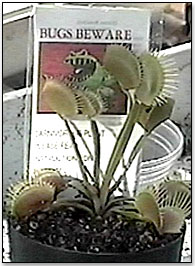 Venus Fly Trap

"The flytraps seem to sell all the time. Everyone likes those because they really move."

They move of the shelves, too. Wilson says he orders around 20-25 carnivorous plants once or twice a month during the summer months. This is when the plants look the best, and upon selling them he instructs owners to grow them outside in order to maintain their red luster.

But can they be grown inside, or at least stay inside long enough to sell them? Wilson says, "They'll look good for a couple of weeks." But he adds if the flytraps get less than four hours of sunlight a day, they will fade in color and grow spindly. (Florescent light is okay, if it's not positioned too close to the plant.)

How to Care for The Little Monsters

In caring for Venus flytraps, remember that they are native to the Carolinas. This should help guide your care of them for the short time that they remain in your store! In general, keep them in a sunny to semi-sunny spot…hopefully your register is near a window or door. Water them with bottled water only, (you're trying to avoid too many minerals, so distilled water is best). Keep them moist, but not flooded.

Some of the Venus flytraps you may have seen in mass-market stores sit in what Dean Cook calls "death cups" for the lack of instructions and poor soil they contain. Many of Cook's Carnivorous Plants come in 3" plastic pots with domed lids that he recommends removing before displaying them for sale. The plants arrive potted in sufficient soil for their immediate needs, and growing instructions are always included.

Yes, you can retail Venus flytraps in your store. At $2.50 wholesale, they are an affordable, immediately interesting novelty that is easy to care for, and even easier to sell.



Want to see more Science and Nature Toy Products? Click Here...