Edutainment Toys Redefine Play.
By Tim Connolly





Will kids go for a toy that threatens to actually teach them something?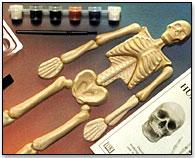 Skullduggery Eyewitness Kit® Humanworks
"As long as we don't tell them it's educational," says Renee Whitney, national sales manager for Scientific Explorer; one of the most respected science toy manufacturers around--with a web page full of awards to prove it. "Packaging is important," she adds. Kids will be interested "as long as they believe first and primarily that this toy will be fun." Their most popular toy, The Meteor Rocket® (see product reviews), teaches kids properties of chemistry and physics as they figure out how to make a successful launch. "We sneak that in," says Whitney. "All of our toys [are designed to] follow the scientific method." Her company believes this approach makes for open-ended and creative problem solving. In a toy market where most problem-solving is limited to video game shoot-outs, kids might find toys like these an enjoyable challenge.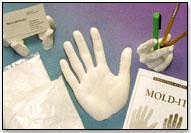 Skullduggery Eyewitness Kit® Mold-it

Also sneaking learning in with the fun is Skullduggery, a family-owned company which began in a garage in 1979, and has since grown to become a leader in casting kits, carving a niche both in the toy market and the classroom. Their most popular item is the Eyewitness Kit® (see product reviews), a fossil reconstruction set that has won high customer satisfaction ratings in Amazon.com's toy reviews. Other kits include: whales, sharks, a human skeleton, and other non-science-oriented sets such as a princess and firefighter.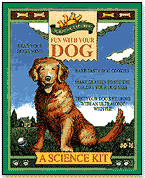 Scientific Explorer Fun With Dog kit

But given the recent bankruptcies of both the Natural Wonders and Store of Knowledge chains, what does the future hold for science toys? "[The bankruptcies] really hurt us," admits Stephen Koehl, president of Skullduggery. He adds that his company has remained strong by keeping a firm presence in high-end specialty stores, catalogs, web-retail, and in the classroom. "We're in all the major colleges with our skull replicas," says Koehl, "and in all the major museums." Koehl cites competition from giants like Wal-Mart, as well as high rents on mall spaces as the primary reason for the demise of some chains, not a lack of interest in educational toys.

"It's on the upswing," says Renee Whitney. Her company has developed seven new toys exclusively for The Discovery Channel, a company that has "made a huge commitment to educational and science toys." They've also signed a licensing agreement with UC Berkeley to produce a slimy substance called "Oobleck," based on a Dr. Seuss book of the same name. The product is a fun chemistry kit that allows kids to create the mysterious substance (made of cornstarch and water), which has the properties of both a solid and liquid, and has baffled even real scientists.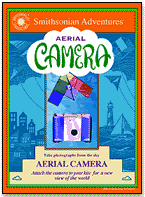 Scientific Explorer Aerial Camera kit

Both Skullduggery and Scientific Explorer have weathered the recent economic downturn successfully, proof that innovative, quality educational toys can withstand even the Nintendo/X-Box juggernaut.

Want to see a showcase of Toy Products? Click Here...