TDmonthly's Toy Fair 2008 Highlights

Monday, February 18, 2008

Julie was found! Make sure to check out Top 10 Arts & Craft Toys and Top 10 Specialty Source Toys at the show.



Toy of the Day: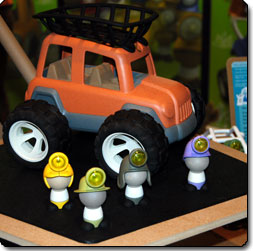 Discover Rig by SPRIG TOYS
Sprig Toys is a new, environmentally responsible toy company created by award-winning industry veterans (former Mattel and Radica designers). They are launching a line of rugged, kid-powered and totally green adventure vehicles for preschoolers. Made from Sprigwood™, a child-safe bio-composite material derived from 100-percent recycled wood and reclaimed plastic, the Sprig Adventure Series harnesses the natural energy of push- and pump-action play to power lights and other electronics — all without batteries. Adventure Guide characters wearing LED-lit hats plug into durable, attractively designed vehicles and engage preschoolers with audio that guides them through exciting adventures as they play.
---

Find Julie!
Congratulations to President John Kokolakis of Gnosi Toys in Astoria, NY, for being the first to "FIND JULIE" on the trade show floor! John, whose company focuses primarily on bilingual toys, told TDmonthly he has witnessed a demand for bilingual products at Toy Fair 2008 that just wasn't evident last year. "This year," he said, "you can see that it's the magic buzzword."
Bob and Kathy Jenkins of Toys in the Attic in Dalton, Ga., caught up with Julie at FAO Schwarz Sunday evening during the ASTRA party. How did they handle all the recall news back in the fall? After learning about Innov-X handheld analyzers in TDmonthly, they called up the company and hosted a lead-testing day in their store. Bob added that 99.9 percent of the product in their store, which opened just last year, can't be found in any nearby superstores. "We want to put products in there from all over the world that you cannot find anywhere else," he said.

Find TDmonthly's Julie L. Jones on the showroom floor and get noticed!

RETAILERS: Give her a business card and your impression of the show and you may be quoted in TDmonthly's Toy Fair Highlights!

MANUFACTURERS: Give her your business card and find out how you can get a FREE VALUE LISTING with ToyDirectory.
Read TDmonthly's Toy Fair Highlights each day to find out where Julie will be the next day. Julie is checking out Hobby goods at the lower level today.
---

TDmonthly's Top-10 Artsy Toys
These Kits Put Hands and Minds to Work
Whether they require donning a smock and utilizing the right side of the brain or just setting on a shelf to admire, these products are sure to bring out the artsy side in people. These 10 picks rank as favorites among the arts and crafts and designer toys TDmonthly spotted on the trade show floor...READ MORE

TDmonthly's Top-10: Specialty Source and Fundamentals
Eco-Friendly Themes Define New Offerings
Toy Fair's Specialty Source went all out this year, playing up the show's green theme with battery-free toys and natural materials, displaying themed sets for building and play, and showing fair attendees what's in the cards...READ MORE
---
Toy Fair Daily Reports
Members of the American Specialty Toy Retailing Association partied (and danced!) the night away at ASTRA's Party With the Stars at NYC's famed FAO Schwarz on Fifth Avenue. Putumayo provided the music, and the band kept things moving with a Caribbean flair. (Photo Report)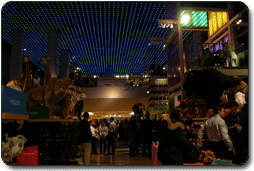 ---

Exhibitor Tip of the Day:
"Make friendly eye contact, introduce [yourself] and shake hands first ... before looking at the prospect's badge." — Charles W. Allen, The C.W. Allen Group
---

Retailer Tip of the Day:
"Disregard things that you know are not going to be a good fit for your store because you'll run out of time. Don't take every catalog they hand you because you won't be able to walk after five feet." — Matt Hannifin, owner of Timmy's Toy Chest, Lake Mary, FL
---

Advertisement:
Advertisement: