If At First Your Scooter Succeeds….Trike, Trike Again
By Timothy Dickey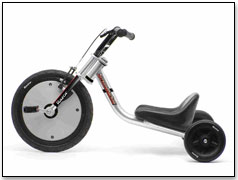 June 18, 2002 -- Riding the jet stream success of a scooter phenomenon they practically invented, Razor USA unveiled a high-concept, all-chrome, time-honored, wonder tricycle called the Scream Machine, at the FAO Schwartz flagship store in New York City.
Looking something like a Big Wheel® dipped in Terminator titanium alloy, Scream Machine is loaded with all the best features of its plastic predecessor, and then some. A super-grip rubber front tire and heavy-duty construction are designed for reaching kid-thrilling speeds, while the handbrake and slick plastic wheels in back promise bracing skid-outs.
"Kids' eyes grow wide at the sight of the Scream Machine™," says Razor USA president Carlton Calvin. "This is one of the coolest products Razor has ever introduced."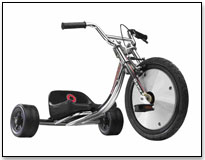 Parents will think the BMX-quality steel construction and safety features are pretty cool, too. A hubcap and pinch guard (brilliant!) help protect shoelaces and fingers, and the seat and hand brake adjust for kids four to twelve years. The company also recommends the use of proper safety gear like helmets, and elbow and knee pads.
Building, perhaps, on the premise of 'that which is old' can be under every Christmas tree again, Razor's Calvin hopes the Scream Machine will be a toy to watch for 2002. Retail priced at $99, the Scream Machine will be available at FAO Schwartz, Toys "R" Us, Sports Authority and other national retailers starting in late June 2002.




Take the Trike Quiz:
1. The Original Big Wheel was invented in: 1898, 1958, 1969, 1974
2. One of these Big Wheel styles didn't really exist: The Knight Rider, ChiPs, Rainbow Brite, Battlestar Galactica, Smurfs
3. To keep the front tire of a Big Wheel from splitting, you should: Avoid running over foreign objects like "dolls and other dumb stuff", Fit a bicycle tire over front wheel, Rub the goo from a cut-open Stretch Armstrong on the wheel, Not ride it in temperatures below 50 degrees.
Bonus Round: The scooter craze was born when Razor president Carlton Calvin saw kids playing with them: In Empty Swimming Pools, In an old Fat Albert cartoon, In Japan, In a Dream
Answers:
1. 1969, By Ray Lohr, manufactured by Marx Toy Corp.
2. Battlestar Galactica
3. Bicycle tire
4. Japan