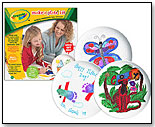 CrayolaŽ Make a PlateŽ Kit
Category:
Arts & Crafts
Watch Video Now
ToyDirectory Product ID#: 22118
Create your own drawings and illustrations with this Crayola® Make-A-Plate® Kit. The kit comes with Crayola markers, paper templates, order form, instructions, mailing envelope, and rush label. Make-A-Plate® has been a family fun memory maker since 1969. Preserve a memory by capturing the imagination of the artist in a usable product that is dishwasher safe and break resistant.
THIS PRODUCT IS NO LONGER AVAILABLE
1/21/2009
[Add to my Inquiry Basket][?]