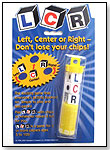 LCR® Left Center Right™ Dice Game
MSRP:
$5.98
Age:
5 and up
Category:
General Games
Watch Video Now
ToyDirectory Product ID#: 11310
This addictive, fast-paced dice game is as simple as looking left, center and right. The roll of the dice determines which players to the left, right or center get the chips, and the player with the chips at the end wins the game. It's simple, fun and even educational for growing minds. L-C-R comes with a storage tube, three dice, 24 playing chips and game instructions printed on the back of the packaging. Yellow, red, blue and green chips are available. The game is designed for three or more players. "L-C-R is fun for kids and adults. It's fast-paced with its own twist. Even teachers like to use it to teach educational concepts such as sense of direction," said Jill Smilanich, a representative for George & Company LLC.
— "L-C-R is still our biggest seller," Bill Rayment, co-owner of
Toy Crossing
in Harbor Beach, Mich., told
TDmonthly
.
— "L-C-R is our No. 1 seller," said Michelle Sahr, owner of
My Little Red Wagon
in Stow, Ohio.
— "We have ordered 'Left, Center, or Right,' a new dice game from George & Company. We had lots of calls for those," Sheena Brittan, manager of Weiner Dog Toys in Marco Island, Fla., told
TDmonthly
. 1/31/2007
[Add to my Inquiry Basket][?]