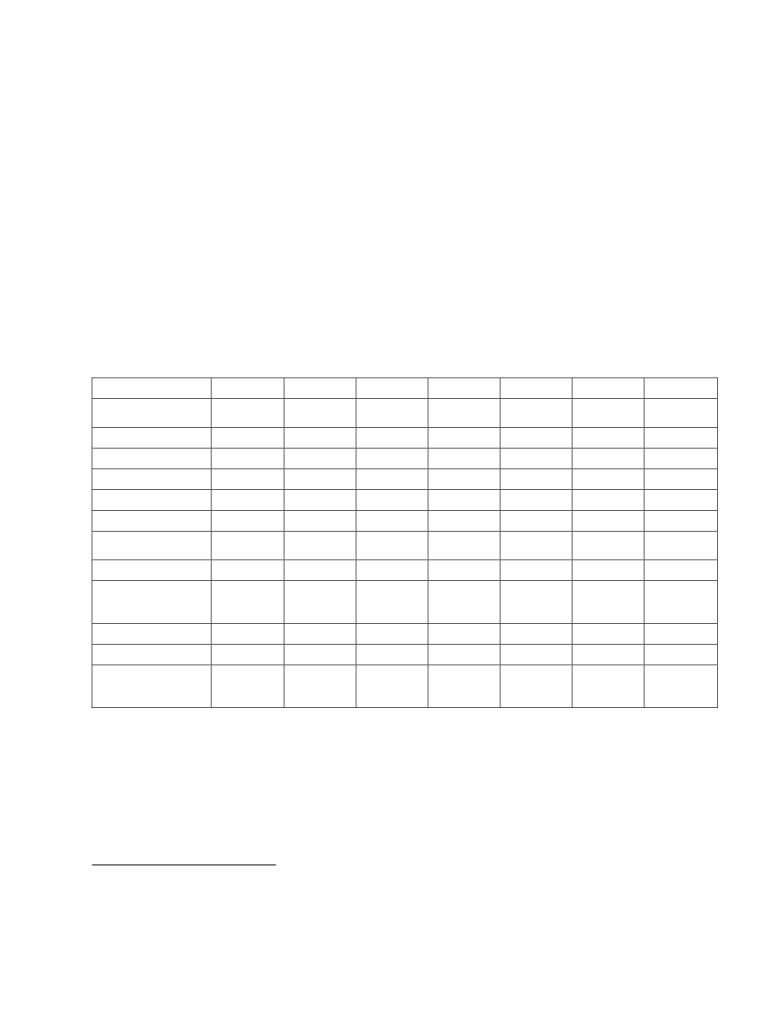 U.S. Department of Commerce Industry Report
Dolls, Toys, Games, and Children's Vehicles NAICS Code 33993
NAICS 339931 comprises establishments primarily engaged in manufacturing complete dolls,
doll parts, and doll clothes, action figures, and stuffed toys. NAICS 339932 comprises
establishments primarily engaged in manufacturing games and game sets for adults and
children, and mechanical and non-mechanical toys. Establishments primarily engaged in
manufacturing electronic video game cartridges and non-doll rubber toys are not included. The
information in this industry report aggregates the industry data for both NAICS codes.
Current Economic Indicators NAICS 33993
See the table below for a complete listing of the current economic indicators for the toy
The industry's domestic production in 2010, the latest year of available data, was estimated at
approximately $2.076 billion. While the majority of toys destined for the American market are
designed in the United States, large-scale production has shifted abroad. However, even
though large portions of the major U.S. toy companies' product lines are manufactured outside
the United States, they still incorporate significant U.S. value in terms of the product design,
marketing, research and development, and corporate support functions. While U.S. toy
1
This report uses the most recent full year data, 2010. Sources: U.S. Census Bureau's Annual Survey of
companies have their own toy development divisions, they also support a network of
independent toy inventors and designers that sell their concepts to the larger companies. The
largest U.S. toy trade association,
Toy Industry Association
(TIA) has
resources
that toy
inventors and designers can use to market their products to manufacturers. TIA organizes one
of the world's largest toy trade shows. Held each year in February in New York City,
Toy Fair
attracts more than 20,000 attendees and 12,000 exhibitors in 350,000 square feet of exhibit
TIA estimates domestic toy related employment at 31,000. TIA member companies employed
approximately 26,215 U.S. workers in 2009. TIA employment figures capture all toy related
operations including independent toy inventors and designers. The Bureau of Labor Statistics'
Quarterly Assessment of Employment and Wages estimated 2010 employment at 11,886, down
from 12,881 in 2010.
2
The Census Bureau's 2010 Annual Survey of Manufactures (ASM)
3
, a
sampling of manufacturing operations, estimated manufacturing related employment at 9,137.
The U.S. Toy Industry Association, TIA, estimates that U.S. retail sales of traditional toys were
$21.78 billion in 2008, up 2 percent from 2009
4
. TIA member companies reported that the toy
categories of Dolls, Building Sets and Outdoor & Sports toys saw the strongest growth in 2010,
while Youth Electronics, Action Figures & Accessories, and Games & Puzzles saw the largest
TIA estimates that the worldwide retail sales of toys totaled $80.280 billion in 2009
5
. The top
ten markets by retail sales were: United States; Japan, China, the United Kingdom, France,
Germany, Brazil, India, Australia, and Canada. Annual toy spending per child in these markets
ranged from a high of $401 in Australia to a low of $6 in India.
6
2
https://www.bls.gov/cew
.
Major exclusions include self-employed workers.
survey of approximately 50,000 establishments.
4
The term "traditional toys'' does not include video games. TIA's "State of the Industry Table" available at:
81a73a-ce46-4caf-8bc1-72b99567df1e#.UXGj0qw8_ng
5
TIA commissioned report "Toy Markets in the World: Summary Charts Annual 2009'' by the NPD Group available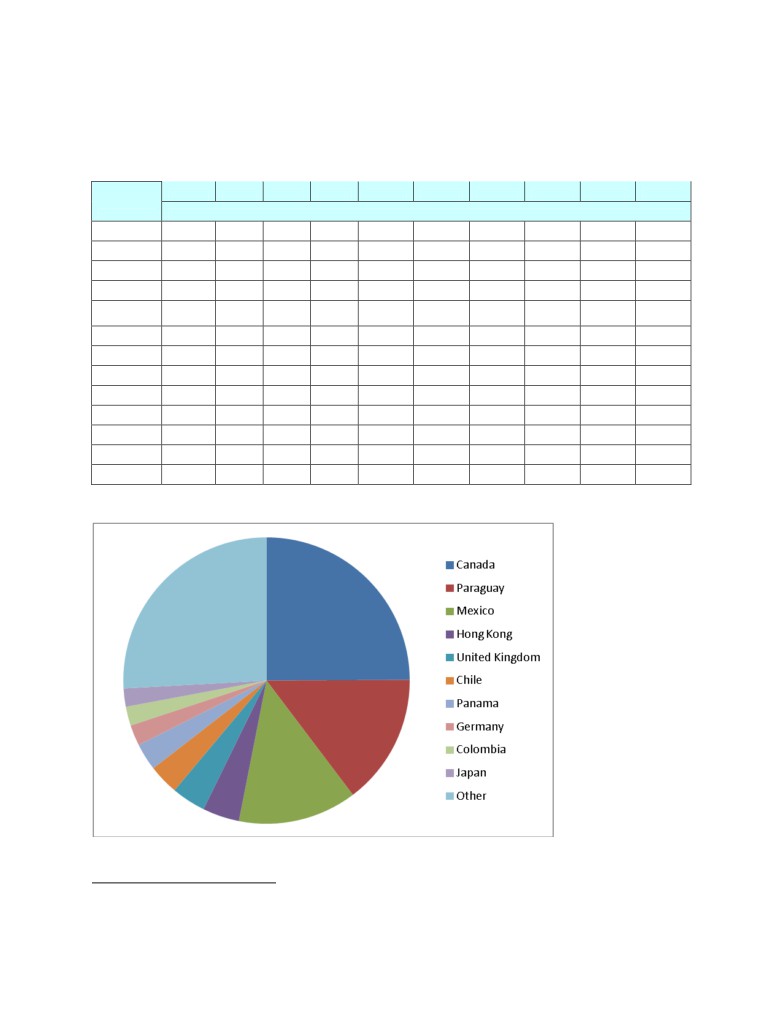 U.S. Exports and Imports of NAICS 33993
U.S. trade statistics don't reflect the global strength of the U.S. toy industry since the majority of toys
consumed in the U.S. are imported or produced regionally to serve specific markets. The U.S. toy
industry exported $1.531 billion in 2010 a decrease of 3.2 percent from 2009.
Toys, Dolls, and Games NAICS 33993: FAS Value U.S. Domestic Exports
7
2010 Toy Exports NAICS 33993 (In $1,000)
7
ITA does not consider Paraguay's imports of U.S. manufactured toys to be indicative of Paraguay's domestic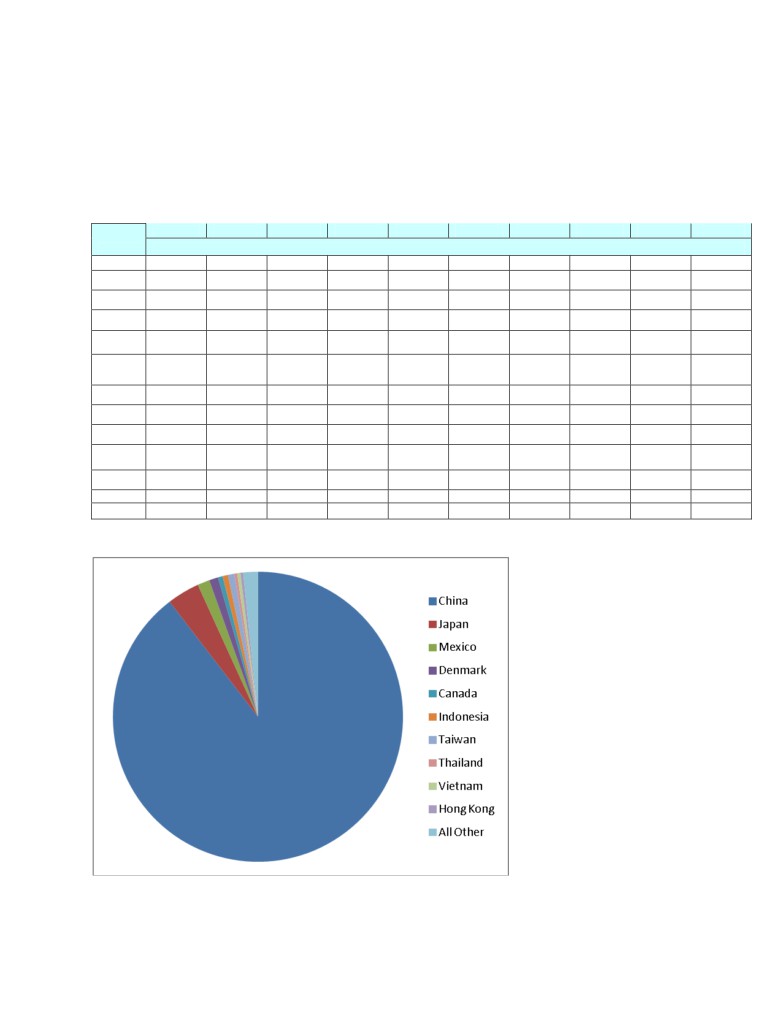 The top five export destinations were Canada, Paraguay, Mexico, Hong Kong, the United
Kingdom, and Chile. Combined, Canada, Paraguay, and Mexico accounted for 53 percent of toy
The toy industry imported $21.427 billion worth of toys, dolls and games in 2010, an increase of
5 percent over 2010 levels.
Toys, Dolls, and Games NAICS 33993: Customs Value U.S. Imports for Consumption
2010 Toy Imports NAICS 33993 (In $1,000)
The top five import sources were China, Japan, Mexico, Denmark, and Canada. Chinese
produced toys accounted for approximately 88 percent of all toy imports in 2010.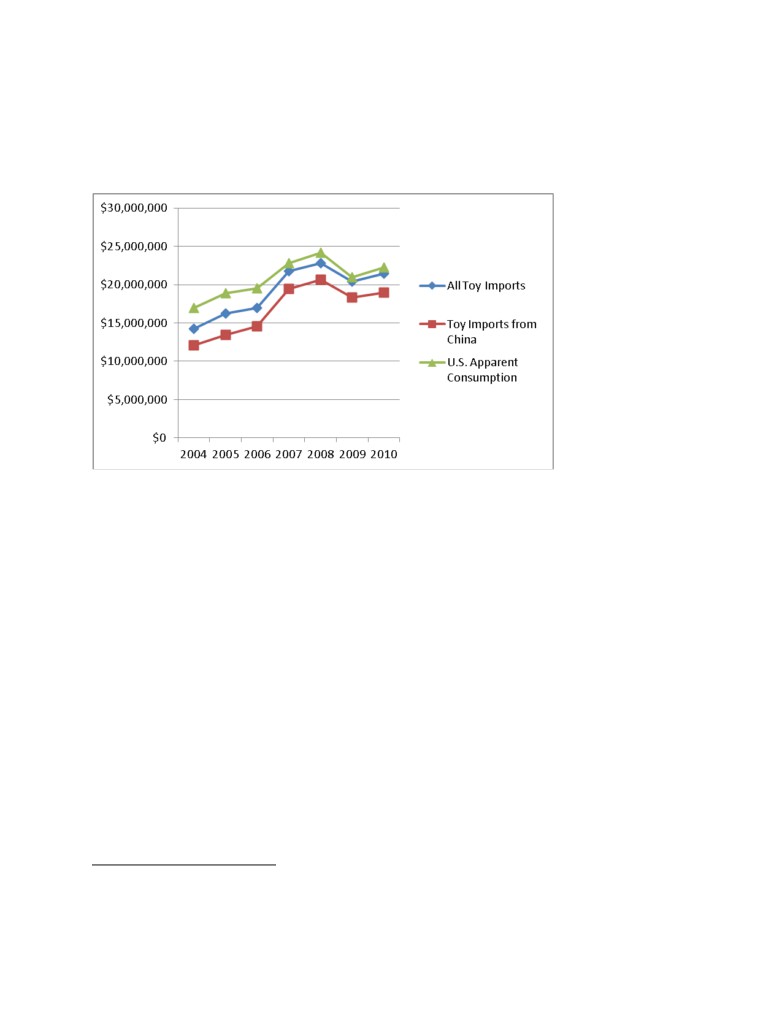 U.S. apparent consumption of toys was approximately $22.2 billion in 2010 with imports from
China accounting for 85 percent of the total.
U.S. Toy Imports NAICS 33993 vs. Apparent Consumption and Toy Imports from China
U.S. and Foreign Toy Tariffs
The U.S. toy industry faces relatively low foreign tariffs. U.S. toy tariffs were reduced beginning
in 1995, and eliminated by 1999, as part of the GATT Uruguay Round "Zero-for Zero''
negotiations. Other signatories to the agreement include the European Union, Japan, and
Korea. Toy trade between Canada, Mexico and the United States is duty free under the NAFTA
agreement. As part of China's accession to the World Trade Organization (WTO), it eliminated
tariffs on most toy categories in 2005.
In 2011, Free Trade Agreements were signed with Korea, Columbia, and Panama. Current 2012 average
toy tariffs
8
on U.S. made toy products are: Korea 4.7 percent; Columbia: 18.5 percent; and Panama:
10.4 percent. Toy tariffs in Korea will be reduced to zero upon implementation of the agreement. Toy
tariffs in Columbia will decrease to 0 percent after a 10 year staging. Toy tariffs in Panama will be
reduced either upon implementation, or using a five or ten year staging period.
In December 2011, Russia was invited to join the WTO as the 155
th
member. After full
implementation of its WTO commitments, toy tariffs which range from 5-20 percent will be
reduced and bound between 5-15 percent depending on the product category. Russia is
expected to formally join the WTO in 2012.
8
Toys are defined as
chapter 95 of the U.S. Harmonized Tariff Schedule
. Specific toy rates provided in this report
are for headings 9501, 9502 and 9503. FTA Tariff rates for other headings are available through the Department
of Commerce's
Free Trade Agreement Tariff Tool
.

U.S. toy companies still face tariffs ranging of up to 10-20 percent in South American countries
such as Brazil, and Asian countries such as Indonesia, Vietnam. For current tariffs on U.S.
products contact the
Trade Information Center
or call 1-800-USA-TRADE.
While U.S. toy companies generally enjoy relatively low tariffs in key export markets, they can
still encounter non-tariff barriers to these same markets. Companies that encounter problems
exporting are encouraged to report their problem to the International Trade Administration's
Trade Compliance Center
. The U.S. Department of Commerce working in conjunction with
USTR and the Commercial staff at Embassies abroad have resolved numerous non-tariff trade
barriers for U.S. companies including issues pertaining to import licenses, safety standards, and
Industry Legislative Changes and Toy Recalls
In 2007, more than 45 million toys and other children's products were recalled for hazards such
as lead paint and small powerful magnets that could injure children if swallowed. Stakeholders,
including toy manufacturers, retailers, and consumer groups, participated in numerous
Congressional hearings which resulted in significant changes to the standards and testing
procedures applied to domestically produced and imported toys and children's products. On
July 31, 2008, Congress sent President Bush a compromise bill, H.R. 4040, entitled "
Consumer
Product Safety Improvement Act of 2008
.'' The Act impacted the U.S. toy industry in the
that contain lead above 600 parts per million for the first year,
reducing to 100 parts per million beginning the third year following the enactment of the
Act, will be treated as banned hazardous substances. The limits represent some of the
lowest lead limits in the world and effectively bans lead from children's products.
• Third party testing and certification for certain children's products will be mandatory.
• Children's products will be required to bear tracking labels that would allow their path
from factory to store to be more easily retraced in the event of a recall.
• Toys and games advertised for sale on the internet and in catalogs will be required to
prominently display the same cautionary language included on product packaging
• The voluntary industry standard ASTM F-963 will become a mandatory standard overseen
• Phthalates are a group of chemicals added to plastic toys and other plastic products to
make them soft and pliable. The phthalates DEHP, DBP, and BBP would be banned above
concentrations of 0.1 percent. Until the results of a Chronic Hazard Advisory Panel have
been received, the phthalates DINP, DIDP, and DNOP will be banned above concentrations
of 0.1 percent in any children's toy or childcare article that can be placed in a child's
The
Consumer Product Safety Commission
website has numerous informational resources to
help stakeholders understand how the Act's requirements will be implemented including
downloadable video files of recent public meetings and timelines which summarize the
required actions pursuant to the Act.

The APEC Toy Safety Initiative
The APEC Toy Safety Initiative was the U.S. response to the many notable toy recalls of 2007,
and to APEC Leaders' calls in 2007 and 2008 to "strengthen consumer product safety standards
and practices in the region'' and "to undertake work to ensure the safety of toys.'' The project
was managed by the U.S. Department of Commerce's Office of Health and Consumer Goods
and the ITA's Standards Liaison in conjunction with USTR. The Initiative was cosponsored by
seven APEC economies: Chile, China, Chinese Taipei, Japan, Malaysia, and Viet Nam. TIA was
the U.S. private sector partner and contributed half of the operating funds. The Initiative called
for a survey of current toy regulatory practices of all APEC member economies and two events:
"A Regulator Dialogue on Toy Safety,'' held on the margins of the Singapore SCSC meeting
August 1-2, 2009; and "An Open Dialogue on Toy Safety for All Stakeholders'' (Open Dialogue)
held during the Hong Kong Toy Fair on January 12, 2010.
The two Dialogues marked the first-ever meetings of all toy industry stakeholders within the
APEC region (home to over 85% of all toy manufacturers and exporters) to discuss
opportunities and obstacles to global standards alignment. The Singapore meeting was
attended by 130 regulators from 20 of the 21 APEC economies (only Russia was not
represented). The Hong Kong meeting was attended by 214 people representing regulators,
standards bodies, toy manufacturers, retailers, toy associations, testing companies, and other
government representatives. Non-APEC attendees included Belgium, Denmark, India, Sweden
and Switzerland. There was discussion of the regulatory systems of 15 members, and the
relationship between the three main toy standards, ASTM F963, the EU's EN-71, and ISO 8124.
Key Outcomes from
Singapore
?
Commitment to participate in a survey of member economies regarding toy safety
systems as a deliverable to the Hong Kong meeting.
?
Agreement between the ASTM and ISO technical committees to consultations on
emerging toy safety hazards.
Key Outcomes from
Hong Kong
?
Completion and endorsement of the
APEC Toy Safety Survey
and circulation of the
document to the OECD, WTO TBT Committee and related organizations.
?
Agreement by APEC members to continue to pursue standards alignment in all
stakeholder groups through an industry task force, international regulator forums, and
consumer organizations under the auspices of the APEC Toy Safety Initiative.
?
Commitment by CPSC to dedicate resources for global toy standards alignment in its
2010 workplan entitled "
Plan for International Coordination on Toy Safety
Requirements
'' (released May 2011).
Questions related to this industry report should be directed to the toy industry analyst at