Products from NOODLE HEAD INC.
THIS BANNER IS AN AD:
---


View: By latest product added | By earliest product added



Below are a select number of products from NOODLE HEAD INC.



---
These personalized luggage tags come in five plush styles — cat, dog, leopard, panda and pig. The identification tag is located on the animal's belly. Velcro strap fasteners hold the pet in place.
ToyDirectory Product ID#: 7507
(added 4/7/2006)
.
MSRP: $11.00
Age Range: 4 and up
Launch Date: May 2006
Gender: Boys And Girls
This colorful travel kit comes in a vinyl case and is available in two styles, both equipped with a shoulder strap. It includes a note pad, tracing paper, colored pencils, sharpener, magnifying glass and tape measure, along with a string and clips to display souvenirs and specimens. Games and activities complete the set, which will be ready in May 2006.
ToyDirectory Product ID#: 7506
(added 4/7/2006)
.
Noodle Head Inc., manufacturer of toys and activity kits for children, has introduced the first of several new travel accessories for children. Travel Buddies is a series of plush neck pillows especially made to accommodate sleepy little heads in cars, on planes or anywhere else. Irresistibly soft and cuddly, these pillows are perfect for naptime on the go. There are six adorable animals to choose from: bear, frog, giraffe, dog, cat or lion.

Product Videos:

ToyDirectory Product ID#: 3373
(added 4/18/2005)
.
MSRP: $18.00
Age Range: 5 to 12
Gender: Girls
Fun to make and fun to wear, a colorful silk halter is the perfect fashion accessory! Children will engage in a classic art form with this kit that allows children to paint a masterpiece they can wear! Brightly colored silk halter comes with pre-printed designs for children to paint in three different styles: flower butterfly or dragonfly. Kit includes 1 silk halter, silk paint, embroidery hoop, paintbrush, mixing tray and information booklet.
ToyDirectory Product ID#: 3110
(added 3/2/2005)
.
MSRP: $16.00
Age Range: 4 and up
Gender: Girls
This "Decorate Your Own" Flip Flop sandal kit allows children a to paint and personalize a pair of black flip flops! The kit includes one pair of durable sandals, 3D fabric paint in fun colors, assorted jewels and sequins and waterproof glue to encourage maximum creativity and style. This product has been awarded the Dr. Toy Best Vacation Products Award because of its creative appeal, simplicity of use, and uniqueness. "The Flip Flop FunT kit offers kids the ability to express themselves with a trendy product that is popular year round." said Chris Ryan, a principal of Noodle Head, Inc.
ToyDirectory Product ID#: 2636
(added 11/18/2004)
.
Winner of the esteemed Oppenheim Toy Portfolio Gold Seal Award (2004), our Night Flyer tm adds a new dimension of fun to flying toys. Made of soft jelly like material, this disk is easy to catch and throw – even in the dark! A favorite at parties and picnics, the Night Flyer comes in a mini size safe for indoor play and is great for slumber parties.
ToyDirectory Product ID#: 2635
(added 11/18/2004)
.
Young Picasso Art Kit
TDmonthly rating:

(
Read Review
)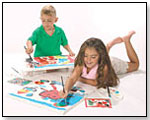 The Young Picasso Art Kit will revolutionize children´s easel painting. Everything the emerging artist needs to dream up a fabulous room decoration or gift is included: one large and two mini canvases, five tubes of non-toxic acrylic paint, two paint brushes, and a plastic pallet for color mixing. The kit comes with an instruction booklet, color mixing chart, and details about famous painters and art styles. There´s even a helpful note to parents on the many benefits of exposing children to art. - Aire Norell
ToyDirectory Product ID#: 1955
(added 12/17/2004)
.