Search Company/Product Name
Your Criteria:
Age:
All Ages
Price:
All Prices
Gender:
Boys and Girls
Category:
Action Games
---

This combat card game with a martial arts theme contains 54 cards and is for two or more players. Participants can choose to use one or more deck for this fast-paced game of attack and defense that simulates the discipline of martial arts sparring. Opponents may spar cooperatively or competitively. Players can expand play with an add-on deck, and fly, spin, duck and dodge their way to victory. It includes rules for single-round play through a six-belt tournament, and there are special rules for beginner, intermediate and advanced play. Launch date: December 2009.
ToyDirectory Product ID#: 26673
(added 1/14/2010)
.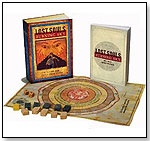 Jordan Weisman, co-creator of the acclaimed Cathy's Book series, launches an interactive trilogy based on the 2012 end-of-world Mayan prophecies. Nathan Richards learns on his 13th birthday that his destiny is to be challenged by the Mayan god Kukulkan in a game that decides the fate of the human race. Read the Book - Play the Game - Save the World. "The combination of book and game board with 11 game pieces and dice engages the reader to interact with the story — as our hero plays the game, so can the reader. Play the game online in a single player mode against the computer or a two player mode against anyone anywhere in the world. The online game will also act as decoder ring where specific locations on the board will give players background fiction on the book's characters and teaser fiction about what happens in the next book," Geri DiTella, Marketing Coordinator, Running Press Book Publishers, told TDmonthly. Launch date: April 2010.
THIS PRODUCT IS NO LONGER AVAILABLE
ToyDirectory Product ID#: 26666
(added 1/14/2010)
.
Age Range: 4 and up
SKU or Item #: BP48105
Launch Date: March 2009
Gender: Boys And Girls
Players flip the tokens as they play to make a constantly changing game. They flip the score card to keep track of games they've won, and the first to five is the grand winner. It is made in the USA of recycled materials and received a 2009 Oppenheim Gold Award. Launch date: March 31, 2009.
ToyDirectory Product ID#: 24315
(added 6/29/2009)
.
Wholesale Price: (Log in to view)
Minimum Order: (Log in to view)
Minimum Reorder: (Log in to view)
Dropship Available?: (Log in to view)
Ships From: (Log in to view)
Terms: (Log in to view)
Age Range: 3 to 10
Specialty: Yes (as of 2011)
Made in: United States
Launch Date: February 2007
Gender: Boys And Girls
This is a plastic, blow-molded skateboard deck only, NO WHEELS OR TRUCKS. Kids learn, practice, and get skills from balance and action sports moves indoors or out. The Yo Baby Kick Flipper is a great INDOOR sports toy. Whether it's too hot outside or the snow is coming down, children stay active and practice the fastest growing sport in the world indoors or outdoors. Parents love the product because children can learn boarding skills safely. The DVD that comes with it is mesmerizing for children and they watch it over and over hoping to master the same moves with their Yo Baby Kick Flipper.
Awards:
2007 TDmonthly Innovations Award
; 2009 product of the year; 2008 preferred choice; ASTRA pick of the year; 2008 Seal of Excellence; Action Product Award ASR 2009
— "We're doing well with Yo Babys, [and] ordering a case a month," said Connie Hoeft, owner of
C R Toys
in Kearney, N.E., when asked about her best-selling sports toys in spring 2009.
Past Videos:
Toy Fair 2009
ToyDirectory Product ID#: 23142
(added 4/2/2009)
.