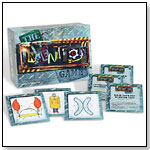 In this game, players try to concoct believable descriptions of more than 150 inventions straight from the U.S. patent office, and then guess which explanations are correct. It includes cards with pictures of some very unusual creations.
ToyDirectory Product ID#: 26845
(added 2/1/2010)
.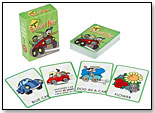 Each player takes five cards from the deck and tries to locate various roadside objects. In addition, several funny "Hear It," "Smell It" and "Feel It" cards encourage kids to use all of their travel senses.
— "Scavenger Hunt is a great travel game that is hot. It's a great game," said Kari Thomas, co-owner of Little Learner in Lakeville, Minn.
— Meghan Bergman, "keyholder" at Rhyme 'n Reason Toys, in Pembroke, Mass., said these little cards keep kids entertained, giving them stuff to look for out the car window.
— "That does very well," said Jeri Dorsey, buyer for Kaboodle LLC in Carmel, Ind.
ToyDirectory Product ID#: 8383
(added 6/22/2006)
.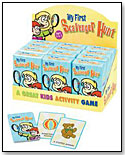 My First Scavenger Hunt is a great activity for energetic youngsters. The cards ask the players to find the object shown, such as a toy, a sock or something red. At the end of the game, kids are challenged to try to put everything back as fast as they can. My First Scavenger Hunt is great for improving vocabulary; teaching color, shape and number recognition; encouraging creativity; fostering listening and observation skills; and reinforcing good cleanup skills.
— "You know what I love? Scavenger Hunt sets," said Terri Bracken, owner of Earth Explorers Toys in Zionsville, Ind.
— It's also available as a Travel Scavenger Hunt for ages 7 and up and an Indoor Scavenger Hunt for ages 8 and up. All of the sets are selling very well in Bracken's store and would make perfect last-minute holiday gifts, she told TDmonthly Magazine.
— This game was launched in Summer 2005.
ToyDirectory Product ID#: 5640
(added 11/21/2005)
.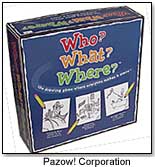 Named "2003 Best New Game of the Year" by The San Francisco Chronicle and #2 in The Chicago Tribune's annual list of "Top 10 Cool Games"  Pazow! Corporation's new drawing board game, Who What Where™ allows players to have fun with their poor drawing skills.  Each player takes a Who card, a What card and a Where card and tries to draw the scene described therein in about four minutes. Players might have to draw "Bill Gates Sumo Wrestling In A Trailer Park" or "Elvis Presley Riding A Pogo Stick In Paris" or thousands of other ridiculous combinations. When they're finished, players pass their drawings around and let others try to guess what the scene is for points.  There are an incredible 1,728,000 unique scenes for players to draw in every game. The worse artist you are, the more fun the game!  For three or more players, ages 12 and up.

ToyDirectory Product ID#: 1658
(added 12/7/2004)
.