---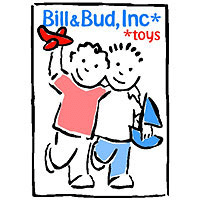 PlayAbility Toys LLC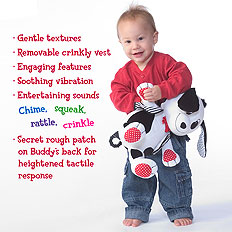 Buddy Dog

MSRP:
$24.95
Gender:
Boys And Girls
Age:
0 and Up
Everyone needs a Buddy
One of the first things children recognize is faces. Buddy's face, with its oversized eyes and friendly smile, will easily capture a child's attention. Buddy's high contrasting colors are extra appealing to young children and even children with low vision. Buddy's stimulating textures encourage tactile exploration - the cool cotton, soft velour, rubbery raised dots, fluffy tuft, and even the secret patch of rough fabric on Buddy's back, will appeal to all children, especially children with special needs. Buddy's reversible vest crinkles with a wonderful crackling sound, yet can be removed for children who are extra-sensitive. His gentle array of sounds will encourage curiosity and learning. When Buddy's tail is pulled, he will vibrate with a soothing hummm - so comforting for little ones to hug and hold.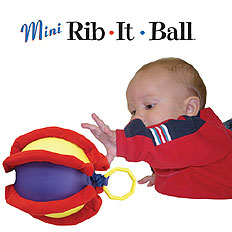 Mini Rib-It-Ball

MSRP:
$14.95
Gender:
Boys And Girls
Age:
0 and Up
Babies give it two thumbs-up for its many features.
Mini Rib-It's really with it! The same super-light feel and handle-like ribs as the Rib•It•Ball™ made small. Babies give it two thumbs-up for its many features. They can grab onto the ribs and hear a satisfying crackly sound ... shake it for a gentle chiming sound ... chomp on the ring for teething relief ... and pull on the string for a soothing whirring vibration. And of course, babies can toss it , grab it and hug it a bunch. The nylon fabric is cool and bright, and the ribs are soft and gentle, perfect for little hands to grasp. At six inches it's sized just right. Intended for babies ages three months and up.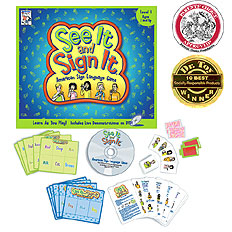 See It and Sign It Game

MSRP:
$24.95
Gender:
Boys And Girls
Age:
6 and Up
The Fun Way to Introduce Kids to American Sign Language
Finally – an easy-to-follow game that teaches ASL the fun way! It's 6 games in one, plus a DVD with live action demonstrations. Our five young and friendly ASL "pros" that take the guesswork out of signing ... because every sign is shown clearly and accurately. In level 1 you'll learn 60 words – 10 words in six different categories – the alphabet and numbers 1-10.
Game includes: 60 game cards with hidden word on back, 10 two-sided game boards, 2 decoder lenses, easy remember guides, 1 DVD, and instructions.
---

AD
---