Parenting Well in a Media Age
by
PERSONHOOD PRESS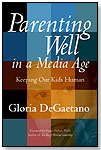 This book by Gloria DeGaetano provides clear and compelling information for parents about the long-term impact of media immersion on our kids. With common sense answers to concerns for children's exposure to violence, questionable values, and consumerism, the author offers hopeful alternatives for parents on meeting kids' real needs in a culture dictated by impersonal corporate business and industry. "The
author takes a firm stand on the importance of educating parents on the effects of media on their children's social, emotional, physical and ethical development.

What messages do you want to be most influential in shaping the emerging identity of your child — yours, or an industry-generated culture?"
asked Publisher Cathy Winch of Personhood Press
.

This book

received an iParenting Media Award. Launch date: May 2004.
11/28/2007 (Price: $18.95)
[Add to my Inquiry Basket][?]