February 2016 New Specialty Toys — General Toys
The 37 Key Digital Baby Grand Piano is a twist on Schoenhut's traditional baby grand pianos. Same patented body design, same sturdy structure, but we've added some enchanting design elements, and plugged in an electronic sound board! This digital piano will mimic true piano sound and is an excellent learning tool for young musicians. As with traditional Schoenhut pianos, the Digital Butterfly includes full width keys to learn proper finger placement, as well as our patented Tri Play Learning system. As an upgrade for our digital model we're including 2 more learning systems to advance skills – Piano Key stickers that reflect the musical notes. The ability to connect apps and expand the play experience is really what sets this piano apart from all others. Download any piano learning app and the piano will play through your device! Download Karaoke app, and use the included microphone to sing along to the words on your device screen. Velocity Keys, 5 different instrument sound functions, Demo songs, and Record/Playback for up to 700 notes. Features opening butterfly style lid, 37 velocity keys and 3 separate learning systems.
ToyDirectory Product ID#: 37462
(added 12/30/2015)
.
Aurora's Gnomes are little curious and cuddly creatures filled with lots of love! This collection features 5 unique styles that come in 3 sizes. Made with super soft fabrics, a large fluffy beard and adorable beady eyes, you will instantly fall in love with Aurora's take on a beloved classic character. Ages 2+. MSRP: $8-24
ToyDirectory Product ID#: 37454
(added 12/10/2015)
.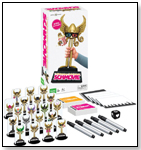 The object of Schmovie is to come up with funny titles for made-up movies based on a film genre (determined by the roll of a die) combined with an outlandish premise (generated by flipping two cards). Schmovie is all about creativity, humor and laugh-out-loud fun for the whole family. What would you call an action film about a killer sandwich? Rye Hard … Beauty and the Beef … Despicable Meatballs … you get the point. Collect Schquid trophies for winning titles as you laugh yourself silly. Inside each box of Schmovie Family Edition: 85 What cards, 85 Who cards, 19 Schquid trophies, 1 genre die, 5 erasable title boards, 1 rule sheet, 5 erasable markers, 19 trophy bases and unlimited awesomeness.
ToyDirectory Product ID#: 37452
(added 11/24/2015)
.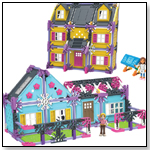 Build your dream house from the ground up with Brianna and Sophia in the Home Designer™ Building Set. Sophia loves building, while Brianna helps with the finishing touches of the interior. These best friends are a dynamic duo when it comes to building and decorating houses. Help them build different styles of houses - a colonial, a brownstone, and a ranch. Decorate the houses using the included accessories and make their home, your home with the Home Designer™ Building Set from Mighty Makers®. Most models can be built one at a time. Includes 433 K'NEX parts and pieces.
ToyDirectory Product ID#: 37448
(added 11/3/2015)
.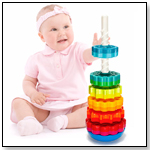 This stacking toy also spins. When colorful discs are dropped on the threaded corkscrew pole, they spin all the way down. The base can be used either flat for a steady base, or turned over for a wobbling base that adds an extra challenge (and extra fun).
ToyDirectory Product ID#: 37445
(added 11/3/2015)
.
Since 12/28/04 people have visited this page.