December 2015 New Specialty Toys — Interactive
This is one sidekick who definitely comes in handy! Your R2-D2 Interactive Astromech Droid figure is packed with all kinds of features to help you fight the dark side—or just have fun throughout your day. This exciting little friend rolls, spins "dances" and plays music, "remembers" and reacts to famous Star Wars characters, guards your room, plays multiple games and can even find and follow you! And with awesome features like an illuminating light beam, infrared location sensors, an adaptable droid mood status indicator, a rotating dome, motorized indoor-terrain treads, a beverage holder and manipulator arm and special "secret" features, this figure is sure to keep the fun going for "light years"!
ToyDirectory Product ID#: 37435
(added 10/28/2015)
.
The pet of any girl's dreams is here: the StarLily, My Magical Unicorn toy! StarLily is a beautiful young unicorn who's come from her home in an enchanted forest to become a very best friend. She responds to voice and touch with more than 100 sound and motion combinations! When interacting with her, she moves her head and hoof, makes special sounds, and lights up her horn.
ToyDirectory Product ID#: 37431
(added 10/26/2015)
.
Your child can rock out and learn with the VTech KidiBeats Drum Set. This drum set for kids comes with a pair of drumsticks that can be used to tap the four different electronic learning drums. Your child can drum freestyle or play along to nine pre-set melodies in a variety of musical styles. Or for more structured play, they can follow the lights on the drums as they learn about letters and numbers. With four ways to play and a variety of fun sounds, your child will love learning to the music with this educational toy.
ToyDirectory Product ID#: 37427
(added 10/26/2015)
.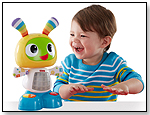 A press of BeatBo's tummy or any of the buttons on his feet activates fun songs, learning content and dance moves. This futuristic friend even allows mommy or baby to record a phrase, and he'll remix it into his favorite song! His 3 modes - Dance 'n Move, Learning & Games, and Customized Sing-Along - "grow" with baby to make him a fun, entertaining companion for years to come! And all the while, he's introducing baby to letters, colors, counting, music, cause & effect and much more!
ToyDirectory Product ID#: 37403
(added 9/30/2015)
.
Since 12/28/04 people have visited this page.