February 2013 Notable Toys — Safety
Wholesale Price: (Log in to view)
Minimum Order: (Log in to view)
Minimum Reorder: (Log in to view)
Ships From: (Log in to view)
Terms: (Log in to view)
MoonBeam Mini Projectors are the first solar-powered nightlights for kids that project fun, softly-lit designs in their rooms throughout the night. They simply attach to any window, giving parents peace-of-mind by removing temptations for little ones to be drawn to traditional plug-in nightlights. Parents will also love that MoonBeam Projectors automatically turn on at dusk and off at dawn. MoonBeam Mini Projectors come in four stylish colors: green, blue, pink, and purple. All MoonBeam Mini Projectors are sold with the Starry Night theme with additional interchangeable projector lenses available for purchase in the following 3 Packs: Christmas, Flower Garden, & Dinosaurs OR Halloween, Sports, & Starry Night. MoonBeam Mini Projectors keep children safe by removing the dangers of traditional nightlights, such as potential fire hazards, while teaching children the importance of using alternative energy. Launch date: January 2012.
Awards: 2012 WTS Toy Review Four Star Certified, 2012 Moms Choice Award Product of the Year, 2012 National Parenting Publication Award, 2012 Creative Child Magazine Product of the Year Award
ToyDirectory Product ID#: 36033
(added 1/18/2013)
.

Wholesale Price: (Log in to view)
Minimum Order: (Log in to view)
Minimum Reorder: (Log in to view)
Ships From: (Log in to view)
Terms: (Log in to view)
Age Range: 1 and up
Specialty: Yes (as of 2013)
Made in: China; United States
SKU or Item #: ASM/Splash Time Safety
Gender: Boys And Girls
Splash Time Safety by Versatraction...is a proven anti slip tub and shower peel and stick mat material. STS will protect your entire family from slipping or falling while getting in and out of the tub or shower. STS puts the fun back into taking a bath. Kids love the playful, colorful images and Mom will love the security of knowing her kids are protected by a non abrasive anti bacterial, anti fungal, and no mold decorative bath mat. Versatraction is a leader in bath time safety as well as providing grip to the surfboards of competitive riders around the world. Launch date: January 2013.
ToyDirectory Product ID#: 36028
(added 1/18/2013)
.
Aurora's award winning Baby Talk line expands for 2013 to include five new themes: My First Purse, My Farm Friends, My Forest Friends (pictured), My Beach House and My First Discovery. Each Baby Talk set includes a "carrier" and four plush pieces to encourage learning and development in children through the associated sights, shapes and sounds.
ToyDirectory Product ID#: 35960
(added 1/14/2013)
.
HDXRF analyzers are the only instruments compliant with ASTM F2853-10, the CPSIA-approved method. HDXRF provides fast, accurate detection of lead and several other potentially toxic elements at levels well-below mandates. As a result, HDXRF is also well-suited for ASTM F963, EN 71, Prop 65, and RoHS testing. HDXRF analyzers are designed with a 1-mm analysis area for small and irregular shapes, and the technology allows for separate and simultaneous analysis of coating and substrate. Available in portable (shown here) and bench top units, HDXRF analyzers provide the accuracy of "wet chemistry" analysis anywhere along the supply chain, without destroying samples and without long, costly turnaround times.

HDXRF technology is used by CPSC and CPSC-certified testing labs. Don't be the weak link in the supply chain. Use what the experts use for true CPSIA compliance, and peace of mind.




ToyDirectory Product ID#: 35852
(added 12/20/2012)
.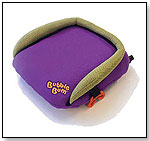 BubbleBum is perfect for parents and tots or kids always on-the-go ages 4-11. The first inflatable lightweight car booster seat, BubbleBum is a fun way for kids to ride comfortably. BubbleBum comes with seat belt positioning clips in place of arm rests and fits in small spaces, making it possible to fit three kids across the back seat. It easily deflates after use allowing it to be stored in a backpack, flight bag, trunk or even a large purse. Perfect for family car trips, fly ins with car rentals and every day use with car pools.
ToyDirectory Product ID#: 35472
(added 11/8/2012)
.
Since 12/28/04 people have visited this page.