August 2009 Notable Toys — Adult Games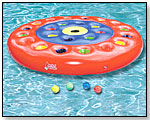 Rocket Pockets features floating super balls and an inflatable, multi-color target that can be used in the pool, at the beach or in a back yard. It is designed for one to eight players and points are scored by landing the super balls in the colored pockets. The game may be used for birthday parties, ring toss, fun learning activities and, for adults, party pong and chipping golf balls. Each game includes one inflatable target, four floating balls, four non-floating super balls, a patch kit and instructions. It is "great for teaching hand and eye coordination, letter recognition and number recognition," Gary Hoskins, creator and inventor of Rocket Pockets, told TDmonthly. Launch date: March 2004.
ToyDirectory Product ID#: 25216
(added 8/28/2009)
.
After rolling the special dice and flipping the timer, players race to list words containing the three letters shown on the dice. Only words listed by a single player score points, so players are rewarded for their speed and creative thinking. This game is adjustable for different skill levels and ideal for varied group sizes. Launch date: April 2009.
ToyDirectory Product ID#: 25063
(added 8/19/2009)
.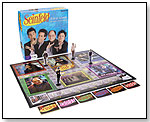 "The puffy shirt," "Crab Bisque," "Hello, Newman." Fans who recognize any of these phrases are ready for Pressman Toy's latest trivia game based on the hit sitcom "Seinfeld." Players join the show's quirky characters and their misadventures with more than 600 trivia questions and lots of surprises along the way. Players race around the board to visit Jerry, Elaine, George and Kramer, and go to Monk's Diner to guess the quote. The first person to get soup from you-know-who wins. Launch date: August 2009.
ToyDirectory Product ID#: 25058
(added 8/19/2009)
.
Made up of nine wooden cubes with red patterning, this "anti-puzzle" has no right answer or winning move. It encourages exploration through assembling the blocks in various ways — and the patterns are a match at all times, no matter how the cubes are placed. Launch date: 2009.
ToyDirectory Product ID#: 24550
(added 7/15/2009)
.
Minimum Order: (Log in to view)
Minimum Reorder: (Log in to view)
Dropship Available?: (Log in to view)
Ships From: (Log in to view)
Terms: (Log in to view)
Age Range: 6 to 8
Specialty: Yes (as of 2011)
Made in: China
Launch Date: May 2009
Gender: Boys And Girls
This is a fast-paced, fun Spelling Board Game that teaches spelling, vocabulary and reading as it's played using spelling words taken directly from any child's grade-appropriate spelling list. Also available in challenging Adult level for those who think they can spell but might find out otherwise.The fast-paced game teaches spelling, reading and vocabulary. "There are no other board games on the market which allow each player to spell words selected from their own grade level and which combine elements of chance, strategy and spelling knowledge in a way that makes learning to spell fun and easy," Richard J. Sullivan, president of The Spelling Bee Game, Inc., told TDmonthly. Launch date: July, 2009.
Awards: 2010 Creative Child Magazine Game of the Year, Children's Educational Board Game Category; 2011 Creative Child Magazine, Game of the Year, Children's Educational Board Game Category.
ToyDirectory Product ID#: 24263
(added 6/29/2009)
.
Age Range: 8 and up
SKU or Item #: TNT78
Launch Date: December 2008
Gender: Girls
With delightful illustrations, Tell-Me Tarot is a charming deck designed for beginners, teens and tweens. The meanings are written right on the cards, so there's nothing to memorize. Kids can just ask a question, choose a card, and receive an answer. "This deck is simple to use and easy to understand so it's perfect for young people interested in tarot," Lynn Araujo, communications director for U.S. Games Systems, told TDmonthly. Launch date: December 2008.
ToyDirectory Product ID#: 23708
(added 5/19/2009)
.
Since 12/28/04 people have visited this page.