August 2009 Notable Toys — Vehicles - Accessories
The bright green inchworm's segmented body offers many different sights, sounds, activities and textures. Baby can gaze at the smiling face, with its high-contrast eyes and soft, teethable antennae. The symmetrical face is designed to have a calming effect on baby. The activity center has a baby-safe mirror outlined in black and white stripes, and the inchworm's multi-textured features foster tactile exploration, which encourages brain development. A convenient snack segment flips open and can be stocked with small snack foods to encourage development of baby's pincer grasp. Babies can push a leaf to hear "moving" classical music, including the "William Tell Overture" and silly sounds. A bumblebee on the base clicks when baby dials. It has high contrast stripes and bright orange silky wings that crinkle to the touch. The toy attaches to all strollers using Velcro® straps. Launch date: July 2009.
ToyDirectory Product ID#: 23924
(added 5/28/2009)
.
The Jing Joe Cooling/Warming Infant Pad is a 9.5" x 14" nylon pad with a built-in fan that draws in ambient air and delivers it out the front mesh spacer. The pad is design to fit easily in a car seat, stroller, swing or bouncer to provide a cushion of air for a child to sit up against that will keep them dry and comfortable without compromising the safety. "[An] opening on each side of the pad accommodates [the] shoulder strap so as not to compromise intended safety features, and also allows use of accessories, such as [the] padded head support and shoulder strap padding. Adjustment to the shoulder straps is required depending on size of the child," Anthony Tong, president of PaTongco LLC, told TDmonthly. The Jing Joe has received the following awards: 2009 Mom's Best Award; 2009 The Toy Man Seal of Approval; 2009 The Toy Man Award of Excellence; and 2009 The Toy Man Editor's Choice. Launch date: February 17, 2009.
ToyDirectory Product ID#: 23873
(added 5/22/2009)
.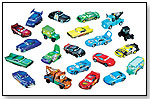 Thirteen characters from the hit movie "Cars" are brought to life at 1:55 scale. Favorites including Lightning McQueen, Sally, Mater and Doc Hudson are featured. Also included is a ticket with a special code that can unlock features on WorldofCars.com. Launch date: June 2009.
ToyDirectory Product ID#: 23621
(added 5/11/2009)
.
Since 12/28/04 people have visited this page.