December 11, 2023

---
Outdoor Fun Leads Kids On Adventure
This year, outdoor toys are going to lure children into their own backyards and beyond. Showing kids that getting decent exercise is as important as learning about mother nature, these toys will excite young adventurers. Check out the following wild products.
Backyard Safari Bug Vacuum by SUMMIT PRODUCTS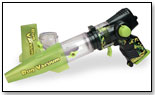 Children discover the adventure just outside their door with the Backyard Safari Bug Vacuum! This cool, interactive toy captures insects by battery operated vacuum suction power without harm, into a plastic capsule. The live bugs can then be viewed and studied through the magnifier in the capsule. Children can either release the bug back into the outdoors or transfer the bug into a habitat.
— "The bug vacuum — those guys sell really well," said Pat Cooley, owner of Cooleykatz Toys in Livermore, Calif., in August 2008.
— Forty percent of 64 retailers across the nation, from Alaska to Florida, said that bug observation and collecting items headlined their summer sales in 2008.
― As of 9.23.2010, this product had 4 out of 5 stars from 10 reviews on ToysRUs.com and was listed No. 5 in best-selling science and nature toys. PROS: Durable, interactive, engaging and educational. 11/30/2004 (MSRP: $19.95; Age: 6 and Up)



The AquaSkipper by INVENTIST INC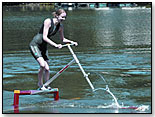 It's better than a boat. It's better than a jet ski. The AquaSkipper is the coolest product to hit the water in years. Unlike other human-powered watercraft, its unique hydrofoil wings and fiberglass spring let you fly across the water by simply hopping up and down. Since the hydrofoil has very little drag in the water, you can move at speeds of up to 17 mph. It's environmentally friendly...no fuel, no noisy engines and its maintenance free. With the AquaSkipper, you can ride on waves, try new tricks, and race your friends. Any way you use it, the AquaSkipper is fun and a great way to exercise. View Demo Video 9/1/2004 (Age: 12 and Up)



The Power Play by SWINGSETS INC.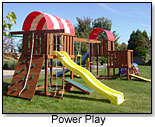 This new and innovative swing set is jam packed with unique physical fitness components to engage children in the type of exercise that will impact their overall health while having fun. It comes with unique physical stations, like the balance beam, chin-up bar and rope ladder, that allow for aerobic, strength and flexibility exercises. It is available starting at $2900. 12/28/2004 (Age: 2 to 12)



Children´s Tire Swings by WILDLIFE CREATIONS INTERNATIONAL INC.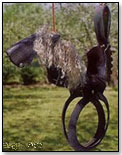 Ever sat on a swing that moves like it's alive? Children's Tire Swings by Wildlife Creations International look and move like their namesakes: T-Rex, Sea Dragon, Elephant, Horse, Reindeer, Moose, Longhorn—even Motorcycle. These unique indoor/outdoor swings are sculpted from recycled auto and truck tires. Each swing has been safety-tested and comes completely assembled and ready to hang. Spark children's imagination as they take off for adventure on these swings, and feel good about helping the environment at the same time. – Aire Norell 12/17/2004



GlowHack by ADVENTURE TRADING INC.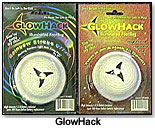 Play outdoors all night with this lighted footbag! These patented footbags use high intensity LED lights. The batteries last up to 100 hours and are replaceable with standard camera batteries. Hand-crocheted and filled with transparent filling, each footbag touts a stylish triangular logo that casts a unique shadow when played with at night. - Aire Norell 1/14/2005 (MSRP: $15)



---
---


Copyright © 2023 TDmonthly®, a division of TOYDIRECTORY.com®, Inc.