February 25, 2021

Reading is Believing: Childrenīs Books
Childrenīs books this year are destined to lure in even more young readers. The unique titles not only educate young minds but inspire them as well. Introducing a plethora of fascinating characters in a myriad of environments, these books sparkle.
Sunshine On My Shoulders by DAWN PUBLICATIONS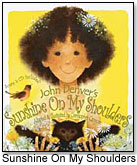 This sunny children´s book (paperback, $8.95; hardback with John Denver CD, $19.95) is a heartwarming book adapted from one of John Denver's best-loved songs. A lovely reminder of the good, pure things in life, it celebrates friendship, sunshine and simple joy. Children and adults alike will love Christopher Canyon's whimsical and humorous illustrations that capture the innocence of childhood. This is the first of a series of picture book adaptations of John Denver's songs. 12/27/2004 (MSRP: $8.95; Age: 2 and Up)



Ancient Rhymes, A Dolphin Lullaby by DAWN PUBLICATIONS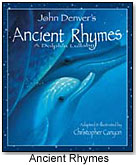 Ancient Rhymes, A Dolphin Lullaby (paperback, $8.95; hardback with John Denver CD, $19.95) is a book based on the John Denver song, "Ancient Rhymes," a heartfelt lullaby celebrating the birth of a dolphin. Denver loved to swim with dolphins – intelligent, mystical animals that swim together in pods, suckle their young, and often touch and caress each other. Christopher Canyon's illustrated adaptation of the song lovingly portrays the hope that new life brings on each page. - Vanessa VanderZanden 12/1/2004 (MSRP: $8.95; Age: 2 and Up)



26 Big Things Small Hands Do by FREE SPIRIT PUBLISHING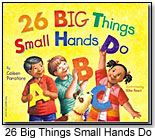 Go beyond "A is for Apple" with an alphabet book that builds character. As children learn and review their ABCs, they discover positive actions they can perform with their own small hands—like applauding, building, giving gifts made with love, helping, planting, recycling, and volunteering. This 32-page, 9 1/4" x 11 1/4" full-color hardcover book was written by Coleen Paratore and illustrated by Mike Reed. 12/29/2004 (Age: 2 and Up)



---
---


Copyright © 2021 TDmonthly®, a division of TOYDIRECTORY.com®, Inc.