March 8, 2021

Educational Toys: Where Fun Gets Smart
Educational toys are clever at mingling fun with learning. Toy manufacturers are becoming increasingly savvy at providing children school and life lessons without the young students even realizing they are gaining a valuable education. The following thought-provoking products use modern-day materials to help a new era of young minds grasp the basics and more.


Youniverse ATM Machine by SUMMIT PRODUCTS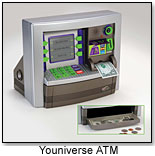 This pretend play gadget is just like the real thing! It has a big screen giving up-to-date account information and even knows a person's name. It has a realistic camera, incredible sounds, and requires a secret PIN number to access. It has an electronic bill feeder and coin recognition. Great for teaching children money management skills, perhaps the best feature is that withdrawals can only be made if the cash is available. - Vanessa VanderZanden 12/3/2004 (MSRP: $49.99; Age: 8 and Up)



Panda TileArt by KOOL KRAFTS



Bring the loveable panda into your home or school. With Panda TileArt, children gain a greater appreciation for nature as they construct a beautiful finished artwork using high gloss, self-adhesive vinyl tiles. Children build self-esteem by completing their very own masterpiece. In the process, they develop essential fine motor skills as they use the TileArt tool to lift and place the sticker tiles from the sheet to the pattern. Math skills are promoted as they learn to follow a color key by matching colors to symbols. - Aire Norell 12/14/2004 (MSRP: $15.00; Age: 6 and Up)



Baby Golf by TINY TOT SPORTS INC.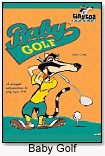 Baby Golf ($16.99 DVD, $14.99 VHS) lays the groundwork for educational achievement while children have fun learning about the "sport of kings." Through this entertaining video series, both girls and boys build the self-esteem and goal-setting abilities they need to reach academic success. Eye-catching shapes and colors capture children´s attention, while watching toddler interaction increases their social skills. The interactive exercises build gross-motor coordination. Children love following along with "Gilbert Golfrey," "Danny Dimples," "Pammy Putter," and the Tiny Tot Golf Team. - Aire Norell 12/15/2004 (Age: 0 to 6)



Sparky Junior Backpack by UNIVERSAL MAP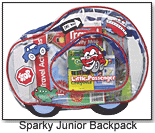 Sparky Junior Backpack won a Top Toy of the Year Award from the 2004 Creative Toy Awards. This car-shaped backpack, made of clear vinyl with full-color silk screened images, comes filled with exciting educational travel activities. Coloring books, crayons, a reusable laminated activity map with water-based marker, and a deck of United States Map playing cards will prepare kids for any adventure. - Aire Norell 12/17/2004 (MSRP: $19.95; Age: 5 to 8)



Tanner's Manners: "Cool Kind Kid" Audio CD by TANNER'S MANNERS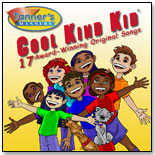 This award-winning CD containing 17 original songs is designed to offer a fun way for children to learn manners. It teaches basic social skills and releases parents and teachers from nagging. Kids can enjoy singing along at home or in the classroom, without even knowing it's educational. The album is written and produced by Steve Megaw and performed by Steve and the "Cool Kind Kids." Each song teaches a different social skill. This CD has won 10 national awards, including Teachers' Choice, Parents' Choice, Toy and CD of the Year, and The National Parenting Center's Seal of Approval. 12/17/2004 (MSRP: $15.95; Age: 2 to 9)



Spanish 1a/InglÚs 1a with Phonics (educational software) by HELP ME 2 LEARN COMPANY

Join the multicultural millenium! Spanish 1a with Phonics\Inglés 1a con Fonética ($39.95-599.95) is a painless way for English-speakers to learn Spanish, and Spanish-speakers to learn English. Don´t worry about memorizing boring textbooks—this software program combines the best of technology and phonics to promote language acquisition using easy and enjoyable games and activities. Learning is interactive and fun with lively pictures, sounds and animated illustrations. - Aire Norell 9/1/2004 (Age: 5 and Up)



Huggy Smart ABC/123 by HOORAY!



The Huggy Smart activity toy line is made from natural flocked foam rubber creating a distinct textured feel that encourages children to use their fingers and hands to explore. The Huggy Smart ABCs & 123s are a set of magnetic letters and numbers that make learning fun. Each letter and number is one-inch thick and four inches high and is brightly colored. In addition, the vowels are colored red for easy recognition. The Huggy Smart ABCs were honored with a toy award because not only are the letters an excellent learning tool but the fuzzy flocking stimulates sensory awareness. In addition, the bold colors offer color recognition and visual stimulation. THIS COMPANY IS NO LONGER IN BUSINESS 12-16-06. 9/1/2004 (MSRP: $49.99; Age: 2 and Up)



Learning Wrap Ups Math Introductory Kit by LEARNING WRAP-UPS INC.


Motivate children to build on their own success! This innovative, self-correcting manipulative tool helps children master addition, subtraction, multiplication, division and fractions at their own pace. Classroom tested to work with any curriculum, it┤s easy and fun to use. The kit includes a teacher┤s guide with ideas, activities, charts and award certificates. Suitable for home school families, tutors, parents and teachers who deal with students of varying skill levels. Four corresponding audio CDs are also available. This nine component kit has an $81 value when components are purchased separately. - Aire Norell 12/23/2004 (MSRP: $49.99)



---
---


Copyright © 2021 TDmonthly®, a division of TOYDIRECTORY.com®, Inc.