Comic Images Gets Shreked in 2004
Highlighting Comic Images' (ToyDirectory) 2004 line plan is their line of Shrek bobble pens and gumball machines. The Shrek bobble pens are available in 3 SKU's: Shrek, Donkey and Fiona. Each pen sits in a custom base while the head actually bobbles. The Shrek gumball machines are based on the classic antique gumball machine, and are available in both the 9" and 11" versions. They come with metal bases, glass globes and are "topped" with the classic pose of Shrek and Donkey.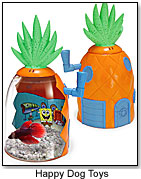 Happy Dog(R) Toys and SpongeBob SquarePants(TM) Make a Splash

Happy Dog(R) Toys (ToyShow) has released a series of products for both humans and animals. The SpongeBob SquarePants(TM) Aquarium line includes the Bubblin´ Bus Action Ornament, which has a pump that provides air for diving action and a propeller that creates movement through water; the Patrick Star Bubble House Action Ornament (designed for 10 gallon plus) which features the endearing starfish´s home that fills with bubbles emitted through an air tube and gradually opens the rock roof up and down; and the SpongeBob SquarePants Betta Tank, an easy-to-maintain tank with a vented and removable pineapple top for feeding.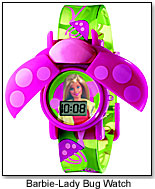 Do You Have the Time?
Seiko Instruments, Inc. is introducing a line of watches based on a variety of licensed characters, including Disney and Barbie. The digital watches come in a variety of styles and colors, and feature comfortable jelly straps and cool features. The line of watches include Barbie-Lady Bug Watch, featuring lady bug wings that open to reveal time and a pouch that can store the watch; Disney Princess Slider Watch and Disney-Power Rangers Slider Watch, both flip top watches that include two interchangeable straps and three character sliders; Disney-Mickey Police Car and Tigger Fire Truck, both of which pop open with the touch of a button to reveal time and feature siren noises.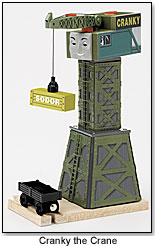 New Thomas & Friends Playsets and Vehicles
RC2 Corporation offers two new ways to take the treasured stories of the evergreen license and pres-school staple, Thomas and Friends, home. Learning Curve´s Thomas Wooden Railway is a classic wooden railway that recreates the timeless Thomas stories and characters. Take Along Thomas & Friends is a line that includes all-in-one, portable playsets and die-cast vehicles.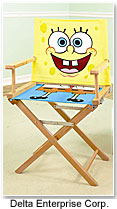 Dora the Explorer Gets Own Line of Furniture
Parents will now be able to decorate their children's bedrooms and playrooms with furniture and accessories festooned with the likenesses of SpongeBob SquarePants, Dora the Explorer and Blue's Clues. Delta Enterprise Corp., a leading children's furniture manufacturer, has a new line of toddler beds, tables, chairs, desks, toy chests, easels and more, each portraying the spirit of those popular Nickelodeon characters. Delta is also developing original themed furniture pieces inspired by The Wiggles, the group of Australian-born children's entertainers who have become the rage around the globe. In addition, Delta continues to provide the exclusive Baby Snoopy infant furniture and accessories, as well as the Precious Moments Baby Collection. They are also introducing 2 new licenses in ToyFair 2004.