August 1, 2021

---
Arts & Crafts: Unleashing Creativity and Building Community
As more people seek the satisfaction and stress-relief of arts and crafts, sales of craft supplies have been on the increase. Baby boomers introduce their kids, especially tweens, to the cool "retro" hobbies of their youth. Families and friends are rediscovering old-fashioned favorites like quilting and scrapbooking. This year, manufacturers are finding innovative ways to use technology to enhance traditional arts and crafts and devise new classics enjoyed by children and adults alike.
Rosalinda TileArt by KOOL KRAFTS



Bring the beauty of the garden to your wall! With Rosalinda TileArt, you can make beautiful finished artwork using high gloss, self-adhesive vinyl tiles. Not only do children love the satisfaction of making their own masterpiece, they develop essential fine motor skills as they use the TileArt tool to lift and place the sticker tiles from the sheet to the pattern. In the process they also learn to follow a color key by matching colors to symbols. - Aire Norell 12/14/2004 (MSRP: $15.00; Age: 6 and Up)



Young Picasso Art Kit by NOODLE HEAD INC.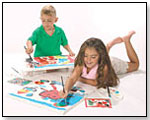 The Young Picasso Art Kit will revolutionize children´s easel painting. Everything the emerging artist needs to dream up a fabulous room decoration or gift is included: one large and two mini canvases, five tubes of non-toxic acrylic paint, two paint brushes, and a plastic pallet for color mixing. The kit comes with an instruction booklet, color mixing chart, and details about famous painters and art styles. There´s even a helpful note to parents on the many benefits of exposing children to art. - Aire Norell 12/17/2004 (MSRP: $20.00; Age: 4 and Up)



---
---


Copyright © 2021 TDmonthly®, a division of TOYDIRECTORY.com®, Inc.