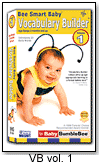 At Baby Bumblebee (ToyShow), where producing award-winning educational videos and DVDs for the infant and toddler market has become the norm, brainstorming is a way of life.

"There are seven of us who work in the company, and though we all have different duties we often get together to share ideas," Director of Marketing Jonathan Zimlin says. Baby Bumblebee took its first educational video, "Bee Smart Baby Vocabulary Builder (Volume 1)," to the market in 1999. President Liz Iftikhar formed Baby Bumblebee as a result of having to deal with inferior products elsewhere.

"Liz bought a learning video for her own child and, as it turned out, she didn't care much for the tape at all," Zimlin says. "She wanted a product with more educational value to it rather than simply entertainment value." Hence, the concept for Baby Bumblebee was born. "When we brainstorm products now," Zimlin continues, "it usually starts with Liz and then we all sit and toss around ideas. It's amazing where these sessions can lead us."

Focused on children under 3, Baby Bumblebee products have been recommended by teachers, learning specialists and speech therapists alike.
Videos That Deliver

"Our videos really do deliver learning value," Iftikhar states. "Many of the infant and toddler videos currently available are mostly entertainment based. We focus on delivering solid educational content that is developmentally appropriate."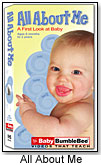 Take the "Baby Vocabulary Builder" for example. It teaches children 23 words through paired associative learning, where the image of an object is shown on screen accompanied by the spoken word. This dual-stimuli learning method is used on all Bumblebee videos. Not only are Bumblebee products extremely popular with typical infants and toddlers, but they have also carved a niche into the market for toddlers with learning disabilities. "The feedback we receive on the videos is unbelievable," Zimlin says. "We get letters all the time from parents of children with language delays and parents of autistic children telling us that our videos have worked wonders for their children."

Iftikhar and Zimlin expect big things from "All About Me," a new video that introduces infants to their own bodies through words, song and sight. "We think 'All About Me' can be a tremendously popular video," Zimlin says of the 2004 release. "We want to get it into as many markets as possible." Other new Baby Bumblebee products Iftikhar and Zimlin anticipate big sales from this year include "Olivia and Otis," a video tale of new friendship, words and play at the park, and "Motorized Madness," a video featuring 10 wonderful machines for the budding engineer.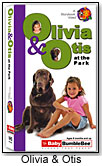 New flashcards accompany a number of the videos. Toddlers can scribble across these washable, durable cards with crayons and parents can simply scrub them clean. These flashcards can be used as stand alone learning tools to help build counting, vocabulary, and alphabet skills, or they can be used in conjunction with the videos.

Zimlin expects Baby Bumblebee to expand into a number of related areas in the future, perhaps under an affiliate name. "Baby Bumblebee will always be there to provide the educational products for infants and toddlers," he says. "However, we are considering science and sports videos for older children, as well as possibly offering video exercise products for the adult market."