March 8, 2021

March 2005 | Vol. IV - No. 3


TDmonthly's Top 10 Most Wanted Girls' Pretend Play Apparel
Dress up is reaching an all-time high among little girls. Recently, theme parties have overtaken traditional birthdays as the norm. Some dress like their favorite characters and others give the look their own personal flair, while still others use dress up as a way to emulate adults.
Bella Dancerella by SPIN MASTER TOYS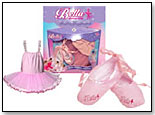 It's easy to practice ballet steps in style with a Bella Dancerella bodice, tutu, and matching pink slippers with beads and sequins.
— This costume compliments the Bella Dancerella Ballet Studio, a 2004 Top 100 Toy by Dr. Toy and one of the top five girl toys of 2005 according to the American International Toy Fair.
— Spin Master in conjunction with Disney is looking for a Bella Dancerella to play a dance instructor in an upcoming Cinderella movie.
— The Ballet Studio ranked in Amazon.com's top 25 costume sales in February 2005.
2/14/2005 (Age: 3 to 8)



My First Purse by iPLAY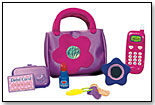 Little girls can act just like mommy with their very own soft purse by I-Play, full of accessories.

- This item rates as a top seller on Amazon.com and Target.com as of February, 2005.
- Imaginarium.com's toyologists have given this toy a top rating in independent play and motor skills.
- This item was on the American Specialty Toy Retailing Association's (ASTRA) list of Hot Holiday Toys for the 2004 season. (

Watch Video) 2/14/2005 (Age: 2 and Up)



American Girl Nellie's Pajama Set by AMERICAN GIRL LLC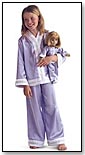 This popular pajama set, for sizes 7 -16, includes a lavender top and bottom set made for children and their dolls.

- "The set has been selling very well and is currently on backorder," according to Susan Jevens, senior public relations associate at American Girl.
- The set was featured in the popular WB TV Network movie "Samantha: An American Girl Holiday," now available on video and DVD, driving up sales.
- Functionality and pretending are bundled together in one package. Little ones can dress up and sleep in the same pajama set they saw in the movie.

Nellie was very popular through the holidays and into the new year, but as new characters are introduced, expect this item to trend down. 2/14/2005



Dr/Dentist/Vet Costume by BRAND NEW WORLD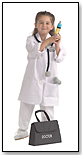 Multi-purpose medical costumes from Brand New World prepare little girls for the future. She can pretend to be a doctor, a dentist or a veterinarian.

-- Dr. Toy has listed this series in 2004's Top 10 Active Products and 100 Best Children's Products.
- It was awarded Director's Choice Recognition by Early Childhood News Awards.
- The Dr/Dentist/Vet costume is second best selling item in this line, according to Kathy Palker, vice president of sales and marketing at Brand New World.

Expect this item to trend up as professional role playing costumes tap into the girls market. 2/14/2005 (MSRP: $32.95; Age: 3 to 6)



Disney Princess Shoes by CREATIVE DESIGNS INTERNATIONAL LTD.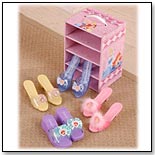 Girls love shoes, whether they're dressing from head to toe as their favorite princess or just clomping around in heels.

- It was a top seller on KBToys.com and Amazon.com in February 2005.
- Most mothers polled in the Mommy Group (katoygroup.com) surveyed said that their girls (and some boys) loved dressing up in shoes.
- The marketing staff of Creative Designs says the shoes are by far their biggest seller in accessories. 2/14/2005 (Age: 3 to 6)



Jr. Executive Chef by AEROMAX INC.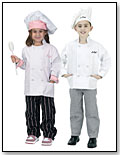 This award winning line of career preparation costumes has created a real treat for girls and boys who love to spend time in the kitchen or even outside at the grill.
— The Get Real series won accolades from Family Fun Magazine, Oppenheim Toy Portfolio, Creative Child Magazine and iParenting Media Awards.
— This series received high ratings from MetroKids Toy Test on its appeal, educational value, functionality and durability.
— The company has designed these items to boost a child's self esteem and get him or her into active play. 2/14/2005 (MSRP: $49.95; Age: 2 to 12)



Royal Treatment by DISCOVERY TOYS INC.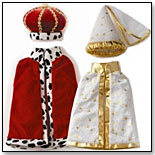 Discovery Toys gives little ones the royal treatment with this plush gold faux fur-trimmed crown and cape.

-- It is a winner of the Great American Toy Test Award and CFCN's Toy Test.
-- This toy is designed to appeal to parents by stimulating creativity, social and emotional development, and fine motor skills in their children.
-- This consultant-based organization gives parents individualized attention when selecting a dress up or pretend play product. 2/14/2005 (Age: 4 and Up)




Disney Princess Dress Up Trunk by CREATIVE DESIGNS INTERNATIONAL LTD.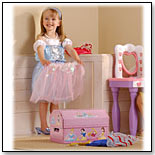 Princess for a day gets an extension in this 23-piece trunk filled with costumes and accessories that let little girls be any character they want.

- It´s a top seller on Amazon.com and KBToys.com.
- Creative Designs Marketing Team says, "The trunks are a big seller with lots of dress up options in one box."
- It includes top selling princess costumes for Cinderella, Snow White, Sleeping Beauty and Belle. 2/14/2005 (Age: 3 to 8)



Barbie Fairytopia Dress-Up Set by CREATIVE DESIGNS INTERNATIONAL LTD.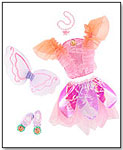 Additional Entry
The Fairytopia series consists of fairy costumes stylish enough for Barbie.
-- Included are a lacy top, tutu, wings, slippers and a necklace for a total pretend experience.
-- The Fairytopia dolls and accessories have already been released and the DVD will soon follow.
-- A press release from Lion's Gate Entertainment notes, "It is important to note, that ´Barbie Fairytopia´ is a whole new immersive world that is very different from the Princess releases."
This product has not yet been released but will be coming out later in 2005. Expect it to stretch toward the popularity of Barbie's Princess and the Pauper series. 2/14/2005 (Age: 3 and Up)



---
---


Copyright © 2021 TDmonthly®, a division of TOYDIRECTORY.com®, Inc.