June 1, 2023

April 2005 | Vol. IV - No. 4

---
TDmonthly's Top 10 Most Wanted Bead Kits
Beading has spread like wildfire and the beading supply industry is at its peak. The popularity of beading has led to a veritable explosion in beading kits, giving the market a multitude of quality options.
Lacing Beads in a Box by MELISSA & DOUG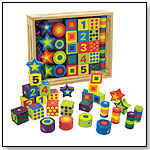 These chunky, patterned wooden beads with extra-long laces are adorned with designs of numbers and familiar objects.
--It was a top seller on babyscholars.com in February 2005, and is an Oppenheim Toy Portfolio Gold & SNAP (Special Needs) Award Winner.
--The beads are a child-safe toy that offers children an enjoyable lacing and counting experience.
--"These lacing beads are also great for pre-writing and pre-reading skills such as fine-motor skills and visual skills," says Jennifer Pulsipher of Rubytoys.com. 3/17/2005 (MSRP: $15.95; Age: 3 and Up)



Paint Ceramic Beads by ALEX BRANDS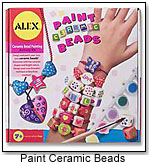 This kit allows children not only to make their own jewelry but also to design and paint their own beads.
--The Paint Ceramic Beads kit is an Oppenheim Toy Portfolio Platinum Award Winner for 2005.
--This is a top selling Bead and Jewelry Kit on Growing Tree Toys, which recommends this toy for its physical, spatial and interpersonal learning benefits.
--Duplicate pieces make this an ideal project for sharing and friendship bracelets. 3/17/2005 (MSRP: $16.95; Age: 7 and Up)



Attitudes Poetry Beads by MAGNETIC POETRY


Magnetic Poetry has moved into the fashion realm with statements kids can wear by stringing magnets with words on them together.
--Included is a set of duplicate word beads so children can make matching necklaces to share with their friends.
--"The great thing about Poetry Beads is that you can change your message as often as you like," says Dave Kapell, inventor and founder of Magnetic Poetry.
--The kit is so popular that it sold out on IQToys.com (March 2005). 3/17/2005 (MSRP: $9.95; Age: 7 and Up)



Wrist Stix by FASHION ANGELS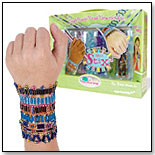 There are enough pieces for 18 different bracelets, thanks to six containers of glass beads from around the world, magic cord and detailed instructions.
--Instructions for several different beading styles are given, providing children with knowledge they can carry into other projects.
--This is a top seller in the Bead and Jewelry Section on Growing Tree Toys, which recommends this product for its development benefits in logic, spatial skills, and physical abilities.
--It is a winner of the Oppenheim Toy Portfolio™ Best Toy Award in 2004. 3/17/2005 (MSRP: $16.00; Age: 3 to 11)



Beaded Dresser Set by CREATIVITY FOR KIDS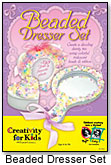 Users can hand bead this ceramic heart box with matching mirror and picture frame.
--This company's mission is to provide children with experiences that stimulate and encourage natural creativity.
--Renee Lamb of Creativity for Kids says that retailers have responded positively and have placed enough orders to push this product into the top seller realm.
--Creativity for Kids gives kids a new way to bead, by applying the beads to the surface of the mirror, frame and box. 3/17/2005 (MSRP: $14.99; Age: 6 and Up)



Clikits: Pretty-in-Pink Jewels-n-More by LEGO


Young girls can create their own jewelry with LEGO's Clikits. The 67-piece set comes with a click-n-stretch bracelet, exclusive heart key ring and necklace.
--This is the best seller of the newly introduced 2005 Clikits products, according to Julie Stern in brand marketing at LEGO Systems.
--Clikits were awarded the prestigious Toy Of The Year Award for Best Activity Toy in 2003.
--Several other products in the Clikit line are consistently featured as top sellers with online retailers, proving the success of not only this product but the series as well. 3/17/2005 (MSRP: $7.99; Age: 6 and Up)



Wood Stringing Beads by MELISSA & DOUG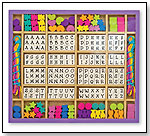 More than 200 wood letters fill this brightly colored kit by Melissa & Doug.
--It was selected by Learning Shop to be a part of their Best Toy Guide.
--"[Melissa & Doug] design all products with education in mind, fostering…a strong sense of accomplishment in children of all ages," says Genius Babies.
--Toys2Wish4.com listed it as a Favorite Toy for ages 9 and up in February 2005. 3/17/2005 (MSRP: $14.99; Age: 4 and Up)



---
---


Copyright © 2023 TDmonthly®, a division of TOYDIRECTORY.com®, Inc.