June 22, 2021

April 2005 | Vol. IV - No. 4

---
TDmonthly's Top 10 Most Wanted Licensed Games
2004 was a banner year for child-driven movies and television shows. Characters from these stories have been ubiquitous, as their creators tackle every marketing corner available. Games provide a logical tie-in, resulting in a plethora of "must-have" licensed games for little ones.
Yu-Gi-Oh! Zombie Madness Structure Deck by UPPER DECK ENTERTAINMENT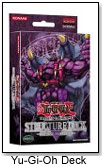 This Yu-Gi-Oh! structure deck is straightforward enough for beginners yet includes enough challenging aspects to hold the attention of experts as well.
— It was a top seller on Amazon.com in March 2005, where it received high ratings from adults and kids alike.
— It is a good deck with powerful cards that is popular amongst players and collectors, according to reviews on Amazon.com.
— In 2004 the Yu-Gi-Oh! collectible trading card game was listed as one of the most highly sought-after toys in Business Week, The Wall Street Journal and USA Today, according to Upper Deck. 3/21/2005 (MSRP: $9.99; Age: 6 and Up)



Trivial Pursuit DVD The Lord of the Rings Edition by HASBRO INC.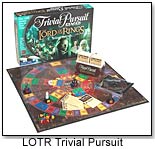 Board game and DVD come together in this version of Trivial Pursuit. As players answer questions, the trivia comes to life on users' television screens.
— Hasbro listed the Lord of the Rings Trivial Pursuit DVD as one of their hot items for March 2005.
— All three Lord of the Rings films are listed among the top-20 box office hits of all time in the United States, according to the IMDb.
— "The TRIVIAL PURSUIT game is one of the best-selling adult games in history, with more than 70 million units sold worldwide since its introduction in 1982," according to the Trivial Pursuit Web site. 3/21/2005 (MSRP: $49.99; Age: 8 and Up)



Harry Potter Whomping Willow Game by MATTEL INC.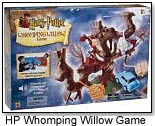 Collect pieces of luggage from the Whomping Willow without getting Whomped! Timed play keeps players racing to snag the most pieces and beat their opponents.
-- It was given an Oppenheim Toy Award for early and late school years.
-- This game is a Hot Seller on Toys and Joys in March 2005.
-- The third installment of the Harry Potter series grossed $249 million in 2004, making it the fifth biggest box office smash of the year and a continued favorite among children. 3/21/2005 (MSRP: $39.95; Age: 5 and Up)



Dora The Explorer Big Easy Board Game by UNIVERSITY GAMES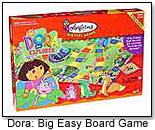 There is a fiesta at Abuela's (Grandmother's) house, and Dora and the gang must wind their way there collecting supplies and avoiding Swiper as they go.
-- This game stays true to Dora's bilingual theme and includes both languages on the playing cards, encouraging the development of language skills in youngsters.
-- "Dora the Explorer Big Easy Board Game is one of our best selling games," says Moss Kardener, vice president of brand development and innovation for University Games.
-- This game is played on a large mat with oversized characters, making it ideal for little hands and roomy enough for multiple players. 3/21/2005 (MSRP: $14.99; Age: 3 and Up)



Monopoly Junior Disney Princess Edition by HASBRO INC.



Classic Monopoly Junior joins Disney's eight favorite princesses for a round of fun as they circle the board looking for their homes.
—The eight most popular princesses are included: Ariel, Cinderella, Pocahontas, Jasmine, Snow White, Sleeping Beauty, Belle and Mulan
—Monopoly is so popular it is licensed in more than 45 countries and translated into 26 languages.
— Monopoly Junior Disney Princess Edition was a top selling Disney item on AreYouGame.com. 3/21/2005 (MSRP: $12.99; Age: 5 to 8)



---
---


Copyright © 2021 TDmonthly®, a division of TOYDIRECTORY.com®, Inc.