June 4, 2023

May 2005 | Vol. IV - No. 5

---
Lights, Camera, Action Figures Hit Market
Many of the top-selling action figures on the market are licensed products. These numbers will increase as blockbusters fill up movie-theater screens this summer. Yet, many unlicensed action figures have been drawing attention at stores across the country as well. What follows are some of the more eye-catching licensed and unlicensed figures available in 2005.

DRAGON KING & HIS HORSE by HOTALING IMPORTS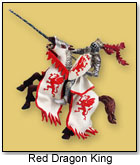 Papo medieval figures are unique and detailed enough for the collector, yet affordable and durable enough for children´s play. Red Dragon King, approximately 3 ½" high, comes dressed in full armor, carrying a shield and long lance. His battle emblems are white and red. He can stand alone or ride the Red Dragon King Horse ($5.00, sold separately). With numerous companion figures and environments available, historical recreations and imaginative play opportunities abound. 12/17/2004 (MSRP: $5.00; Age: 3 and Up)



P-Brains by UNCLE MILTON INDUSTRIES INC.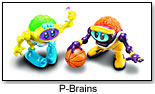 P-Brains collectible characters feature interchangeable electronic brains that let kids play mad scientist. Designed for collecting, P-Brains characters are sold in unlikely pairs — for example, Baby & Soldier. What happens when you switch personalities of a soldier with a baby? Hear the baby ask for his pacifier, switch brains with the soldier and suddenly the soldier is barking commands about his beloved binky! The P-Brains Series 1 Collection includes: Baby, Soldier, Teacher and Skateboarder. Series 2 features the following characters: Scientist, Caveman, Granny and Wrestler. 3/3/2005 (Age: 6 and Up)



Halo 2 Series 3 by RC2 BRANDS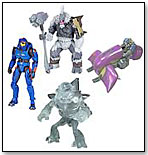 Building on the success of its popular series of Halo action figures, RC2's JoyRide Studios brand is releasing an all-new series of highly-detailed, fully-articulated figures and vehicles under its exclusive license to produce figures for Halo games. The new Halo 2 action figures offer game fans and collectors precision-driven authenticity and detail with over 24 points of articulation. JoyRide Studios was the first company to bring a third-dimension to popular game characters. Figures in the Series 3 Collection include, Blue Spartan, Tartarus, Ghost w/ Brute and a Special Ops Grunt. 4/18/2005



Planet of the Apes Cornelius 12" Figure by SIDESHOW COLLECTIBLES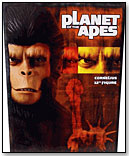 Since its inception in 1995, Sideshow Collectibles has been a specialty manufacturer of licensed and proprietary collectible products that reflect a passion toward creating unique, highly sought after figure collectibles, as well as film prop replicas and fine art collectibles. The chimpanzee Cornelius, from the recent film "Planet of the Apes," is a promising young archaeologist devoted to furthering the advances he has made in science, a relatively new field on the Ape Planet. The fully articulated figure, dressed in a dark green uniform, comes with several accessories, including a Forbidden Zone Map, Ape Scroll, Human Doll and a 12" "Planet of the Apes" figure stand. 4/18/2005



Marvel Select Doc Ock/Spider-Man Set by DIAMOND SELECT TOYS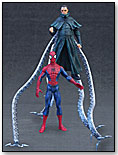 For the price of one, Spider-Man fans can purchase two very attractive action figures in the Doc Ock vs. Spider-Man set. Celebrating one of the comic world's most famous battles, this set is sculptured by Sam Greenwell and features a Spider-Man and Doctor Octopus figure with soft rubber tentacles. The line of figures is based on their characterization in the "Negative Exposure" title in the Spider-Man comics. This figure is currently available. 4/21/2005



Star Wars: Revenge of the Sith General Grievous Action Figure by HASBRO INC.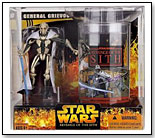 A potent combination of alien and droid, General Grievous is the epic villain of "Star Wars: Revenge of the Sith," to be released on May 19, 2005. The ruthless military commander of the droid armies, Grievous is pursued by Obi-Wan Kenobi on the planet Utapau. With a weapon of his own, this Grievous action figure is prepared for battle with his archenemy Obi-Wan. It includes a plastic collector's cup with colorful graphics. 4/21/2005



Batman Begins: Ultimate Batman Figure 18" by MATTEL INC.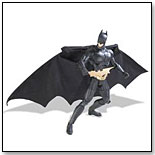 Featuring 25 movable joints, this 18" figure is the crown jewel of Mattel's Batman Begins line, inspired by the film "Batman Begins" to be released on June 17, 2005. This Ultimate Batman Figure is finely sculpted and features one neat surprise – his cape spreads out like batwings at the touch of a button. 4/21/2005



---
---


Copyright © 2023 TDmonthly®, a division of TOYDIRECTORY.com®, Inc.