September 27, 2020

May 2005 | Vol. IV - No. 5


TDmonthly's Top 10 Most Wanted Travel Toys
Time spent in the back seat no longer needs to be idle or give way to quibbling. Instead, children can pick up one of these activities and enjoy a stimulating escape en route to a destination.
Primer Pack Travel Activity Pack by LAURI, a division of PATCH PRODUCTS INC.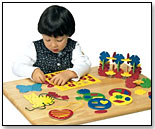 This 25-piece activity pack includes three lacing and tracing cards, a 27-piece puzzle and a "fit-a-space puzzle."
-- The toy was a top selling travel toy on Amazon.com in April 2005 and on elearningtoys.com in April 2005.
-- This pack is a multiple award winner, with honors from (among others) the Oppenheim Toy Portfolio and Parent's Choice.
-- Based on 11 reviews on ToysRUs.com, this product was rated an overall 4.5 stars out of a possible 5. 4/28/2005 (MSRP: $14.99; Age: 3 and Up)



UNO Original by MATTEL INC.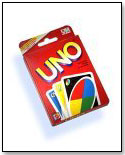 UNO has been a fun, entertaining game for years and travels well, keeping little ones engrossed for hours.
— As of 09/15/2011 this product had 4.7 out of 5 stars from 93 reviews on Amazon.com, and had no one star ratings. It was ranked number 2 in the Card Games category.
— Nathan McKelvey, manager of Toy Castle, LLC in Jonesboro, Ar., told TDmonthly in a September 2011 survey that UNO is one of his top-three bestselling card games.
— UNO is published in 80 countries and has sold more than 150 million copies worldwide. 4/28/2005 (MSRP: $6.99; Age: 7 and Up)



Game Boy Advance SP by NINTENDO OF AMERICA INC.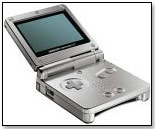 The Game Boy Advance SP is the world's smallest video-game platform, but despite its size the system is stocked with a multitude of features.
-- Game Boy Advance SP was a top selling travel toy on KBtoys.com in April 2005.
-- Out of 81 reviews on Amazon.com, this product averaged 4.5 stars out of a possible 5.
-- Wikipedia.com lists Game Boy as the best selling game system to date. 4/28/2005 (MSRP: $79.95; Age: 6 and Up)



Wooly Willy by SMETHPORT, a division of PATCH PRODUCTS INC.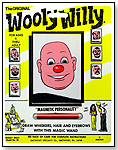 This classic toy lets kids give Wooly Willy the magnetic haircut they think is best fitting.
-- Wooly Willy is a top-selling travel game for FamilyonBoard.com, according to the website's president, Brian Biehl.
-- Scott Cavagnaro, president of Smethport Specialty Company, noted that "the quality, play value and low price make the Wooly Willy a favorite, after over 50 years."
-- Wooly Willy was selected as one of the top 40 toys of all time by Toy Shop magazine and David Hoffman listed it in his book, "Kid Stuff," as one of the great toys of all time. 4/28/2005 (MSRP: $2.00; Age: All Ages)



Go Belt by LUCON KIDS INC.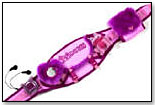 Similar to the Busy Belt, our Go Belts fit kids 3 - 8 yrs and provide endless hours of imaginative play. Available in 4 different themes, sparks any childs interest and imagination. Go Belt Styles: Princess, Bug Catcher, Construction, or S.P.Y 9/1/2004 (MSRP: $24.95; Age: 3 to 8)



Chicco Travel Cassette Player by CHICCO USA INC.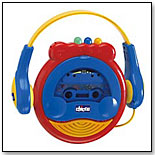 Designed for kids on the go, this travel cassette player comes with large buttons for little fingers and a headset to ensure peace and quiet for other travelers.
-- This toy is a top seller at Wal-mart.com and was sold out as of April 2005.
-- The Travel Cassette Player has been awarded the "Best Vacation Toy Winner" by Dr. Toy in 2003.
-- BabyUniverse.com recommends this toy, noting it promotes "visual, creativity, auditory, and fine motor skill development." 4/28/2005 (MSRP: $15.99; Age: 2 and Up)



Books-in-a-Cup™ by KLUTZ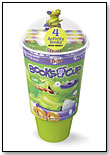 This new travel line is popping up on store shelves everywhere. It is a cup with four activity books, stickers, pencil and collectible pencil topper that fits neatly in a car's cup holder.
-- Kathleen Watson from Klutz says this item has been picked up by all of its 13,000 total accounts.
-- Variety and convenience are the key features of this product, enabling children to keep different activities close at hand.
-- EV Rental Cars will be selling Books in a Cup at their rental locations. This is the first time they have sold travel products. 1/20/2005 (MSRP: $9.95; Age: 8 and Up)



LeapPad by LEAPFROG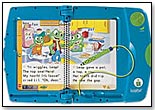 Early learning, taught in a fun way with interactive stories and activities, comes to life with the touch of a magic pen.
-- "We can´t be in the car for more than a half hour without...Leap Pad and additional games...by Leap Frog," states Elise Brandt, member of the Mommies Group on the katoygroup Web site, echoing the feelings of several of the group's members
-- More than 60 available programs keep this toy engaging and new so children aren't bored and are happy to continue learning.
-- According to a Leap Frog representative, more than 17 million LeapPads have been sold since the product was introduced in 1999. 4/28/2005 (MSRP: $34.99; Age: 3 and Up)



VideoNow Jr. by HASBRO INC.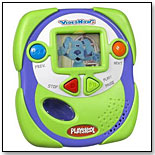 VideoNow Jr. is the first full-color personal video player designed specifically for preschoolers. Now kids can bring Dora, Blue, Barney and other favorite television and movie friends on the road.
— According to a Hasbro press release, more than 1.2 million black-and-white players were sold in its first year alone, and Hasbro expects the new, color version to be equally, if not more, popular.
— The extensive library includes top children's programming from popular channels such as Nick Jr., Sesame Workshop and HIT Entertainment.
— VideoNow Jr. was a top-selling kid's electronic device on Wal-Mart.com when it was first released. 4/28/2005 (MSRP: $29.99; Age: 3 to 6)



Crayola Travel Copy Machine by POLYCONCEPT USA Inc.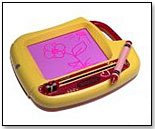 Kids can make copies of their pictures by inserting a piece of paper, coloring their picture and pressing the copy button. Out comes their printed masterpiece!
-- This quiet travel toy encourages children to share their creativity and imagination in pictures with others by printing multiple copies.
-- This product was rated by over 900 people on shopping.com and received an average score of 3.5 out of a possible 4 in April 2005.
-- This item was listed as a top travel toy on Amazon.com in April 2005. 4/28/2005 (MSRP: $14.99; Age: 5 and Up)



---
---


Copyright © 2020 TDmonthly®, a division of TOYDIRECTORY.com®, Inc.