September 20, 2020

May 2005 | Vol. IV - No. 5


TDmonthly´s Top 10 Most Wanted Action Figures
Little hands and little minds love to act out scenes from their favorite television shows and movies. Action figures have an enduring tradition of bringing big screen action down to manageable size. This summer is chock-full of potential blockbusters with action figure tie-ins. As you will see in the list, Star Wars' figures are leading the pack, but several other characters have also become must-haves for collection and play.
Star Wars Unleashed Figure: Darth Vader by HASBRO INC.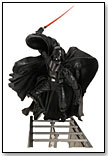 This powerful, artist-inspired moment was captured in this meticulously designed addition to the Unleashed retro series.
-- This figure was the best selling toy on Amazon.com in April 2005 (pre-sale).
-- According to IMDb's MOVIEmeter rankings, the most anticipated film for the movie season of 2005-06 is "Star Wars III: Revenge of the Sith," the series from which Darth Vader hails.
-- Lucasfilm reports a $9 billion sales figure for Star Wars franchise merchandise, proving the insatiable demand for Star Wars tie-in products. 4/29/2005 (MSRP: $14.99; Age: 3 and Up)



Star Wars Unleashed Figures: Palpatine vs. Yoda by HASBRO INC.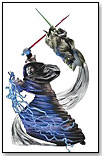 Star Wars Unleashed Figures: Palpatine vs. Yoda (Price: $14.99; Age: 1 month to 8 years) by HASBRO
This product features the battle between Palpatine, the Supreme Chancellor who wishes to destroy the Jedi, and Yoda, the wise Jedi master.
-- This was the second best selling toy on Amazon.com in April 2005 (pre-sale) and its sales trend led it to be selected as an Early Adopter Product.
-- This action figure is one of the few from the Unleashed series to feature two characters for the price of one.
-- As part of the Unleashed series this item features a retro-look while specifically capturing the dramatic essence of Yoda and Palpatine in an action-infused pose. 4/29/2005 (MSRP: $14.99; Age: 3 and Up)



Star Wars Revenge of the Sith: Anakin Skywalker/ Darth Vader Ultimate Villain by HASBRO INC.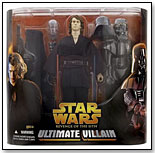 Change Anakin Skywalker into Darth Vader by popping off Anakin's Republic uniform and putting on his tunic and black body armor.
-- This set was a top seller for online retailers eToys.com and KBtoys.com in April 2005.
-- This figure is a two-in-one hero to villain action figure with all of the accessories necessary for the ultimate good and evil battle.
-- The reviews on Sinacity.com lists this item with an average rating of five out of a possible five stars. 4/29/2005 (MSRP: $44.99; Age: 4 to 12)



Spawn Series 27, The Art of Spawn: 6" Issue 119 Spawn Figure by MCFARLANE TOYS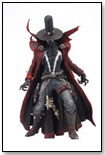 This newly released figure is based on comic creator Angel Medina's rendition and is ready for action dressed in its stylized cowboy outfit.
— "Spawn": Released in U.S.: July 31, 1997. Total U.S. Gross: $54,979,992. Not a bad haul for the movie, but they were expecting a "Star Wars" kind of following because of the intense fan base for the comic book. The toys have fared better, and with the new TV series coming — "Spawn: the Animation" — look to see the sales rise.
— "For us, McFarlane Toys in general are simply a stable, solid seller," related Peter Turcotte, owner of Big Pete's in Vancouver, B.C. "McFarlane set a standard early for quality-looking toys with nice sculpts."
— "For some reason, Spawn keeps selling," said Tim Holden, co-owner of Graphic Toys in Baltimore. "I didn't like the movie, and don't know anyone who did, but the toys are great." 4/29/2005 (MSRP: $9.99; Age: 8 and Up)



Batman Begins: Scarecrow 5" Action Figure by MATTEL INC.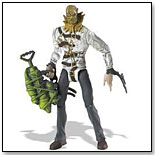 This exciting villain from Batman Begins comes with cool sculpts and weapons, great for acting out movie scenes.
-- This figure was a top seller on KBtoys.com in April 2005.
-- About.com lists this as a featured tie-in product from the movie and says, "the Scarecrow action figure lives up to his reputation."
-- The Comic Buyers Guide asked its readers about the last 100 years of comic books and found they preferred Batman over all other comic book characters. 4/29/2005 (MSRP: $6.99; Age: 4 to 12)



Transformers Universe Micromasters: Construction 6-Vehicle Deluxe Set by HASBRO INC.


This deluxe set comes together to create the ultimate Transformers Micromaster figure – the Construction Devastator.
-- This was a top selling action figure on KBtoys.com in April 2005.
-- Expect a transformer invasion as retailers gear up for the upcoming Steven Spielberg-produced, live-action Transformer movie, for which casting has begun.
-- This set is a bargain containing six figures in one package: Scavenger, Quickmix, Buckethead, Bonecrusher, Long Haul and Hightower. 4/29/2005 (MSRP: $24.99; Age: 6 to 9)



Transformers Energon: Omega Supreme Figure by HASBRO INC.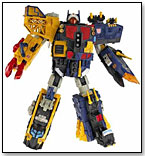 The Omega Supreme transforms from a robot to a cruiser to a construction vehicle which, when combined together, form an armored Supertrain.
— "Anything Transformer from Hasbro" is what sells for Ed Evans, co-owner of All Things Fun! In North West Berlin, N.J .
— Some specialty toy storeowners carry a few big-box items, like Transformers, just in case anyone asks for them, they've told TDmonthly.
— Transformers were the number one and number three best-selling action figures on amazon.com on July 13, 2006. 4/29/2005 (MSRP: $49.99; Age: 5 and Up)



Justice League Alex Ross Series 1 Superman by DC COMICS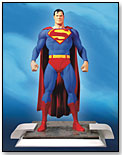 This valuable action figure was designed by artist Alex Ross and features multiple points or articulation. It comes packaged on its display base and in a four-color window box.
— This is Diamond Comic Distributor's top action figure, based on actual sales from March 2005.
— The BBC has polled moviegoers and discovered that Superman is the most popular superhero of all time.
— "Superman Returns" is listed by IMDb's MOVIEmeter as the seventh most anticipated movie of 2006. 4/29/2005 (MSRP: $11.95)



Mystery Solving Crew Gift Set by EQUITY MARKETING INC.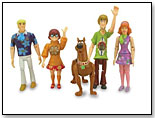 This package includes the entire mystery solving team, now all you need is a villain.
-- This is a top-selling item on Amazon.com's action figure category in April 2005.
-- According to Slate.MSN.com, "'Scooby-Doo' is the most enduringly popular cartoon in TV history."
-- This product received an average of 4 out of 5 stars by reviewers on epinions.com in April 2005. 4/29/2005 (MSRP: $12.99; Age: 3 and Up)



---
---


Copyright © 2020 TDmonthly®, a division of TOYDIRECTORY.com®, Inc.