September 26, 2020

May 2005 | Vol. IV - No. 5


Top 10 Most Wanted Traditional Sporting Toys
Who can forget playing Frisbee or tossing a Nerf football when they were a kid? A lot of our favorite sporting products from the past are still on the market and working their magic on a new generation. As the nation's attention turns to physical activity for youngsters these products are sure to get a work out.
Nerf NFL Football with Tee by HASBRO INC.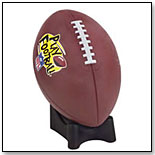 Nothing beats the original Nerf football with an NFL logo. Safe and soft, the foam grip builds throwing and catching skills.
-- It was listed as a top seller on Amazon.com in the Sports and Outdoor Play category in March, and it sold out by April 2005.
-- According to USATourist.com, football is the most popular spectator sport in the United States, prompting many parents to encourage their little ones to learn the game.
-- The new marketing blitz, "Play Their Game" being unveiled by Nerf this year will bring the name and products to the forefront. 5/2/2005 (MSRP: $6.99; Age: 4 and Up)



Frisbee Classic by WHAM-O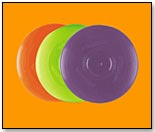 This classic toy is the one that started it all. No home is complete without a Frisbee to toss back and forth on a lazy weekend afternoon.
— It was awarded a Best Classic Toy award in 2004 by Dr. Toy.
— As Frisbee golf is reportedly "one of the fastest growing recreational sports in America," according to the Professional Disc Golf Association, more people are becoming enticed to pick up a classic Frisbee.
— According to WordDetective.com, representatives at Wham-O hint that the annual sales of Frisbees is greater than the sales of footballs, baseballs and basketballs combined. 5/2/2005 (MSRP: $2.99; Age: All Ages)



TotSports Easy Score Basketball Set by LITTLE TIKES INC.


This adjustable basketball set features an oversized rim and junior size basketball. Baskets are easier to make, encouraging more active, winning play.
— As of 05/20/2011, this product had 4.3 out of 5 stars from 103 reviews on Amazon.com, and was listed No. 22 in the top 100 best-selling toys and games. PROS: Adjustable, durable and "addicting" for kids. Appeals to a wide age range. CONS: Board can bend forward. 5/2/2005 (MSRP: $34.99; Age: 1 to 5)



Spalding Power Play Volleyball Set by SPALDING SPORTS WORLDWIDE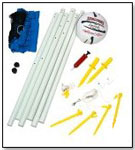 This easily portable volleyball set includes a net, tension wires, stakes and a volleyball.
-- It was a top seller on Amazon Sports and Outdoor Play Best Sellers in April 2005.
-- The stunning victory of the women's beach volleyball team last summer has created more interest in this game.
-- This 110-year-old sport is played by more than 46 million Americans and 800 million people worldwide each week, according to Volleyball.com. 5/2/2005 (MSRP: $29.99)



Total Sports T-Ball by LITTLE TIKES INC.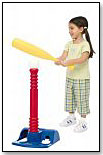 This is the perfect way for little ones to learn about baseball when they're too young to hit a moving target.
-- It was listed as an Amazon Sports and Outdoor Play Top Seller in April 2005.
-- T-Ball has become so popular with kids that in 2004 the White House began a T-Ball on the South Lawn program.
-- According to Allen Barra of Salon Magazine, parents like T-Ball sets like this toy because it helps little ones learn baseball at a very young age, promoting good sportsmanship, competition, and cooperation. 5/2/2005 (MSRP: $15.99; Age: 1 to 10)



TotSports Golf Set by LITTLE TIKES INC.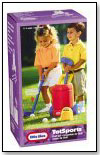 This miniature golf set comes complete with pull cart, two clubs, and an all-surface "hole" so little ones can learn golf.
-- This set was listed as a top seller at KBToys.com in April 2005.
-- According to author Bernadette Moore of "Teaching Kids Golf: A Baffled Parent's Guide," "Golf today is enjoying unprecedented popularity - and its fastest-growing segment is younger players."
-- Of the 16 customer reviews listed on Amazon.com every single one was a rave. 5/2/2005 (MSRP: $21.00; Age: 2 to 6)



Triple Hit Baseball by FISHER-PRICE INC.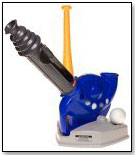 From T-ball to batting practice with a battery powered trainer, this Fisher-Price toy is designed to grow with the child.
-- This toy is listed as a top seller on Amazon.com's Sports and Outdoor Toys category in April, 2004.
-- This product is designed to work three different ways, so beginners can hit off a tee and advanced players can hit machine-pitched balls.
-- The 3-in-1 is a winner of the National Parenting Center's Seal of Approval for 2004. 5/2/2005 (MSRP: $20.00; Age: 3 and Up)



Super Sounds Soccer by FISHER-PRICE INC.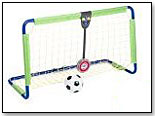 This set includes a soccer ball and adjustable goal that responds as children score, encouraging them to continue playing and practicing.
-- It earned a Gold Award by Oppenheim in 2004 and was a 2004 Seal of Approval Winner from the National Parenting Center
--The Super Sounds Soccer set grows with children as it is designed for beginners and pros, making it a toy that lasts.
-- This item is so popular that is was sold out on Amazon.com as of April, 2005. 5/2/2005 (MSRP: $20.00; Age: 2 and Up)



Everlast Everhide Youth Boxing Gloves by EVERLAST SPORTS MFG.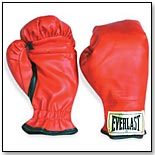 These boxing gloves are made just for kids with lightweight design and extra padding on the knuckles. They're guaranteed to be a hit.
-- These gloves are top sellers on eToys.com and KBtoys.com in April, 2005.
-- According to Boxing.net boxing is growing in popularity, especially among females.
-- The popularity of "Million Dollar Baby" and the new reality series, "The Contender," are bringing the sport of boxing to the forefront. 5/2/2005 (MSRP: $12.99; Age: 8 to 16)



---
---


Copyright © 2020 TDmonthly®, a division of TOYDIRECTORY.com®, Inc.