August 2, 2021

June 2005 | Vol. IV - No. 6

---
Back-to-School for Babies?
Article Synopsis

Even babies use educational and skill-based toys.
School-readiness practices have intensified over the years.
Toys introduce children to reading and language skills.
At one time, the term "going back to school" referred only to children 5 and older. These days, between schools, parents and government-sponsored programs, children are getting "ready" for school literally from day one.

At Cover to Cover in Columbus, Ohio, store owner Sally Oddi has seen school readiness practices intensify over time. To improve reading readiness, it's up to parents to provide the language that goes with the book, says Oddi, rather than simply handing a toddler a picture book. She sells out of board books by Byron Barton, like "Machines at Work."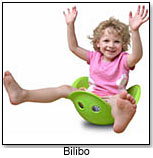 For Ryan Hamilton of Kids on Third in Lakeside, Ohio, the number one seller is the bilibo, a motor-skills toy for young children so popular that he ships it as far away as the Canary Islands. The bilibo is a Swiss-designed plastic shell that rocks, stacks, twirls and nests and is limited only by the child's imagination.
Retail sales director Dodie Gunawardhana of United Art and Education, says the company does well with the Hot Dots line from Educational Insights (ToyDirectory). Hot Dots pens and flash cards offer a self-correcting feature, rewarding right answers with fun sounds and wrong answers with a "boing."
Kathy Bultman, a former teacher and owner of Rocking Horse Toys in Petoskey, Michigan, says that MightyMind, a tangram-like play-alone game from Leisure Learning Products (retail $15, ages 3 and up), is a favorite at her store. The toy has increasing levels of difficulty.
Manufacturers, meanwhile, are working hard to make the grade. Judi Rush of School-Rite (ToyDirectory) says that their product, a handwriting template, was chosen for the National Head Start program after the company went to a National Association for the Education of Young Children (NAEYC) conference. Al DiBuono of Kidzup Productions Inc. (ToyDirectory) researches state education Web sites to figure out what schools need, and therefore, what retailers can sell.
What follows are a number of popular products in the early learning category.
bilibo by KID O PRODUCTS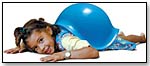 bilibo is a Swiss-designed plastic shell that rocks when children sit in it. Kids have fun stacking the product as well, since it nests snugly in other brightly colored bilibos. Young children enjoy the simple design that they use in many imaginative ways. Awards: 2010 TIA Awards Toy of the Year; 2006 UK Good Toy Awards Toy of the Year; 2003 Deutscher Lernspielpreis, Auswahlliste; 2002 Dr. Toy 10 Best Active Products; 2002 Spiel Guy Arbeitsausschuss Kinderspiel 2002; 2002 Design Distinction I.D. Design Review
— "bilibo: We had to keep ordering it," was the response about hot-selling Xmas toys that TDmonthly got from Jenny Goodlund, manager at JT Puffin's in Madison, Wis.
— Peg Scholtes, owner of Capitol Kids Ltd. in Madison, Wis., had great things to say about bilibo: "It's great for 2- to 5-year-olds. It's the modern version of the cardboard box."
— "We keep a DVD going up on the front counter that shows kids playing with [the bilibo]. Kids instinctively understand it, but adults don't," said Co-owner Mary Sisson of Kazoodles in Vancouver, Wash., of this best seller in her store. (

Watch Video) 5/10/2005 (MSRP: $30.00; Age: 2 to 7)



Hot Dots With Power Pen by EDUCATIONAL INSIGHTS INC.



This creative teacher aid includes a Hot Dots Power Pen and comes with 300 cold — or wrong answer — dots, and 150 hot — or correct answer — dots that can be used to create any number of tests or quizzes. When the pen touches a cold dot, it makes a "boing" sound, and when it touches a hot dot, it responds instantly with lights and any of four positive reward sounds. Hot Dots provide immediate feedback, turning practice sessions into fun time.
— "Hot Dot[s] by Educational Insights [are] still very strong," Rich Gordon, owner of Learning Express in Exton, Pa., told TDmonthly. 5/10/2005 (MSRP: $14.95)



School-Rite Giant Alphabet Set by SCHOOL-RITE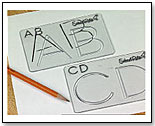 Made of clear, unbreakable plastic, these templates are designed to train and develop perceptual skills at reading and handwriting levels. Designed for beginning handwriting instruction, they mechanically guide the properly angled pencil through each letter configuration. By forcing the hand to lift where normal lift occurs in the handwriting sequence, they allow the learner to correctly form the contour of each letter, build fine motor control, coordinate hand and eye movement, and develop standard stroke patterns. This product received a 2006 Preferred Choice Award from Creative Child Magazine as well as Dr. Toy's Product Excellence Award for 2006. 12/29/2004 (MSRP: $23.20)



BumbleBee Kids 3-Volume Set by BABY BUMBLEBEE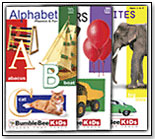 These videos are specifically designed to promote kindergarten readiness. Alphabet Phonics & Fun is an exploration of the ABCs. Performed by kids, it covers all the alphabet basics, including letter recognition, beginning phonics and letter writing. Crazy for Colors utilizes a teaching approach that nurtures a child's ability to assign color to things found in our everyday world. Opposites and More explores concepts that are critical to the advancement of a young child's verbal and reasoning skills. 5/10/2005



5-in-1 Adjustable Gym by LITTLE TIKES INC.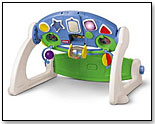 This 12-point adjustable activity center with five stages of play converts from a motion-activity kick gym for infants to a pre-school play table. Electronic sounds, lights and music keep little ones engaged. The gym helps develop motor skills and teaches cause and effect. 5/10/2005 (MSRP: $34.99; Age: 1 to 3)



"What's The Safest Thing To Do?" CD ROM and Flash Card Gift Set by SAFETYTOTS INTERNATIONAL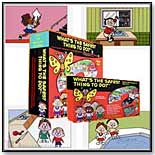 This computer program and flash card set teaches children how to be safe in dangerous situations. Whether their primary language is English, Spanish or French, children will enjoy using this CD ROM and activity set to role-play various scenarios that kids may encounter. This important educational product has been recognized as the 2004 Hot Award Winner from iParenting, voted #1 in 2004 by Homeschool.com, received the 2002 Parents' Choice Gold Award and the 2001 Best Pick Award from Choosing Children's Software magazine. 9/1/2004 (MSRP: $36.95; Age: 4 to 8)



The Learning Palette Base Unit by LEARNING WRAP-UPS INC.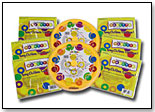 This educational set helps children to learn the alphabet and solve math problems. The set includes one plastic base unit, 12 color-coded disks, an instruction card and a lid that screws on tight to keep loose pieces from getting lost between uses. The cards provide a self-correcting aid for children; after matching the colored disks with the correct picture on the card, the card is flipped over to reveal the correct placement of colors. 5/10/2005 (MSRP: $14.99)



Dino Kingdom by PLAYGROUND ENTERPRISES INC./DANNY FIRST TOYS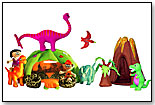 Danny and Sally explore the caves with their four pet dinos and a ptereodactyl! All caveman furnishings and characters are included as shown. Danny and Sally are 5" tall. The cave measures 18.5" long by 7" high by 11" wide. The volcano measures 9" in diameter by 11" high. 4/12/2005 (Age: 2 and Up)



I´m Learning My ABC´s by KIDZUP PRODUCTIONS INC.



Introduce children to the alphabet through flash cards, music and activity sheets. This new learning kit is proven effective for building basic skills and reinforcing learning programs. The set includes 52 colorful two-sided cards, activity cards, a music CD and 32 work sheets printable from the CD. 9/1/2004 (MSRP: $18.99; Age: 3 and Up)



Learn to Dress Cube by LET´S LEARN & PLAY TOYS INC.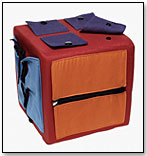 This colorful 8" cube with easy-care washable and dryer-safe 100% cotton material teaches kids how to lace, snap, Velcro, button, zip and buckle. It prepares them for dressing themselves. 5/10/2005



Young Hee by LANGUAGE LITTLES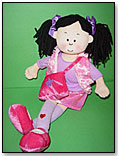 The newest bilingual 16" plush doll to join the Language Littles family says more than 25 words and phrases in English and Korean. The sound module, securely tucked into the middle of the doll, operates on three AA batteries. This stylishly dressed yet huggable doll can introduce herself, talk about her favorite activities, and say, "I love you" in both languages. - Aire Norell 1/20/2005 (MSRP: $39.99)



WEDGITS Deluxe Set by IMAGABILITY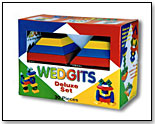 This manipulative building toy offers creative challenge to the aspiring young engineers and scientists in your family. The open-ended design of WEDGITS stimulates children´s perception and reasoning skills as they experience different ways to stack, nest and align these rhombus and octahedron shaped toys. 12/9/2004 (Age: 3 and Up)



Toddler Sand and Water Activity Center by MANTA RAY, INC.

This one-of-a-kind center allows parents and teachers to create a garden, butterfly house, ladybug habitat, or whatever science project they dream up to help introduce nature to little ones. The center is 28" tall and has a 5" diameter screw-on cap that provides easy access. It comes in a blue frame, with a Mega-Tray, vent plug, and super plug. By removing the dome, the center can be turned into a sand and water center. 9/7/2004 (MSRP: $259.00)



Zingo! by THINKFUN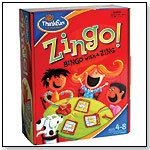 Players try to fill their Zingo! cards with matching tiles from the Zingo Zinger. The first player to fill his or her card wins. Rules can be adjusted to favor more or less competition among players, and to vary the length of time each game requires. This game was a 2007 T.O.T.Y. Nominee for Specialty Toy of the Year. "It teaches memory, matching, vocabulary and social interaction skills. Kids have so much fun playing again and again; they don't realize they're learning essential thinking skills," Marketing Communications Manager Emily Peters of Thinkfun told TDmonthly.
— "Customers use this game as their 'standard' party gift," Owner Elaine Hackney of Boing! JP's Toy Shop in Jamaica Plain, Mass. told TDmonthly in summer 2007.
— "We sell out as soon as they come in," added Pam Horwitz, manager of Mr. Toad's Toy Company in Naples, Fla. Four of 63 retailers singled out Zingo! as the hottest-selling game in their store. Seven percent of 56 retailers listed Zingo as a top-selling game in January 2009. Six of 38 retailers called it a best-selling game in Feb. 2010.
— "Zingo is a great game for 4- to 5-year olds," Jamie Burdette, owner of LB Toys in Media, Pa., told TDmonthly about this game — a top seller in his store — in April 2008. "The basic Bingo concept starts to introduce words and spelling." (

Watch Video) 5/10/2005 (MSRP: $15.00; Age: 4 to 8)



Antique Autos Scramble Squares® by b. dazzle, inc.


Award-winning Scramble Squares® brain teaser puzzles are at least as popular with adults, seniors, teenagers and college students as they are with children. Although each Scramble Squares® puzzle has only nine 4" by 4" pieces, if they´re fitted together in just the right way, a number of antique automobiles will be revealed. 5/27/2005 (MSRP: $8.95; Age: 4 and Up)



---
---


Copyright © 2021 TDmonthly®, a division of TOYDIRECTORY.com®, Inc.