November 30, 2021

June 2005 | Vol. IV - No. 6

---
Jumping Off the Toy Shelf and Into the Movies
Article Synopsis

DVDs and other tie-ins generate interest in new toys.
Toy shops can play DVDs starring toys to stimulate sales.
Some toys come packaged with DVD "prizes."
Stars on the toy shelf are becoming stars on the DVD and video shelves. Over the past several years, powerhouse brands such as Barbie, BRATZ, Strawberry Shortcake and Mega Bloks Dragons have made the transition to the small screen and, in turn, have generated sales for new merchandise tied to the storylines of the DVDs and videos.

DVDs are one component in a broad array of multimedia options that can be used to support a toy brand. One company that is using the full array of choices is DIC Entertainment, which is taking a "360-degree" marketing approach to the introduction of its Trollz line.

DIC, which acquired the worldwide entertainment and licensing rights to the classic Troll characters in 2004, is working with several partners to re-launch the brand. Hasbro is producing the toy line, which debuts in August and will include 3-inch Trollmaker dolls and 2-inch fashion dolls with play sets.
The Trollz marketing strategy also encompasses DVD and video releases through Warner Home Video, a book series through Scholastic, a video game through Ubisoft and a Web site. Internationally, there will even be a Trollz television series.
"Today, we would not put out a toy line without all of these other things in place," notes Nancy Fowler, President of Worldwide Consumer Products for DIC Entertainment. "It's way too competitive to stick something out there on its own."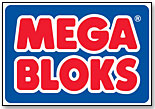 Andrew Witkin, director of marketing for Mega Bloks Inc. (ToyDirectory), reports that DVDs have helped the company establish its Dragons line as trend-setting entertainment for today's medieval action adventure. "We believe the movie will enhance the immersion of the brand with existing fans who have for years asked us what the 'story' behind Dragons is," he says.

Witkin sees obvious synergies between the Dragons toy line and the DVD releases. "We feel the movie or toy line will generate significant interest in the opposite vehicle," he says.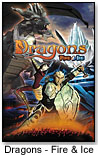 Such was the case with the 2004 release of Dragons Fire and Ice, and Mega Bloks expects to repeat this success with the sequel, Dragons Metal Ages. "From a trade standpoint, the DVD allows us to create a fourth-quarter event around Dragons at retail, with cooperative marketing and advertising between toy and DVD," Witkins says.
Toy retailers can tap into the marketing power of DVDs by showing them on monitors in their stores. Toy Bliss, with stores in Portland and Lake Oswego, Ore., has used this strategy not only for theatrical releases such as "Star Wars" but also for toy-related releases, such as "Bionicle," based on the popular LEGO line—even though the stores sell the toys but not the DVDs. "With Bionicle, the back story helps sell the toy," explains Tyler Bliss, one of the store's owners. "People will buy or rent the DVD elsewhere, and then come in looking for a certain piece."

Bliss also has had success with toys that come packaged with a DVD—for example, Hasbro's My Little Pony and Rescue Heroes from Fisher-Price. "It's like a prize in a cereal box," Bliss says. "It gives consumers more of an incentive to buy the piece. Given a choice between buying a figure with a movie or buying one without a movie, you're going to pick the one with the movie."

The following are new products in this field.
Alien Racers by SD ENTERTAINMENT



While the BRATZ fashion doll line targets girls in the 7-to-11 age demographic, MGA Entertainment is targeting boys in that same age bracket with Alien Racers, an action line that had a soft launch last fall. Alien Racers, the cartoon series, got a three-week trial run in May as part of the FOX BOX lineup on the Fox television network. There's an opportunity for it to return in the fall, and it's also possible that episodes will be packaged on DVDs. Currently, the toys come packaged with comics in CD-ROM format. 5/11/2005



Samantha: An American Girl Holiday by WARNER HOME VIDEO



This is the first American Girl production starring the company's Victorian-era heroine in a live-action, made-for-TV movie. Produced by Revolution Studios, Red Om Films and American Girl, in Association with Warner Bros. Television, the movie aired on The WB Network during the 2004 holiday season and is now available on DVD and video. For 20 years, American Girl has emphasized the integration of the learning and play experiences through its series of historical books, dolls and accessories. 5/18/2005



Barbie and The Magic of Pegasus by LIONS GATE ENTERTAINMENT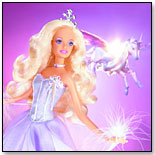 Mattel is following up the Barbie Princess Series and the Spring 2005 release of Barbie Fairytopia with Barbie and The Magic of Pegasus, a new 3-D enhanced animated film that is slated for a fall release. As with past Barbie releases, a full line of new merchandise — consisting of themed princess dolls, winged horses and play sets — is being introduced to coincide with the theme of the movie. That merchandise is slated to hit stores in June. 5/18/2005



Bionicle 2: Legends of Metru Nui by BUENA VISTA HOME VIDEO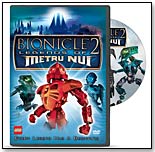 This second DVD in the Bionicle series was released in the fall of last year as a follow-up to the original Bionicle movie, "Mask of Light," originally released in 2003. Both releases from Buena Vista Home Entertainment feature CGI animation. 5/18/2005



BRATZ Rock Angelz by 20th CENTURY FOX HOME ENTERTAINMENT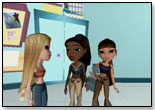 MGA Entertainment is propelling its hugely successful line of BRATZ fashion dolls into the home entertainment arena in a big way. The BRATZ characters already have a 2D animated feature under their fashion belts. This fall, they will take on a CGI animation look with the new "BRATZ Rock Angelz" feature-length DVD, produced in conjunction with 20th Century Fox Home Entertainment. The DVD is only one aspect of the upcoming Rock Angelz phenomenon. There also will be a full-length rock album through Universal Music Enterprises and a video game through THQ Interactive. 5/11/2005



Dragons Metal Ages by BARDEL ENTERTAINMENT

Mega Bloks recently announced that it plans a second DVD release to tie into its Dragons brand, the company's most successful toy line. The first DVD — Dragons Fire & Ice — was introduced last September. The follow-up DVD will be called Dragons Metal Ages. In both cases, Mega Bloks' partner in the production is Bardel Entertainment. The original DVD was licensed by TELETOON Canada as an original production and by Cartoon Network in the United States. Distribution partners included Alliance Atlantis, Lions Gate and Paramount. 5/11/2005



My Scene Goes Hollywood by BUENA VISTA HOME VIDEO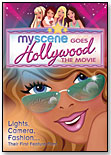 In addition to the aforementioned Barbie DVD releases, there also is a strong DVD component being used to promote the My Scene fashion doll series, which is aimed at the tween age bracket. This series of dolls will star in a full-length, direct-to-video animated movie, My Scene Goes Hollywood.  Distributed by Buena Vista Home Entertainment, the movie debuts this fall. 5/11/2005



Polly Pocket by MATTEL INC.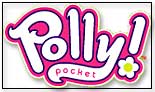 The diminutive Polly's first DVD came packaged with the Polly Pocket Fashion Beach Game. Her second DVD, "2 Cool at Pocket Plaza," is slated for a July 2005 release and introduces a new character: Polly´s identical cousin, Pia Pocket, visiting from England. The DVD for this Mattel brand comes packaged with two Polly dolls, pets and a variety of mix-and-match fashions and accessories. 5/11/2005



Starring Strawberry Shortcake by DIC ENTERTAINMENT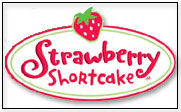 DIC Entertainment reintroduced Strawberry Shortcake in the first quarter of 2003. Bandai is producing the toys, whereas the related DVDs are being produced in conjunction with 20th Century Fox Home Entertainment. DVD samplers have been placed in Strawberry Shortcake merchandise as a cross-selling strategy — something that DIC is repeating with its new Trollz brand. Featuring more than 400 licensees worldwide, DIC's Nancy Fowler reports that the brand already had strong brand equity before the relaunch. Strawberry Shortcake's newest release is Moonlight Mysteries, coming this fall. 5/11/2005



---
---


Copyright © 2021 TDmonthly®, a division of TOYDIRECTORY.com®, Inc.