In-store demonstrations have always been a good way for retailers to introduce kids to products. Now, manufacturers of building and construction toys are offering a new kind of demonstration — online interactive sites — that allow kids to get hooked on building before they even step in the door.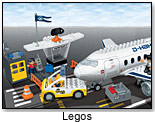 The popularity of the LEGO site (lego.com)[1] indicates just how much kids enjoy the interactive play experience. "Lego.com is the second most popular Web site in the world for kids, behind Disney," reports Michael McNally, senior brand relations manager for LEGO Americas. The site's LEGO Factory provides kids with a free software download that enables them to design custom LEGO models.
The K'NEX Web site (knex.com)[2] enhances the play experience with 100 free instructions for the company's building sets. Plus, interactive product demonstrations feature 3-D spins and videos. An interactive comic allows kids to contribute ideas for the next episode.
K'NEX's "Ask the Designer" feature enables users to send in questions to the K'NEX product design team. Each month, the team answers approximately five questions. One reply is given on video using actual K'NEX models.
The retailer is also a major component of the K'NEX initiative. "We … provide the retailers with product demonstration video and our TV commercials, to have as features on their [own] Web sites," says David Murai, K´NEX manager of Internet services.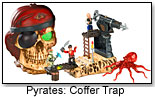 The Mega Bloks (ToyShow) Web site (megabloks.com)[3] provides storyline information while showcasing products. For fall product launches involving Pyrates, Radix and Dragons Metal Ages, the company is enclosing CDs featuring mini-movies starring the products as main characters. Also available in the fall will be "Dragons Metal Ages," a direct-to-video DVD.
"These tie-ins … allow children to immerse themselves in the worlds crafted by Mega Bloks … and use their own creativity to customize the worlds into their individual play patterns," states director of marketing, Andrew Witkin.
Witkin points out that building and construction toys are well suited for the Internet because they appeal to a wider age group than traditional toys and attract kids in a higher income bracket. "Construction toys also foster the sense of community, as builders like to display their builds and share building tips with others. The Internet … allows them to do so."
LEGO uses a variety of means to enhance the play experience for its BIONICLE line (bionicle.com). "The BIONICLE line is primarily story-driven," reports McNally. "We placed focus on the Web content, from games to character information to story chapters."
Going beyond the Web site to tell the BIONICLE legend, LEGO has partnered with DC Comics to create the largest-circulation comic book for kids. Packed inside the bimonthly "LEGO Club" magazine, it reaches an audience of 1.6 million. Other partnerships include BIONICLE-related DVDs with Miramax Film Corp. and Buena Vista Home Entertainment, BIONICLE and Knights' Kingdom stories for young children with Scholastic Books, and the best-selling LEGO Star Wars The Video Game, published by Giant Interactive Entertainment, developed by Traveller´s Tales and distributed by Eidos.
"Comics, movies, Web, video games and books create relevance for the LEGO brand … reaching kids who may not be builders with cool and interesting stories and characters," McNally contends.
According to Bob Breneman, owner of G. Willikers in Portsmouth, N.H., children who have encountered products on the Web are more likely to enter a retail store looking for a certain product or character. "They come in with very specific ideas of what they want to buy, which helps direct us on what to carry," he says.

Web site Features
[1]www.lego.com: Features at LEGO.com include interactive games, product information, building challenges and inspirations, activities and even an online club. Attracting a core audience of boys ages 6 to 12, the Web site has links to major LEGO brands, including BIONICLE, Knights' Kingdom and LEGO Star Wars The Video Game. The online LEGOshop.com offers the world's largest selection of LEGO products. In addition to the aforementioned LEGO Factory feature, another recent addition to the site is LEGO Star Wars "Revenge of the Brick." This five-minute CGI film had its premiere on Cartoon Network and brought the magic of the Star Wars universe to life in LEGO form.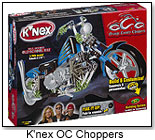 [2] www.knex.com: The K'NEX Web site hosts seven product sites, each associated with a specific product line, such as OC Choppers and Big Builds tub and case sets. The site's BuilderZone includes photo galleries, giant builds and access to K'NEX experts. Visitors to the site — predominantly children ages 8 to 12 — can feel a greater connection to the brand by joining Club K'NEX, which features a variety of games and contests. Members also receive monthly e-mails, keeping them informed about additions to the Web site content and offering member-only privileges, such as money-saving opportunities and sneak peeks at soon-to-be-released products.
[3]www.megabloks.com: The Mega Bloks Web site features a preschool section for children under the age of 5 as well as a section for kids age 5 and older. There are product links for its most popular brands, including Dragons Fire & Ice, Pyrates and ProBuilder, displaying specific storyline and product information for each of these lines.