June 24, 2021

July 2005 | Vol. IV - No. 7

---
TDmonthly´s Top 10 Most Wanted Practical Joke Toys Under $10
Almost 100 years after the first practical joke product hit the market, gag toys remain steady sellers in toy and novelty shops across the country. What follows is a list of the most popular jokes under $10, based on a category survey of toy and hobby retailers, manufacturers and distributors. Highlighted are specific items within top selling gag categories.
Self-Inflating Whoopee Cushion by JA-RU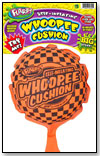 Called a "classic" by several retailers surveyed, this technologically updated version saves the prankster's breath because it reinflates after every use. Kids can place these under seat cushions and wait for an embarrassing noise when someone plops down. Ja-Ru holds the patent to this unique self-inflating item.
— First introduced by the Jem Rubber Co. of Toronto in 1930, the classic Whoopee cushion has been a favorite ever since, says Mark Newgarden, author of "Cheap Laughs: The Art of the Novelty Item" (Picturebox Inc., 2004).
— Phil French, co-owner of Whirligigs and Whimsies in Bethesda, Md., says he used to order the self-inflator by the dozen, "but now I'm buying in 24s."
— The two top-selling practical joke items at Rebecca's, in Euless, Texas, are the 8" Whoopee cushion and the 6" Whoopee cushion, according to Joe Nazarro, owner of the wholesale supplier. 6/15/2005 (MSRP: $3.99; Age: 7 and Up)



Fake Crap by LOFTUS INTERNATIONAL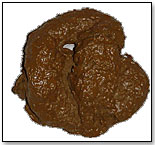 Many of the new fake poops have everything but the smell. A variety of "accidents" from both dogs and cats are popular, as are poop pens.
— Super Deluxe Fake Crap, at $4.99, is the #1 best-selling gag item at the Four Eyes Joke Shop in Southbridge, Mass., says co-owner Valerie Pontbriand. It's so realistic, it sticks to customers' shoes.
— Kids buy crap because "their friends have it, and they think they need it, too," says Stan Rust, store manager of Phillips Toy Mart in Nashville, Tenn.
— Fake crap was one of the top-10 practical joke items on Amazon.com. 6/15/2005 (MSRP: $0.99; Age: 7 and Up)



Monster X Super Soaker Key Chain by BASIC FUN INC.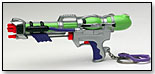 Squirting toys are on almost everyone's top-10 list. This squirt toy is a miniature water pistol based on the Super Soaker by Larami. Attached to a keychain, it's approximately 4" long.
— The manufacturer claims this mini item can squirt water up to 20'.
— Squirtable disappearing ink is a favorite at Uncle Fun in Chicago, says Alicia Bobheck, chief fun officer of the store.
— Other squirt toys include squirting cameras, calculators, ice-cream cones and even a toilet, while the squirting rose is still a favorite, says Mother Elf of Unnecessary Necessities in Queen Creek, Ariz. 6/15/2005 (MSRP: $5.99; Age: 7 and Up)



Classic Joy Buzzer by S. S. ADAMS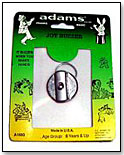 Pranksters slip the ring over their fingers and wear the buzzer in their palms. A friendly handshake gives their victims a little shock!
— Unlike the original joy buzzer that had sharp edges, current buzzers are round-edged and harmless, says Mark Newgarden, designer of the Garbage Pail Kids.
— The product's popularity in the '50s sparked competition from foreign knock-offs. Joke mogul Soren S.Adams' grandson later redesigned their buzzer to be better and cheaper to produce, says Newgarden.
— Josh Banke, shipping manager at Finnegan's Toy Store in Portland, Ore., says that joy buzzers are one of the items he has to order most often. 6/15/2005 (MSRP: $4.49; Age: 7 and Up)



Shock Gum by LOFTUS INTERNATIONAL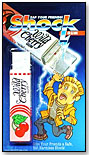 Gum lovers will get a shock when they reach for this really wild cherry gum. Rigged with a AAA battery, the gum delivers a startling but harmless shock to the potential chewer.
— A shock pen is among the top-10 practical jokes on Amazon.com.
— All kinds of shock items are best sellers at Unnecessary Necessities in Queen Creek, Ariz.
— Other shock items available through various outlets include shock cell phones, cigarettes, diaries and a shocking computer mouse. 6/15/2005 (MSRP: $3.98; Age: 7 and Up)



Snake in a Jellybean Can by LOFTUS INTERNATIONAL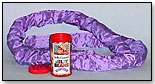 It looks like a normal can sitting on the kitchen shelf, but when the victim opens the top, two colorful 5' coiled-spring snakes leap out!
— The snakes can be fitted into all kinds of containers.
— Valerie Pontbriand, owner of Four Eyes Joke Shop in Southbridge, Mass., likes to repackage and sell the snakes in a fishing creel. Other stores can devise their own special snake surprises for their customers.
— Snakes can be bought in cans that claim to be house mints, peanuts and mustard. 6/15/2005 (MSRP: $7.99; Age: 7 and Up)



Potato Shooter by JA-RU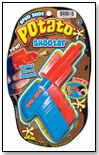 These 6" guns transform potato pieces into flying pellets. When the tip is pressed into a raw potato, it breaks off a small piece that becomes ammunition. The harmless pellets can travel across a room. One potato can provide hundreds of shots.
— The potato gun can be taken apart for cleaning, but kids should be careful not to lose the spring, advises a "Kid Reviewer" on Amazon.com, who calls the gun "awesome!"
— The potato shooter was recommended as a great stocking stuffer by Mark Slotin, owner of Imagination Station in Spartanburg, S.C., because it's inexpensive, small and fun.
— Popguns were also touted as fun stocking stuffers by retailers across the country. 6/15/2005 (MSRP: $1.99; Age: 7 and Up)



Dollar Bill Snatcher by LOFTUS INTERNATIONAL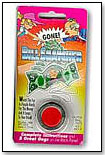 Kids can place these under dollars, pencils, candy, etc. and then pull away when someone reaches for the tricked-up item.
— This simple toy comes with instructions and five great gags on the back of the package.
— It's a favorite joke item on Amazon.com.
— Some bill snatchers include a real dollar right in the package. 6/15/2005 (MSRP: $1.49; Age: 5 and Up)



Blue Mouth Candy by FORUM NOVELTIES INC.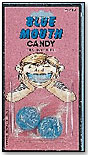 The candies taste perfectly normal but coat the victim's mouth bright blue, which washes out with soap and water.
— Nasty candy is also available in fish, garlic, super hot, soap and salty varieties.
— Valerie Pontbriand of Four Eyes Joke Shop in Southbridge, Mass., drops foul-tasting candy around town so customers will remember her — and her store.
— "Jumping" candy, another variation in this category, has been around since before 1941, when it was written up in a Scribner's Magazine article. 6/15/2005



Fake Cigarettes by FORUM NOVELTIES INC.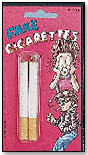 These realistic fake cigs actually blow "smoke" when the prankster puffs. They come two to a package.
— Also in this category are cigarette "loads," which can be added to real cigarettes. When smoked, the harmless loads explode, destroying almost the entire cigarette.
— Stink loads make cigarettes taste even fouler than they already are.
— Cigarette gags are in the top three best-selling items at Unnecessary Necessities in Queen Creek, Ariz. 6/15/2005



---
---


Copyright © 2021 TDmonthly®, a division of TOYDIRECTORY.com®, Inc.