September 30, 2023

July 2005 | Vol. IV - No. 7

---
Cruising Radio Control Style
A third fuel source has a foothold in RC boating: gasoline.
RC boat enthusiasts have traditionally snubbed the ready-to-run (RTR) and almost-ready-to-run (ARR) trends that have swept through other RC product categories. However, as more easy-to-use boats reach the market, the hobby is becoming less exclusive and more power-oriented.

Brian Carlevato, senior RC buyer for eHobbies, says boat sales, like RC vehicle and aircraft sales, are mostly divided between electric and nitro-powered. One difference, however, is that a third fuel source has a foothold in RC boating: gasoline.

Gasoline engines are not brand-new, says Doug Hengstler, general manager for

Dumas Products

, explaining that they were "originally just the power heads of weed eaters." But they were reliable, cheaper to run, and easier to start. Though slow when compared with nitro-fueled vehicles, Hengstler says that they have been modified enough to remain competitive.

Nevertheless, nitro-powered boats are far more common. They can be more complicated and expensive to run than their electric counterparts, but they do have some advantages.

One major benefit of nitro is run-time, says David Wodkowski, an RC salesman at Greenfield News & Hobby in Greenfield, Wis. "While you´re waiting for your batteries to charge," he says, "you could literally just fill the tank in 10 seconds and start driving." Nonetheless, Wodkowski admits that "in the long run, maybe, electric is cheaper," since a single day´s worth of nitro fuel can easily cost $15 to $30, while a one-time purchase of rechargeable batteries can range from $10 to $100 a pack.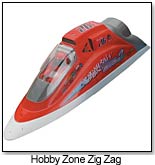 Beginners are probably best off with inexpensive electrics. According to Carlevato, eHobbies buyers like the

HobbyZone Zig-Zag Racer 2

, "a pool-sized RTR boat that moves at 12 feet per second." Durable, almost impossible to sink and inexpensive at under $100, this boat is well-suited for an entry-level buyer.

Although the Zig-Zag Racer can be used close to shore in lakes and ponds, there are boats more appropriate for larger spaces. David Wodkowski, a salesman at Greenfield News & Hobby in Greenfield, Wis., suggests the $149.99

Typhoon

made by

ABC Hobby

. Although it comes with a radio, batteries and a charger will add about $50 to the price.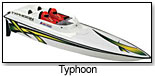 At a similar price point, Carlevato mentions the $129.99

Traxxas Blast

, which also requires batteries and a charger. One step up the electric ladder, Wodkowski recommends the

Traxxas Villain

, in either 7.2V or 14.4V. The two versions, which cost $269 and $319, respectively, require batteries and chargers ($50 extra).

For an entry-level nitro-powered boat, both Carlevato and Wodkowski enthusiastically recommend the

Nitro Vee

, made by Traxxas and available for around $350. Wodkowski speaks effusively about its go-cart-like centrifugal clutch that allows the boat to idle and eases operation in general (compared with other nitro boats that don't have clutches). The Nitro Vee also boasts a return-to-shore system: a spare electric motor to bring back the boat if it runs out of fuel.

Despite all these high-powered options, many traditional boat buyers still slave over constructing classic boats, sometimes for display purposes alone. One such kit, the

1949

Chris-Craft 19-foot Racer

by Dumas Products, retails for about $150, but requires substantial additional hardware. Even when boats come RTR, it doesn't mean they can't be customized with aftermarket parts, detailing and decals.
---
---


Copyright © 2023 TDmonthly®, a division of TOYDIRECTORY.com®, Inc.