"Someone must sit down with the child and show him or her how to work the toy" — Roberta Connors, retired educational professional.

Reading and writing never required an on/off switch. But the new electronic aids turn learning phonics, spelling and other language skills into fun. To get things rolling, children need H-E-L-P from an adult to guide them in mastering these devices.

Are they tools or toys? At LittleSmarties.com, an Internet store that sells educational toys for kids, the best sellers are the ones disguised as pure enjoyment. Before a toy is listed on its site, the people behind LittleSmarties consult with educators who work with children of various ages.

"Theyīre looking for something thatīll engage the kids and provide the maximum amount of learning," said LittleSmarties.com president Stanley Brodka. "I guess the goal is to give something to the kids where they donīt necessarily realize theyīre learning."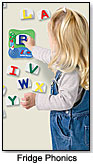 The top-selling toys on the site are several LeapFrog and The Learning Journey (ToyDirectory)products, including the LeapFrog Fridge Phonics Magnetic Set. The set is meant for use on a refrigerator, an unlikely but effective place for kids to take a bite out of phonics.
One of the advisors to the site is Roberta Connors, a retired K-2 teacher and former preschool director. She also worked in toy research and development. The change in toys over the years is remarkable, she told TDmonthly Magazine, with so much emphasis now on electronics. But the electronic learning aids are beneficial only if the child is guided by a parent or another adult.
"I think if you just give them the toy and say, īThis is itī and start working with it, itīs probably not going to work, unless you have an exceptional child," she said. Someone must sit down with the child and show him or her how to work the toy and then the child will catch on and be able to do it alone, Connors said.
The future of electronic learning aids is now, Connors went on to say. She appreciates toys that require others to join in the game. Also of significance to her are toys that help build childrenīs coordination.
In agreement is Dorothy Cohen, owner of Teachers Supplies of Long Beach. Tops and blocks are still popular and important, she said. A combination of the basics and electronics is needed. "Young children need a recipe for both in learning," she said.
Many items from this category that are selling well in her California store are from LeapFrog and Educational Insights (ToyDirectory). But the effectiveness of the products lies mainly in the little hands of the child.
"Theyīre only good, of course, if the youngster is interested and at the right stage in his or her life," said Cohen.
Here are more items that offer a balance of entertainment and education in teaching language skills: