April 10, 2021

August 2005 | Vol. IV - No. 8

---
TDmonthly´s Top 10 Most Wanted Die-cast Cars
Die-cast cars have always been solidly made and solidly sold. But lately, there's a lag at the smaller retail levels. Certain stores are having slow sales, or even getting out of the die-cast arena altogether (like Diecast America). Yet, on the Internet and at the higher end (like Diecast Zone), TDmonthly is getting reports of sold-out shelves.
Seems these are "interesting" times, but with the Herbie The Love Bug die-casts coming out in September, and the "Dukes Of Hazzard" movie coming out in August, 2005's sales look to pick up in the second half of the year. Oh, and don't forget the crème-de-la-crème of the die-cast world coming out soon: the 1985 Monte Carlo SS, by Ertl/American Muscle. "It's the one no one has made yet, and they finally are," explains the very knowledgeable Heather Weir, owner of Diecast Country.
So, what's selling right now? According to the over 20 retailers across the country that TDmonthly spoke with, the following are the top 10 selling die-cast cars.
The Dukes of Hazzard 1969 Dodge Charger "General Lee" 1/24 scale by ERTL CO. INC.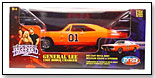 A fun recreation of the Dukes Of Hazzard Dodge Charger, this 1/24 scale die-cast model needs no assembly and has a detailed engine and interior.

— "The kids like the Dukes," said a customer service rep for Amazon.com, "They know the name, and so do their parents." With name recognition, and the heritage of wild driving, this is the one that's grabbed first off the shelf.
— The re-releases will come boxed in a recreation of the old series with John Schneider, Tom Wopat and Barbara Bach, and the second box will have Seann William Scott, Johnny Knoxville and Jessica Simpson on it.
— "Ertl is always a top seller," explained Mike Giese, customer service rep of Diecastmuscle.com. 7/14/2005 (MSRP: $19.99; Age: 6 and Up)




The 2002 Porsche 911 GT2 1/18 scale by AUTOART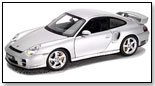 A true 1/18th scale die-cast metal assembled model, it features opening doors and hood with engine and detailed interior, as well as a working steering and suspension.

— "1/18 is our most popular scale. It offers the most detail at an affordable size," states Detour Dave of Diecastfast.
— Autoart is a well-respected Canadian company that puts out detail-oriented, well-made mid-level die-casts that have a long life and continuous popularity.
— "Porsches are popular across the board," said John Tierney, sales manager of Hobbies, Inc. "Kids and adults both want them." 7/14/2005 (MSRP: $59.99; Age: 4 and Up)




The Dukes of Hazzard 1969 Dodge Charger "General Lee" 1/18 scale by ERTL CO. INC.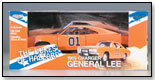 A bigger version of the Dukes' car, this one is getting hard to find, but is set to be re-released in September.

— The Dukes of Hazzard General Lee is one of the most popular TV/movie vehicles of all time.
— "We're waiting for the re-re-release," said Mike Ancas, owner of Pittsburgh's Speednation. "Right now, we are getting the last of them from an overseas distributor. But with the movie coming out in August, they should ramp right up."
— "This one will be for the collectors, too," Heather Weir, owner of Diecast Country, conjectures. 7/14/2005 (MSRP: $36.95; Age: 6 and Up)




The 2005 Corvette C6 Coupe 1/24 scale by FRANKLIN MINT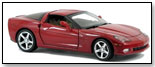 Now in its sixth generation, the hottest sports car in American history is hotter than ever. The C6 Coupe is hand-painted and hand-finished in Magnetic Red, and very, very shiny from nose to tail. Its intricately replicated LS2 V-8 and sporty spinning wheels mimic the look of real aluminum.

— The lush cockpit sports bucket seats and every instrument down to the last detail, along with working doors, hood and hatch and a fully functional suspension.
— "Franklin Mint cars are always good sellers because they have a line of limited editions — with runs of 600," explained Chad Sohl, general manager of Legacy Motors.
— The Franklin Mint was one of the first die-cast carmakers, and although it has divested itself of minting capacity, it still is a highly respected die-cast company. 7/14/2005 (MSRP: $105; Age: 6 and Up)




The Ferrari 512BB Berlinetta Boxer 1/18 scale (Black) by KYOSHO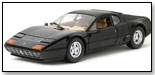 This is a 1/18th scale die-cast model of the famous Ferrari BB512 with carburetor engine. With magnificent detailing and a truly beautifully crafted model, it is both a collector's dream and a kid's fantasy.

— Kyosho has finally broken the Mattel/Hotwheels chokehold of Ferrari model cars by gaining approval from the Italian company to produce some sought-after Ferrari model cars like the Daytona and 308 GTB and this Boxer.
— "This car is BIG and HEAVY. It's a real massive piece," Jack of Classic Jack Collectables (in the Netherlands) told TDmonthly. "Not everyone thinks about that."
— Ferrari is the most asked for name in die-cast cars, according to three retailers that spoke with TDmonthly. 7/14/2005 (MSRP: $119; Age: 6 and Up)




The 1964 1/2 Ford Mustang Convertible 1/18 by MOTOR MAX TOY FACTORY LTD.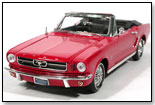 The Classic Mustang comes in four colors, with opening doors and hood and detailed interior and engine.

— More die-cast Mustangs have been sold over the years than any other die-cast model. "It's because this is the car every little boy always wanted when he grew up," conjectures Kevin, the owner of Kevin's Hobbies.
— MotorMax is respected by retailers — a rep from Adkins Collectibles told TDmonthly: "They always make well-priced, solid models that hold their value over time."
— This is the 40th Anniversary edition of the original. 7/14/2005 (MSRP: $19.95; Age: 6 and Up)




The 1956 Chevy Bel Air 1/18 scale 4-Door by PRECISION CRAFT MODELS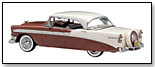 This precisely detailed model has an opening hood with a detailed engine. The trunk and doors open to view the detailed interior.

— This has the Continental custom kit (that extra tire), hubcaps, fender skirts and rubber tires.
— Heather Weir of Diecast Country said this is one of their top sellers: "Four doors at this price point is a first, and people are buying them."
— It comes in Dark Plum and Ivory. 7/14/2005 (MSRP: $59.95; Age: 6 and Up)



The 1988 Ferrari 328GTB 1/18 scale (Black) by KYOSHO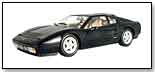 Another classic Ferrari from Kyosho, this is the famous coupe version of the 328 with a fuel-injected engine. The front cowl lifts forward to display the matching spare tire while the louvered rear cowl has a photo-etched vent screen.

— Like all Kyosho cars, it is high in detail and heavy in weight.
— The rear cowl can be opened to view an engine that´s detailed to the highest degree, including red and black vinyl hoses. It has pop-up head lamps.
— This is one of best-selling models at Amazon.com, and has been on their top 10 best selling list since May. 7/14/2005 (MSRP: $59.95; Age: 6 and Up)




Hot Wheels 2005 Batman Begins Batmobile diecast model car 1:64 scale diecast by MATTEL INC.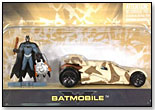 This is a very highly detailed 2005 Batman Begins Batmobile diecast model car 1:64 scale by Hot Wheels.

— "Great collectible or gift piece, one of the best showcase models for any auto enthusiast," according to the people at iDcow.com
— "With the movie doing so well, both kids and adults want one," stated Alice Ferming, manager of Diecast Planet.
— It comes with a Batman figurine. 7/14/2005 (MSRP: $9.99; Age: 4 and Up)





---
---


Copyright © 2021 TDmonthly®, a division of TOYDIRECTORY.com®, Inc.