November 26, 2020

August 2005 | Vol. IV - No. 8


TDmonthly´s Top 10 Most Wanted Bath Toys
Bath time is craft time, splash time and quiet time for girls and boys. Many of the best-selling tub toys let kids go wild with color. Kids also like anything that squirts, as well as rubberized bath-time books. The following products were the best-selling bath toys at 11 toy and specialty shops around the nation that should help you clean up at the cash register, too:
Bathtime Stickers by SANDHOLM CO



Bathtime stickers were the #1 seller in many stores, and made the top-ten list for all of the owners or managers who talked to TDmonthly Magazine. Made of durable vinyl foam, these animal-shaped stickers cling like a wet cloth to bathroom and tub tiles. Kids can use multiple sets to create fun landscapes or play games. They easily adhere to and peel off from showers, bathtubs, pools and bodies.

—"The Sandholm stickers really work for us," said Elaine Hackney, owner of J. P. Boing's Toy Shop in Jamaica Plains, Mass.
—"They've always been a steady seller," agreed Julie Balcombe, manager of Dojo Toys in Kings Beach, Calif.
—They're also available as Trains, Numbers and other shapes 7/15/2005 (MSRP: $3.2; Age: 3 to 7)




Bathtub Finger Painting Kit by ALEX BRANDS


Kids can go Michelangelo with these soap-and-water finger-paints that color their waterworlds. Five different colors can be smeared on their bodies and the bathroom tiles. A fish-shaped sponge is included for clean up. Lending a hand is a hand-shaped palette that holds the paints while the kids create.

—More than half of the retailers had Alex finger-paint kits on their top-10 list.
—"It's one of our top-selling items," said Elin Kabo, director of communications for Alex. "They're great to get kids to go into the bathtub."
—It's also a top-10 bestseller on Amazon.com, even though it was Alex´s first bath product, originally launched in 1999. 7/15/2005 (MSRP: $12.99; Age: 2 and Up)




Color Your Tub – Crystal Tints by ALEX BRANDS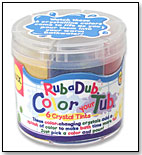 Why should kids settle for clear water when they can have royal blue or blood red waves lapping around them? They can choose one of six different crystalline colors or mix and match to find their own. The tints dissolve in warm water to make bathing a more colorful experience.

— "Tub tints are very popular," noted Marian Anderson, store manager of Next Generation of Stoughton in Stoughton, Wisc.
—Parents don't have to worry about these tints staining the tubs, assured Elin Kabo, director of communications for Alex.
—Crystal Tints were launched in 2004 and were on the top-ten list of 6 out of 11 stores. 7/15/2005 (MSRP: $7.99; Age: 3 and Up)




Rub a Dub Draw in the Tub by ALEX BRANDS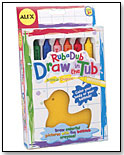 Colorful works of art can be created on someone's tummy, or on the bathtub wall, using this set of six bathtub crayons. A duck-shaped sponge is provided to erase the "canvas" and start anew. "This is one of our top bath items," said Elin Kabo, director of communications for Alex.
— Cons: May stain some tubs (especially tile grout). Crayons disintegrate quickly in the water. One user said the crayons were much smaller than indicated on the package, due to being encased in a misleadingly long plastic holder. (Reviews from Amazon.com)
— Ten of 64 retailers named the Bathtub Crayons from Alex as a top-selling bath item, citing monthly unit sales of anywhere from six to 80 per month, in March 2009. Nearly 70 percent of the respondents named the Alex line in general, or a particular product from the range, when discussing best-selling bath toys.
— Eight of 39 retailers named this product a best-selling bath item in March 2010. Nearly 67 percent of retailers cited Alex as their No. 1 manufacturer for bath toys.
— Want this? As of 05/06/2011, this product was available for purchase at Doodlehopper 4 Kids. 7/15/2005 (MSRP: $6.49; Age: 2 and Up)



Floating Duck by SMALL WORLD TOYS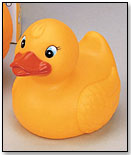 What's a bath without a rubber ducky? This classic model floats upright to watch over babies of all ages in their tubs. He's nontoxic and washable—in case he gets dirty while kids are getting clean.

—Rubber duckies are always a favorite at World of Toys in Reno, Nev., said assistant manager Jesse Ray Wabel.
—Zittles in New York City sells various sized duckies for the bath, including an 8" megaduck, said assistant manager Neil Ramyad.
—A gaggle of ducky fans will be found at the Rubber Duck Collector's Convention "Duckfest 2005" on Saturday, August 20, 2005 in Irvine, Calif., proving that the product spans generations. 7/15/2005 (Age: 1 and Up)




Squirters for the Tub – Dinos by ALEX BRANDS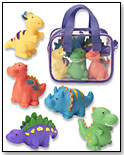 Kids who bathe together can have a prehistoric water war with these chubby and colorful little PVC squirters that are easy for little hands to grasp. Each set contains five dinosaurs. Also available are On the Go, Space, Garden and Ocean squirters. All of these toys are phthalate free.

—"These are really cute and popular," said store director Susie Waterstreet, of Treetop Kids in Washington, D.C.
—Squirters are newly packaged for 2005 in a zippered vinyl bag with a mesh bottom.
—The three new styles for 2005 are Farm, Sports and Transportation. 7/15/2005 (MSRP: $6.99; Age: 2 and Up)




Tidoo Suce Pouce Pink Striped by COROLLE DOLLS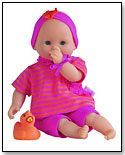 First launched in August 2002, this 12" cuddly beanbag baby floats in water. She likes to play in the tub with her mommy, and lots of accessories are available to ensure that she'll have a great time. This waterproof baby can play on land, too. Her blue eyes open and shut.

—Tidoo sells well at Zittles in New York City, said Neil Ramyad, assistant manager.
—Corolle not only double-bags the lightweight polystyrene pellets inside the doll, it also picked a water-repellant fabric for the doll's torso, explained Linda Breler of Corolle Dolls.
—"This doll is especially designed for the tub," added Breler. "There's a little tab in the back of the doll, and when you're finished with the bath, just hang it up and it air dries in an hour." 7/15/2005 (MSRP: $31.99; Age: 2 and Up)




Tomy - Water Symphony by INTERNATIONAL PLAYTHINGS LLC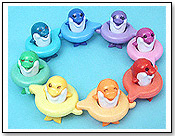 Bathtime has never sounded so good; when kids slip these color-coded dolphins into their inner tubes, put them in water and tap their little heads, each one emits its own special note. Included is a color-coded music guide that shows kids how to play "Twinkle Twinkle Little Star," "Mary Had a Little Lamb," and "London Bridge." Each tube has its own number for bath time counting fun. The toy measures approximately 11" x 16" x 4" and is intended for children over the age of 18 months. Batteries are not included.
— "Water Symphony by Tomy — we sell two or three a month," Kathy Byrd, owner of Fantasy Island Toys in Fairhope, Ala., told TDmonthly in March 2008 about this toy that's been making music in kids' tubs since 1998.
— Barbara Fineblum, owner of Barston's Child's Play in Baltimore, Md., said in March 2008 that musical toys by Tomy are some of her best-selling bath toys.
— Five percent of 40 retailers who spoke with TDmonthly in March 2008 named Tomy's musical bath toys as a best-seller in that category. 7/15/2005 (MSRP: $20.00; Age: 2 and Up)



Bathtub Family Tub Toys by D & D DISTRIBUTING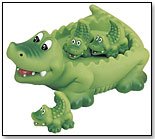 Mommy Alligator floats in the water, holding her three little babies on her back. But when they're feeling frisky they can jump into the tub and float, too. Other Bathtub Family Tub Toys include a Pirate Boat, Mermaid, Frog, Turtle, Duck, Penguin and Dolphin.

—The Bathtub Family Tub Toys line is one of the favorite tub toy products at J. P. Boing Toy Shop in Jamaica Plains, Mass., said owner Elaine Hackney.
— "These are our number-one best selling item," said Rhonda Glick of D & D Distributors.
—The trademarked Bathtub Family Tub Toys have been going strong since their launch about 8 years ago, said Glick. There are currently almost 30 styles in the line. 7/15/2005 (MSRP: $5.99; Age: 3 and Up)




Talking Bath Buddies – Frog by ALEX BRANDS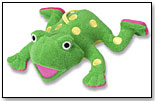 Kids can get clean with these super soft terrycloth pets that make noise, too. When you squeeze his tummy, the frog "ribbits." Other noisy bath mitt pets include a Cat, Cow, Dog and Pig.

—Launched in 2004, "They're selling very well," said Elin Kabo, director of communications for Alex.
—"They're great for washing young children in the tub," said Kabo. "They're a tub toy as well as a tool for Mom to wash with."
—They're a favorite at Toys 2 U in Bloomfield, N.J. and Giggles in Stoughton, Wis. 7/15/2005 (MSRP: $5.99; Age: 0 and Up)





---
---


Copyright © 2020 TDmonthly®, a division of TOYDIRECTORY.com®, Inc.