November 24, 2020

October 2005 | Vol. IV - No. 10


Furniture That's Built to Last
"Parents want ... something that enriches the lives of their kids." — Chris Ferrarese, LC Creations LLC

Retailers and manufacturers who sell sturdy, multiple-use kids' furniture are meeting the needs of parents and kids alike by making items in creative, vibrant styles. They take the form of everything from chairs in the shapes of animals to virtually indestructible tables.

Nilo Toys makes hardwood and melamine tables, chairs complete with storage space, and other items. Legs for the tables are available in two different lengths, so they can grow along with the kids who use them.

"The whole point is to have items that can do more than one thing," said Tom Bernard, vice president of Nilo Toys.

At Levels of Discovery (ToyDirectory), the idea is to make heirloom-quality products that entertain, teach and stimulate the kids who use them. "Everything we have is 'more than meets the eye,'" said Cheryl Batzing, marketing director. "Each has hidden elements for kids to discover." The company's Rock A Buddies and Rock A Buddies Jr. lines includes various multi-use rocking chairs in a number of themes, including "Race Car," "Royal Princess," "Rock A My Baby" and "Time Out."

Bellini, a nationwide chain, offers interchangeable bedroom furniture for all ages. Manager Sally Telford said the company's maple wood and beech wood products are built to last as kids grow. "(Parents) start by buying our cribs and then come back and buy our other furniture," Telford noted.

Laura Lind, owner of Fun Furnishings (ToyDirectory), started her company in 1994, when she saw there was a need for long-lasting kids' furniture. Lind's best-selling chairs and sofas are made of high-density foam and upholstery-grade fabric in "touchable" textures such as chenille and denim.

Fun Furnishing's newest product is a slip-covered chair that can be easily cleaned, as well as a slightly larger "teen chair." "They are very versatile products in great designs, and they can be handed down from child to child," Lind said. "A lot of people are making foam sofas and chairs, but they aren't made to last more than three to six months."

Darleen Rodgers, marketing specialist for Wild Zoo Furniture, said parents are looking for something unique. Wild Zoo makes desks and tables for young children — including computer desks designed for two children to use at once. "People are looking for items that fit their children appropriately so they can be comfortable in the furniture, furniture they won't outgrow too quickly, and that is certainly sturdy."

Chris Ferrarese, president of LC Creations, LLC, (ToyDirectory) believes success is purposeful. The company makes high-selling table and chair sets for its Save the Children Collection, which is decorated with kid-crafted designs.

"Parents want things that look good and are well made," concluded Ferrarese. "They want something that enriches the lives of their kids."

The following products are selling well:
Multi-Activity Table by NILO TOYS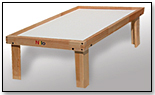 This 50.5" long by 34.5" wide by 20" tall solid hardwood table has a double-sided white melamine surface that is easy to clean and fantastic for puzzles, Play-Doh, arts and crafts. In addition, the table comes with an easy to clean, light-weight plastic play mat with detailed digital graphics that include roads/trails, airstrips, trees, rocks, grass, beaches and water. The table railing includes a number of holes that allows for an expanding line of playtime accessories. This table is featured in specialty toys stores only, no mass market stores! It is also the only train/activity table that allows a child to sit with their legs comfortably under the table! Its the number one table in the specialty market!
— "We have Nilo play tables," Chuck Harper, owner of Explorations Inc. in Granger, Ind., told TDmonthly when asked about his best-selling children's furniture in May 2009.
― Three of 48 retailers surveyed in May 2010 listed Nilo as their best-selling furniture item. 3/25/2005 (MSRP: $79.00)



Children's Buddy Computer Desk for 1 or 2 Kids by WILD ZOO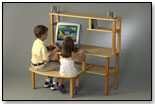 A computer desk designed especially for kids, this desk comfortably fits one or two children ages 2 to 10 years old on the extra large 30.5" wide seat. Deep enough for a full size desktop computer with solid wood legs and frame, sturdy laminated top with rounded corners and dent resistant edge banding. The attached seat means that the desk always has a chair with it and the seat won't tip over. Available optional Hutch, and CPU/Printer Stand adds extra flexibility. 36" deep (including seat) by 44.5" wide by 23" tall. (

Watch Video) 7/29/2005 (MSRP: $209.00; Age: 2 to 10)



My Favorite Things Lamp by LC CREATIONS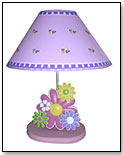 This lamp from the Save the Children line measures 8"x6"x16". The resin base flowers are finely sculpted to show each petal in detail. The shade is a poly/cotton printed fabric highlighting busy little bees that buzz around the flowers. LC Creations donates 2.5 percent of the proceeds directly to the Save the Children charity. 6/29/2005



Cloud Chair with Ottoman by FUN FURNISHINGS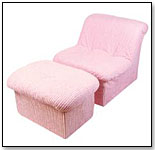 This inexpensive set is among several foam pieces made by Fun Furnishings for $150 to $200 each, and for kids up to age 8. They are made from high-density foam and upholstery-grade fabric in several designs, colors and shapes. The cloud chair is 24"H X 22"W X 30" D; the ottoman is 14"H X 22" W X 18" D. 7/29/2005 (MSRP: $150; Age: 0 to 8)



The Teen Chair by FUN FURNISHINGS


The Teen Chair, manufactured with high-density foam and upholstery-grade fabric, is the first foam product the company has designed for teens. The foam furniture line runs between $150 and $200 each. The teen chair is 30" H x 24" W x 30" D and folds out into a bed 64" x 24". 7/29/2005 (MSRP: $150)



The Elegante Series by BELLINI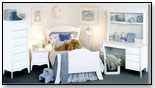 The Elegante Series includes a twin bed, a desk (hutch optional), a night table and a lingerie chest. Like all of Bellini's furniture, the items, made of maple, are available in antique white, coffee, mahogany and natural. The bed is $699; the desk is $769; the hutch is $399; the night stand is $399; and the lingerie chest is $759. The products are for toddlers on up. 7/29/2005 (Age: 2 and Up)



The Artist's Rocker by LEVELS OF DISCOVERY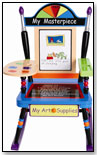 The handcrafted artist's rocker comes complete with a rotating color wheel, an artist's palette and a frame on the back of the seat so young artists can display their work. The chairs are designed to stimulate and challenge young minds at playtime. 7/29/2005 (MSRP: $135; Age: 3 to 8)



---
---


Copyright © 2020 TDmonthly®, a division of TOYDIRECTORY.com®, Inc.