July 8, 2020

November 2005 | Vol. IV - No. 11


Are Music Teachers Passé?
Software Symphonies Teach Kids to Play
The College Entrance Examination Board reports music students score over 40 points higher on the math portion of the S.A.T.

Does your store carry software that teaches kids music? If not, then maybe it should. Infant and preschool learning toys are expected to continue their strong appeal in 2005, according to the Toy Industry Association.

The American International Toy Fair expanded its range of specialized merchandise this year with the new exhibit area called Reading, Writing & Rhythm, where music-related toys, books and CDs were displayed. These types of programs are selling steadily as compared with last year, reported David Zimet, an owner of Hickey's Music Center in Ithaca, N.Y.

Beyond enjoyment, the benefits of learning music show up in mathematics and reading as well as most other academic subjects. A study in Early Childhood Research Quarterly found that music instruction can help kids score up to 48% higher on spatial-temporal skills. The College Entrance Examination Board reports music students score over 40 points higher on the math portion of the S.A.T.

Typically, schools provide children with their first formal introduction to music study. Don't discount academic institutions when presenting musical software for sale. However, the public school systems often consider music as optional and cut back the programs in times of budgetary crisis, as has recently happened in Detroit and New Bedford, Mass.

Composer David Arden has partnered with Adventus Inc. to make the software program, Children's Musical Journey, and has begun testing the computerized piano-teaching programs meant for elementary students in the schools. As an alternative to individual music instruction, the program allows more children to learn the basics of music without the expense.

Because children as young as 2 years of age can learn an instrument, software that caters to preschool as well as grade school may be appropriate for your shelves. Matt, the owner of Computers N Music in Colorado Springs, said, "Software is an integral part of the music education business." Many programs use lessons that mimic traditional lessons, but music software isn't all practice songs and scales.

Overall, the best selling and highest recommended program was Music Ace Deluxe by Harmonic Vision Inc., said Anthony Zirsas, sales associate of Piano Trends Music Co. in Crystal Lake, Ill. Music Ace provides lessons, games and even a place to compose music. David Zimet recommended the Interactive Classics series, by Music Games International (now A Tigor Media Inc.) (ToyDirectory), for children. Mozart's Magic Flute by Interactive Classics incorporates games and a story with a backdrop of classical music. He predicts Tchaikovsky´s Nutcracker: The Music Game by Interactive Classics may boost sales during the holidays.

It's important to make learning music enjoyable. "You can't teach a love of music, but you can teach a hatred of it," said Jordan. "Practicing even 5 to 10 minutes a day will help." Computers are changing the way kids can learn music. With interactive learning games, practice might even be fun, as well as profitable.

Children of all ages can learn music while at the computer with the following music lessons cleverly disguised as games.
Piano Mouse Goes to Preschool by PIANOMOUSE.COM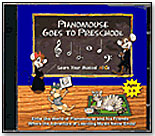 Piano Mouse's newest adventure introduces young children to beginning musical theory. It teaches the musical alphabet and provides an introduction to the piano. Consisting of 12 games, it allows students to play and learn at the same time. 8/3/2005 (MSRP: $19.99; Age: 3 to 5)



Alice in Vivaldi's Four Seasons by A TIGOR MEDIA INC.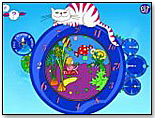 "Alice in Wonderland" characters spring to life with dozens of educational games, puzzles and riddles that stay firmly focused on learning about music set to the backdrop of Vivaldi's The Four Seasons. The music is not digital, like other programs, allowing a full sense of the work. 8/3/2005 (MSRP: $19.99; Age: 5 to 10)



Making Music by CREATING MUSIC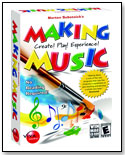 Children learn musical composition by drawing notes and manipulating them through Morton Subotnick´s unique software. Games and activities make learning the basics of music fun and easy. With Making Music, children learn the basics of musical composition at their own pace. It´s as easy as finger-painting and kids can choose from 16 instruments to create their own original music composition. The game has won numerous awards for excellence, including the "Top Choice" Software Award, Museum of Science, Boston 2004. "[It can] teach children to compose music. And they don't even have to know a single thing about notes or scales," according to Kay Pluta, a reviewer for Suite101.com. 8/3/2005 (MSRP: $29.99; Age: 5 to 10)



Children's Music Journey Volume 1 by ADVENTUS INC.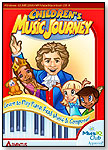 This is a collaborative effort with the Keys to Achievement Foundation supporting early music education. It develops musical talent through lessons, activities and games. It includes a musical composer, over 100 songs and 10 interactive games. This program gives young children the basics to understand and enjoy music. Children interact with animated versions of famous composers like Beethoven and Bach. Children learn to read music, play piano with both hands, compose and improvise. Games like Rescue Mission, Princess Story, and Bongo Boy enforce theory and ensure kids learn music language in a very fun way. Piano skill levels 1A, 1B, Assessment included. The concepts learned from this program include high notes, low notes, middle C, repeating short rhythmic patterns, directional note sequences, stepping notes, holding notes, quarter notes, half notes, whole notes, and more. 8/3/2005 (MSRP: $69.95; Age: 4 to 10)



Music Ace Deluxe by HARMONIC VISION INC.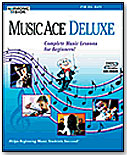 This highly recommended program offers 36 lessons and games complete with a composing function. It reinforces music lessons. The program teaches music theory, rhythm, pitch, note reading, listening and the keyboard. Music Ace has won several awards including the Dr. Toy 2005 Smart Play award. 8/3/2005 (MSRP: $79.95; Age: 6 and Up)



Theory Games by ALFRED PUBLISHING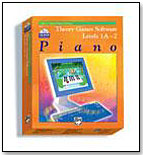 Fun games abound in this software package, designed to teach skills such as note naming, intervals, scales, music symbols and terminology. According to the Parent's Choice Web site, "All the children with whom the software was tested said that this program was a relief from sitting at the piano or memorizing study guides." It received an iParenting Media award in 2004. 8/3/2005 (MSRP: $19.95; Age: 7 to 16)



Juilliard Music Adventure by SCHOLASTIC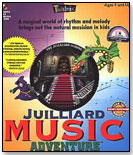 This program, from the Tom Snyder Productions line, reflects the musical content outlined in the National Standards for the Arts. Rhythm, melody, orchestration and musical styles are learned while exploring a medieval castle. The Piano Education Page gave this program five notes out of five. 8/3/2005 (MSRP: $39.00; Age: 9 and Up)



Piano Suite Premier by ADVENTUS INC.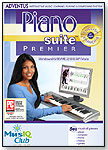 Piano Suite Premier is for beginner or intermediate players wanting to learn to play the piano or improve their skill. Piano Suite software guides students through the music learning process with the help of immediate and continuous feedback and helpful assessment. Included are several learn-to-play settings, over 500 arrangements in 10 different genres, hundreds of narrated lessons, games, music history and the ability to compose and edit your own music. 8/3/2005 (MSRP: $89.95; Age: 7 and Up)



Electroplankton by NINTENDO OF AMERICA INC.


From the creator of SimTunes, Toshio Iwai´s newest game, Electroplankton, allows players to interact with different musical marine life, creating a symphony or dissonance depending on the player's choices. Made for Nintendo DS and currently only available in Japan, this musical game is one to watch. 8/3/2005



Music Pirate Game by A TIGOR MEDIA INC.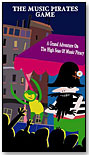 Expected in early 2006, this story takes place on the high seas. It incorporates popular music aiming for an older age group than Interactive Classics' standard classical music software. 8/3/2005 (MSRP: $19.95; Age: 9 to 12)



---
---


Copyright © 2020 TDmonthly®, a division of TOYDIRECTORY.com®, Inc.