June 4, 2023

September 2005 | Vol. IV - No. 9

---
The Other Comic Books
Want to find the next big comic book thing for your store? Gonna scoop the movie studios by knowing about their mega-selling movie-tie-in before they do? TDmonthly Magazine talked with publishers, distributors and store owners to find out how retailers can find those up-and-comers that will bring the fanboys — and family-conscious shoppers — back to their stores week in and week out.

Comic book conventions, like Comic-Con in San Diego, are the first place manager Tony Edwards looks to stock the shelves of Golden Apple, one of the biggest comic book stores in Los Angeles. He prefers some of the very smallest self-published titles, which are debuted at these shows to find distribution and retailers. He notes that "many of the best alternatives have started out small," citing work by The Hernandez Brothers and Craig Thompson as prime examples.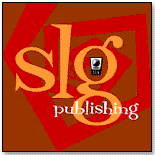 "We'll try them out, and even when some of them go on to big publishing situations, many still like to try their new material with us first," Edwards said. As for publishers that visit the shows to pick up titles, "Oni Press nurtures some of the little guys, as does Slave Labor (Graphics)."
Marty Grosser, an editor at Diamond Comic Distributors, the largest English language comic book distributor in the world, looks for "artists who have new books that are professional, well-written, and, especially with a consistent art style," when he goes to comic book shows. "Art sells a book first."
Grosser sees all-ages comics as one of the biggest trends sweeping the industry. "Not superheroes, which many claim to be all ages, but aren't really, but books for younger readers. There's not a great many out there," Grossman noted, though he added that Owly, put out by Top Shelf Productions, and Archie, published by Archie Comics Entertainment, have always catered to this demographic.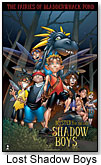 Debbie Bishop, publisher and CEO of Angel Gate Press, has created a whole company that's geared towards the all-ages market. "There aren't a lot of companies doing family (8 and up). That was our goal: more kids. We throw in interesting science and trivia tidbits."
These tidbits include everything from glossaries to geography. "There's lots of action, but no boobs, no cussing," Bishop continued. "And because of that, we're finding whole new retailers that know they won't get into trouble with Angel Gate comics. The libraries, too. And one motion picture studio is developing The Lost Shadow Boys right now."
Looking for the latest comic book trend? Family may be it. What follows are a few keen titles picked by the experts themselves.
Infinite Crisis by DC COMICS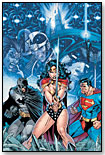 The comics event so massive that it was built over the first half of 2005, through different books "Countdown," "Day of Vengeance," "Rann/Thanagar War," "Villains United" and "The Omac Project." Prepare for the dawn of the DC Comics Universe´s darkest day in "Infinite Crisis," a 7-issue miniseries written by Geoff Johns ("Green Lantern," "JSA") with art by Phil Jimenez ("Otherworld," "Uncanny X-Men") and Andy Lanning ("Otherworld") and covers by George Pérez ("Crisis on Infinite Earths") and Jim Lee ("Batman," "Superman") and Sandra Hope. Surrounded by their most fearsome enemies, the world´s greatest heroes are divided within and without. DC´s icons — Superman, Batman, Wonder Woman — are joined by Nightwing, Supergirl, Donna Troy, Superboy, Robin, Wonder Girl, Green Lantern, the Flash and more as they face their most dire hour. What happens next will destroy friendships and lives, dictating the direction of the universe for the next generation! 8/31/2005 (MSRP: $3.99; Age: 10 and Up)



Owly Volume 3: Flying Lessons by TOP SHELF PRODUCTIONS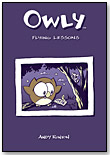 The third graphic novel in the breakout, all-ages series is a charming story of understanding and acceptance, where Owly learns that everyone is special and it´s okay to be different. Relying on a mixture of symbols, icons, and expressions to tell his silent stories, Andy Runton´s clean, animated, and heartwarming style makes it a perfect read for anyone who´s a fan of Jeff Smith´s "Bone" or Mike Kunkel´s "Herobear and the Kid." Already winning fans around the world, 128-page Owly is not to be missed. 8/31/2005 (MSRP: $10.00; Age: 6 and Up)



Black Tide Comic by ANGEL GATE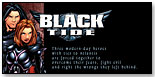 Thousands of years ago, Atlantis violently crumbled apart and sank into the sea. Its existence is now a mere legend and the Atlanteans would like to keep it that way. Living among us, they have recreated their realm by combining ancient wisdom with new age technology. Thriving covertly, deep beneath the subterranean shelf, the Atlanteans monitor humans but rarely co-mingle with mainlanders. Using an international black ops organization called the Deceivers (DVS) as a cover, three heroes keep watch, battling high crimes and terrorism and protecting us, while secretly, in places on earth, hidden from mankind, they fight dangerous enemies from their past. 8/31/2005 (MSRP: $2.95; Age: 10 and Up)



---
---


Copyright © 2023 TDmonthly®, a division of TOYDIRECTORY.com®, Inc.